Where we are in the typical Sentiment Cycle
---
---
As stocks plunged then recovered at the end of 2018 and start of 2019, we reviewed the typical Sentiment Cycle as popularized by Justin Mamis decades ago. In a post from January 11, 2019, we highlighted the fact that most investors (or Twitter users, anyway) figured that we were in the "disbelief" part of the cycle.
It raises the question of where we are in the cycle this time, as it seems clear that investors have already experience panic.
If we overlay the S&P 500's current path against the typical Sentiment Cycle again, then we get the following. Our current market has been so extreme in just about every regard that we've had to use a secondary scale.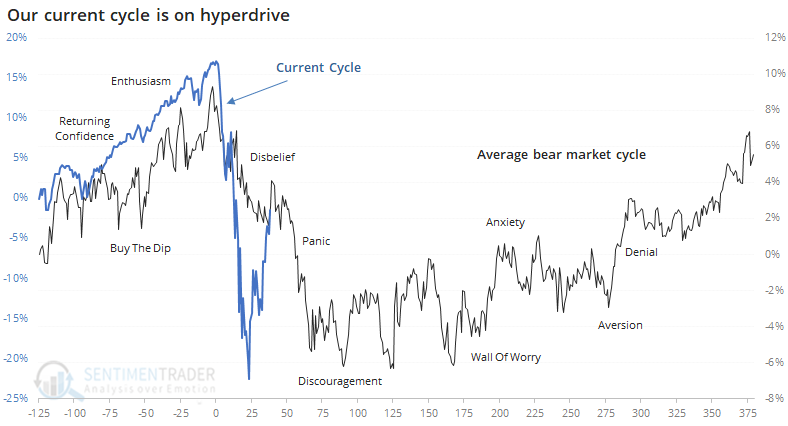 Everything about the past two months has been on a super compressed time frame. What usually takes months or even years to play out has happened in days or weeks, even the slowest-moving aspects of fiscal and monetary responses. Based on a very general pattern, we should be in the post-panic, discouragement phase of the Cycle. While it doesn't necessarily mean a lower low than the initial panic, it does often mean months of volatile swings that make everyone doubt their outlook.
However, there are 4 factors that we highlighted in 2019 that suggest we're much further along in the cycle than pure price action would suggest.
This is an abridged version of our recent reports and notes. For immediate access with no obligation, sign up for a 30-day free trial now.
We also looked at:
Institutional fund managers are scrambling for cash
The new high / new low ratios on the NYSE and Nasdaq are recovering
The HiLo Logic Index is curling up from a historically low level
Forward EPS figures for various indexes are...spiking?!
The put/call ratio on the VIX is high...what that means
The Nasdaq is suffering a death cross

Related Posts:
---
Tagged As:
The post titled Where we are in the typical Sentiment Cycle was originally published as on SentimenTrader.com on 2020-04-16.
At SentimenTrader.com, our service is not focused on market timing per se, but rather risk management. That may be a distinction without a difference, but it's how we approach the markets. We study signs that suggest it is time to raise or lower market exposure as a function of risk relative to probable reward. It is all about risk-adjusted expectations given existing evidence. Learn more about our service , research, models and indicators.
Follow us on Twitter for up to the minute analysis of market action.
Follow @sentimentrader