Small-Caps Did This Right Before the Pandemic Plunge
---
---
Tech stocks have been struggling. Another area of risk appetite, Small-Cap stocks, have struggled right along with them.
On Thursday, we saw that the ratio of the Tech sector to the S&P 500 has sunk to nearly its lowest level in a year. While not as extreme, a ratio of Small-Cap stocks to the S&P has just dropped to a 4-month low.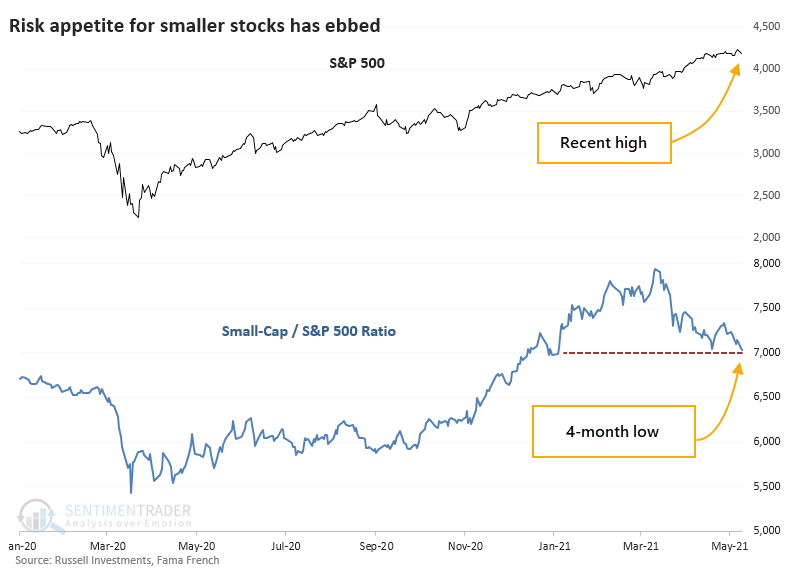 This is a quick pullback in the appetite for riskier, or at least higher-beta, stocks - headlines were trumpeting all-time highs in the S&P 500 just a few days ago.
Other times when the S&P was recently at a 52-week high, then the ratio of Small-Cap stocks to the S&P plunged to at least a 4-month low, it preceded returns about in line with random for the S&P since 1928.
But across almost all time frames, Small-Cap stocks continued to underperform their larger-capitalized siblings. Over the past 30 years, only once out of 11 times did Small-Caps completely reverse course and resume strong leadership.

Stat Box



On Thursday, the Nasdaq Composite rallied more than 0.7% but only

41%

of volume flowed into advancing stocks on that exchange. Going back nearly 40 years, that's the lowest percentage of up volume for any day when the Composite rallied more than 0.7%.
What else we're looking at
Full returns in the S&P 500, Small-Cap stocks, and the ratio between them after relative Small-Cap weakness
What happened in QQQ after a surge in stocks falling below their Bollinger Bands
There is one Asian market setting up an oversold signal
What credit spreads are suggesting about stocks right now

The post titled Small-Caps Did This Right Before the Pandemic Plunge was originally published as on SentimenTrader.com on 2021-05-14.
At SentimenTrader.com, our service is not focused on market timing per se, but rather risk management. That may be a distinction without a difference, but it's how we approach the markets. We study signs that suggest it is time to raise or lower market exposure as a function of risk relative to probable reward. It is all about risk-adjusted expectations given existing evidence. Learn more about our service , research, models and indicators.
Follow us on Twitter for up to the minute analysis of market action.
Follow @sentimentrader