Yields Not Nudging Dollar As Black Swans Get Priced In
---
---
This is an abridged version of our Daily Report.
Dollar dips despite rate rise
The yield on Treasuries has jumped, but it's not resulting in a perkier dollar, even though the two usually move in broadly the same direction.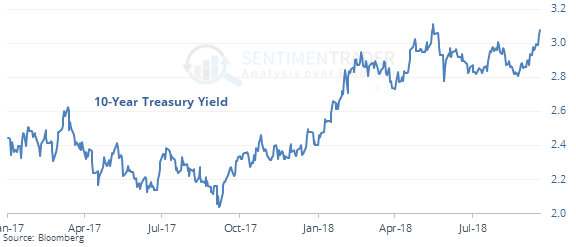 The two markets do sometimes decouple, and that has usually led to more dollar weakness when it doesn't respond to higher rates.
Options traders are nervous despite the calm
Options traders are pricing in a higher than average probability of a black swan event. This is despite a nearly 60-day streak without a 1% up or down move in stocks, raising concerns that somebody knows something. But it's likely being distorted by the looming midterm elections.
Bad bonds
Optimism on Treasury bonds has declined to one of the lowest levels in 15 years. The Optimism Index for bonds just fell to 25 for the first time since March 2017. Only mid-May 2004 and April 2006 saw similarly low readings.
Contagion
The latest casualty of the rolling emerging market chaos is Egypt. Investors are dumping shares, and its Optimism Index just dipped to 5 again. According to the Backtest Engine, in the history of the EGPT fund there have been 44 days with optimism this low.
F
or access to the full report, indicators, charts, screens, and Backtest Engine, log in or sign up for a free 30-day trial today.
Related Posts:
---
Tagged As:
The post titled Yields Not Nudging Dollar As Black Swans Get Priced In was originally published as on SentimenTrader.com on 2018-09-20.
At SentimenTrader.com, our service is not focused on market timing per se, but rather risk management. That may be a distinction without a difference, but it's how we approach the markets. We study signs that suggest it is time to raise or lower market exposure as a function of risk relative to probable reward. It is all about risk-adjusted expectations given existing evidence. Learn more about our service , research, models and indicators.
Follow us on Twitter for up to the minute analysis of market action.
Follow @sentimentrader