Why this is different than other bull market peaks
---
---
This is an abridged version of our recent reports and notes. For immediate access with no obligation, sign up for a 30-day free trial now.
Bear market momentum
The big drop in momentum stocks earlier this month triggered the theory that the long bull market in stocks was likely over, since momentum has been driving the market. That argument is questionable, and the recent moves in those stocks has little resemblance to how momentum has behaved prior to other bull market peaks.

Momentum stocks typically gained in each period leading up to bull market peaks, while this time they've collapsed. The differences across three of the four time frames we looked at were vast prior to every bull market peak since 1926.
De-leveraging
Stocks haven't exactly gone gangbusters over the past year, but the S&P still showed a year-over-year gain at the end of August. Even so, margin debt has dropped more than 10% over the past year as investors de-leverage.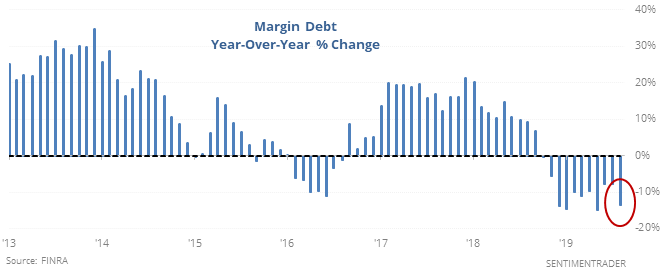 That has usually been a good sign for stocks, but it's not a very useful data series, especially compared to the attention that it gets.
IPO woe
The poor reception of the Peloton IPO has worried investors a bit, since it suggests that risk appetite is waning. But IPOs have been lagging for months.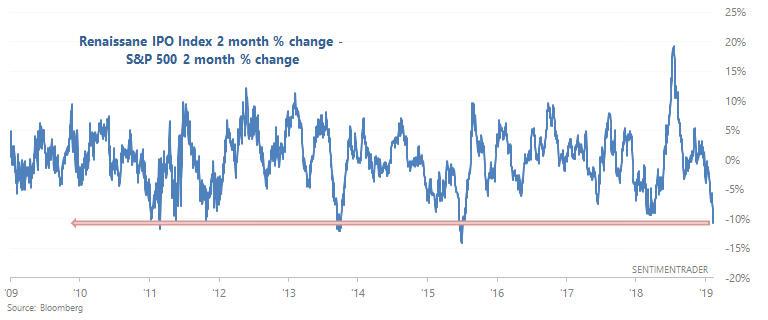 It wasn't a good reason to worry – two months after the other instances, the S&P was higher each time by an average of 6.5%.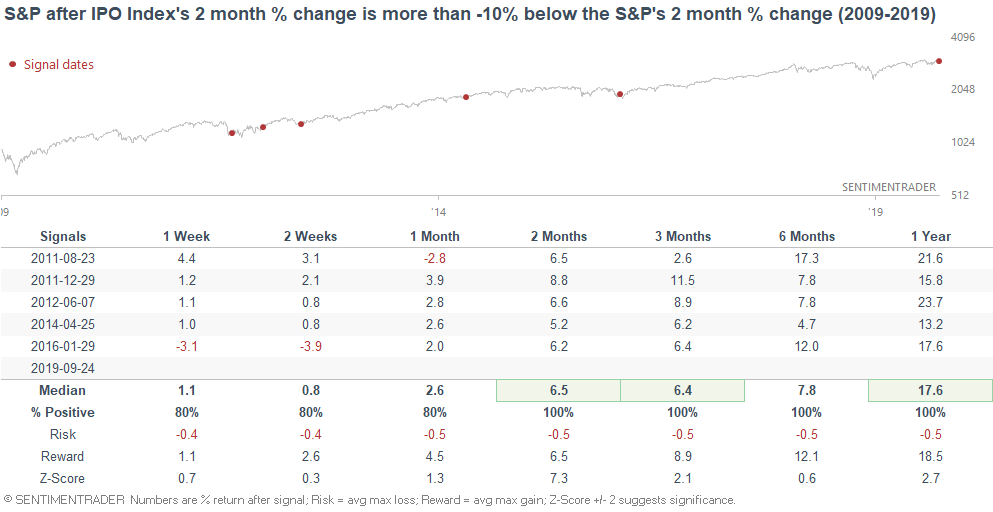 Gold flow
Over the past week, an average of more than $400 million per day has flowed into GLD, the most since August 2011.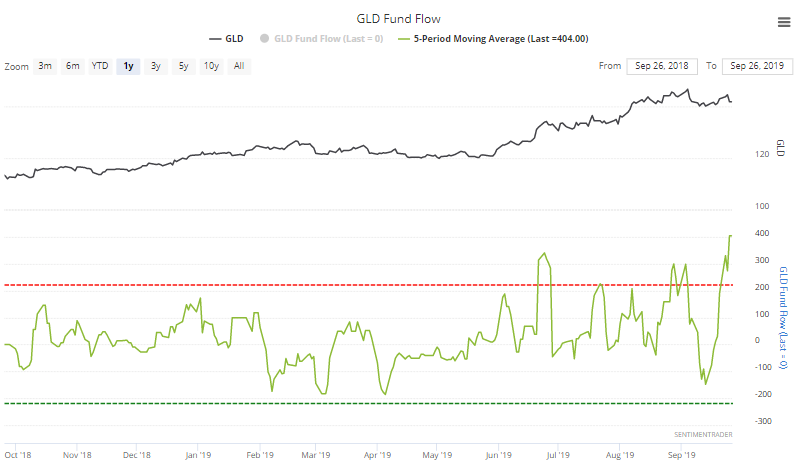 Fund flows can be tricky, but according to this backtest, when the 5-day average inflow to GLD is above $250 million, the fund rose over the next month only 30% of the time, averaging a return of -3.5%.

Related Posts:
---
Tagged As:
The post titled Why this is different than other bull market peaks was originally published as on SentimenTrader.com on 2019-09-27.
At SentimenTrader.com, our service is not focused on market timing per se, but rather risk management. That may be a distinction without a difference, but it's how we approach the markets. We study signs that suggest it is time to raise or lower market exposure as a function of risk relative to probable reward. It is all about risk-adjusted expectations given existing evidence. Learn more about our service , research, models and indicators.
Follow us on Twitter for up to the minute analysis of market action.
Follow @sentimentrader