Why the "smart money" is about to get flattened
---
---
Administrative note: The Lite report will be taking a temporary hiatus during the week of November 23 - 27.
Each month, Bank of America releases a widely-followed survey of professional fund managers. The latest results, released earlier this week, showed that 216 managers with $573 under management are the most optimistic on stocks in more than 2 years.
The percentage of managers who are overweight equities jumped again in the past month. It has not been a good contrary indicator when it comes to the broader market, so knee-jerk contrarians would beware.
The survey is more of a contrary indicator in other aspects. For example, these managers are currently very confident that the yield curve will steepen in the months ahead, but the few other times they were similarly confident, the curve promptly flattened.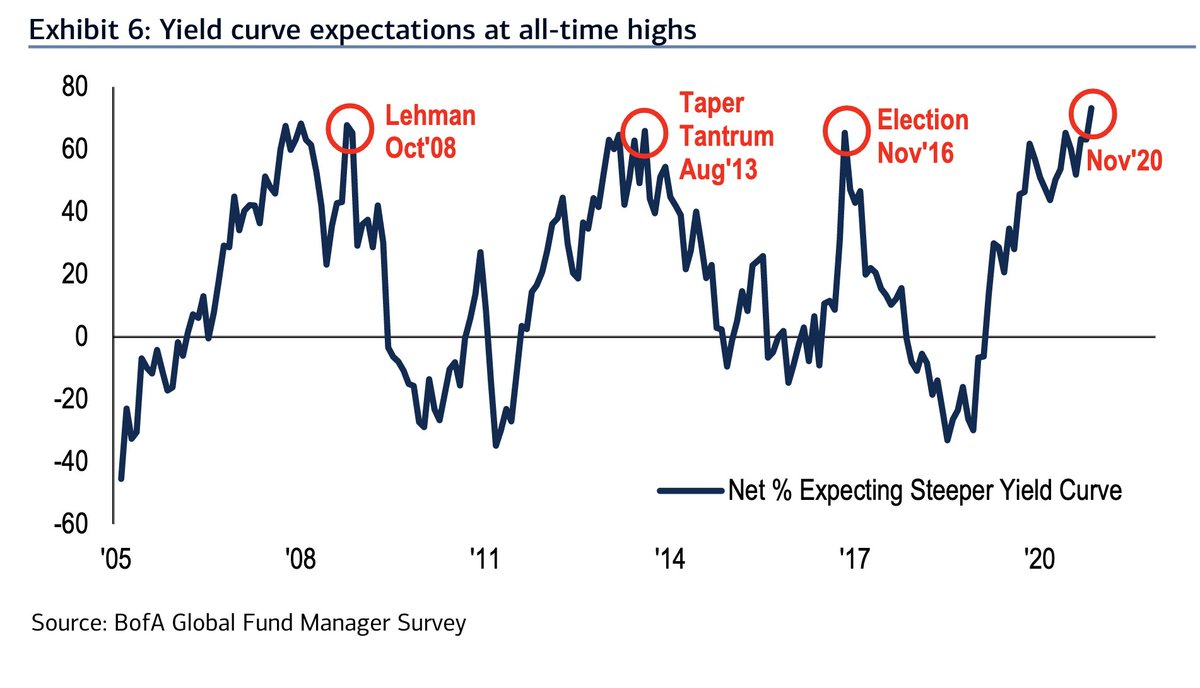 All 3 times when fund managers were this confident about a steepening curve, the 2-year / 10-year Treasury spread almost immediately flattened.
Like everything, it pays to watch how these factors play out in the coming month(s). If the yield curve continues to steepen (and there are signs it should) then we'll have some good evidence that this time is indeed different than the multiple false starts over the past decade.
---
What else is happening
These are topics we explored in our most recent research. For immediate access with no obligation, sign up for a 30-day free trial now.
What happens when fund managers are heavily overbought stocks
Managers are more optimistic about emerging markets than developed markets
Looking at performance in small-caps and the yield curve after managers are confident both will rise
The S&P 500 and Nasdaq are up double-digits through 225 trading days of the year - what happens next
There has been a historic rally in soybeans, corn, and sugar
---
Stat Box

There have been 14 years since its inception when the Nasdaq Composite was up 20% or more through mid-November. That combination of momentum and seasonality tended to lead to further gains, with the Nasdaq adding to its performance over the next 2 weeks after 12 of those signals.
---
Sentiment from other perspectives
We don't necessarily agree with everything posted here - some of our work might directly contradict it - but it's often worth knowing what others are watching.
1. ETF traders are pulling out of gold. Funds that buy the bullion have seen a big drop in assets over the past 2 weeks, with the most outflows since March. [Daily Shot]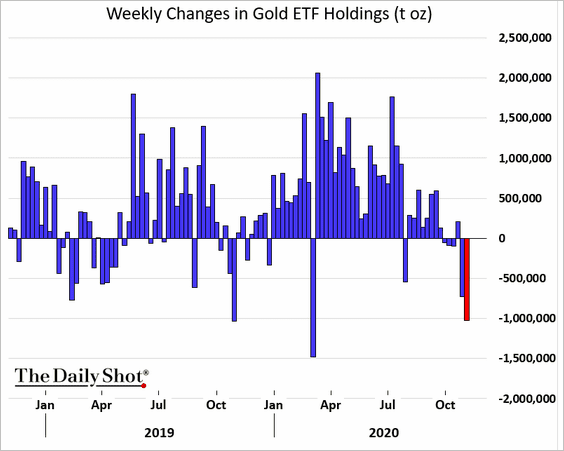 2. It's been a good time to be an index investor. The percentage of global stocks beating the MSCI World Index dropped to a level seen only twice before, as stocks were peaking in 1999-2000 and 2007-2008. [Pictet]
3. There has been a massive shift toward value stocks since Pfizer's initial vaccine announcement. The shift in the U.S. has gotten a lot of attention. Less noticed? This shift is also occurring, perhaps even moreso, in emerging market countries. [Bloomberg]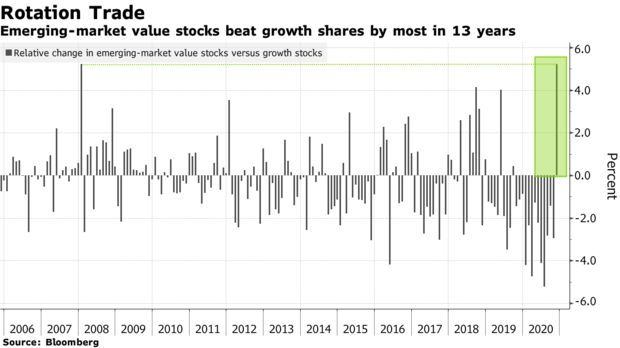 The post titled Why the "smart money" is about to get flattened was originally published as on SentimenTrader.com on 2020-11-20.
At SentimenTrader.com, our service is not focused on market timing per se, but rather risk management. That may be a distinction without a difference, but it's how we approach the markets. We study signs that suggest it is time to raise or lower market exposure as a function of risk relative to probable reward. It is all about risk-adjusted expectations given existing evidence. Learn more about our service , research, models and indicators.
Follow us on Twitter for up to the minute analysis of market action.
Follow @sentimentrader