Why The Price Surge Is A Good Sign
---
---
Golden
The concept of a Golden Cross is over-hyped, but it's still a popular question. Putting some context to it, when the S&P's 50-day average crosses above its 200-day after a medium-term decline, forward returns were okay, but nothing special. Over the next three months, an investor's average reward was barely higher than their average risk.
Big rally in a flat market
The rally to generate that signal meant an impressive gain over the past few months, even though the S&P 500 is flat relative to where it was over a year ago. That is usually seen after a big drop from a peak, then a momentum-driven rally.
Unlike the Golden Cross, this was a good signal for future returns. Most impressive was the risk vs. reward over the next few months. For up to three months later, the S&P's risk was a minimal -1.2%.
Indiscriminate buying
All 11 major S&P sectors gained for the quarter, and all were up more than 5%. That kind of broad-based buying interest led to more gains almost every time, especially since the late 1930s, and especially when the quarter was not mired in a recession.
Sentiment-driven
Most of the S&P's rebound has been due to a jump in the P/E Ratio.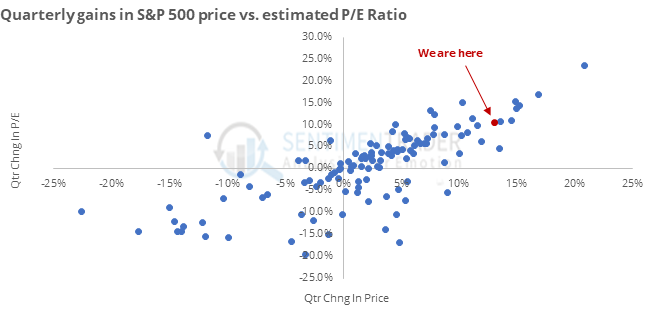 The S&P has shown better gains in the months following those types of rallies than it did when earnings growth was more of a factor.
Nice start to the month
The S&P jumped more than 1% and closed at a 100-day high to start the month. This has happened 33 other times, with 21 of them closing below the prior month's close within 50 days.
This post was an abridged version of our previous day's Daily Report. For full access, sign up for a 30-day free trial now.

The post titled Why The Price Surge Is A Good Sign was originally published as on SentimenTrader.com on 2019-04-02.
At SentimenTrader.com, our service is not focused on market timing per se, but rather risk management. That may be a distinction without a difference, but it's how we approach the markets. We study signs that suggest it is time to raise or lower market exposure as a function of risk relative to probable reward. It is all about risk-adjusted expectations given existing evidence. Learn more about our service , research, models and indicators.
Follow us on Twitter for up to the minute analysis of market action.
Follow @sentimentrader