Why the Pounding of Value Stocks May Be Nearing an End
---
---
Much of what we've seen in our research since last fall has favored Value over Growth as the best opportunity to tilt a portfolio for forward returns without trying to predict overall market direction.
That's been working but took a big hit in June. The total return ratio between the Russell 3000 Value Index versus the Growth Index tumbled more than 7.5% over the past month, one of the largest losses in years.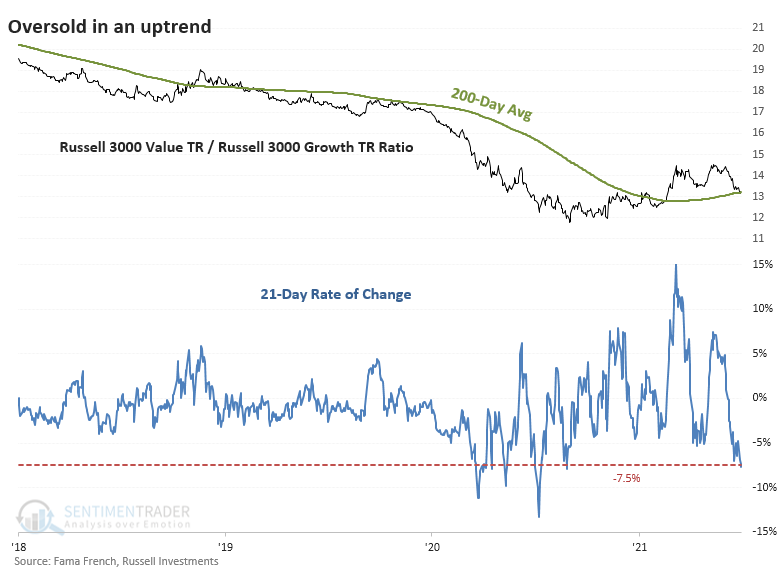 One difference with the recent losses is context - it's happening in an uptrend. Unlike the large rolling 1-month losses during much of 2020, the 200-day average of the Value/Growth Ratio is rising.
If we focus on large declines in the ratio only within uptrends, we can see that losses this large have typically resulted in the trend reasserting itself rather than sliding into another long-term downtrend. The ratio was extremely volatile in the 1930s, so many of the precedents were triggered then.
During modern markets, say since 1950, then things clear up a bit. Over the next 3-12 months, the ratio rebounded every time but once.

---
What else we're looking at
Full returns in Value, Growth, and Value vs. Growth stocks after big drops in the ratio
An update on absolute and relative trends across industry, sector, and country ETFs
Why soybeans may be headed for a trouble spot
---
Stat box



On Tuesday, the Nasdaq Composite closed at a new high with only 31% of its stocks advancing. That's the lowest percentage on any day with a new high since at least 1984.
---
Etcetera
No breaks. Short-term Industry Breadth is the best it can possibly be, showing that 100% of 23 major U.S. industry indexes are trading above their 10-day moving averages.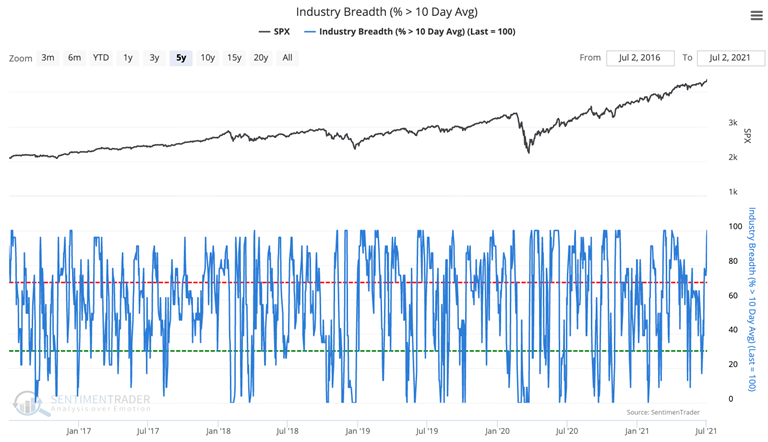 Undecided. The Corporate Insider Buy/Sell Ratio for financial stocks has continued to stay at its lowest point in history, with an overwhelming number of insiders selling stock relative to those buying.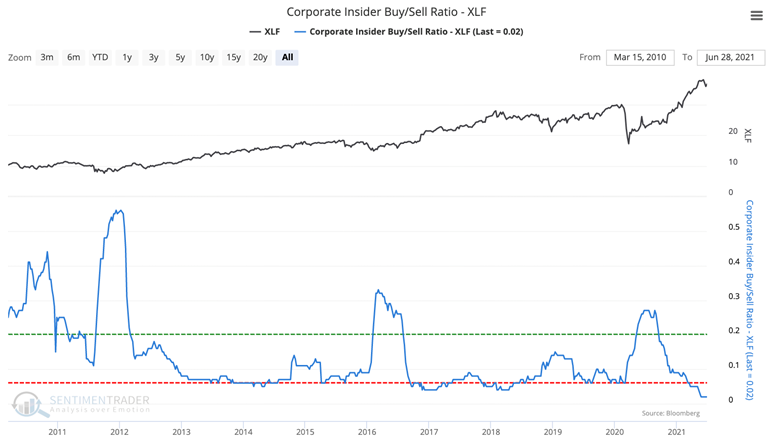 Call me? The VIX Put/Call Ratio has reached its lowest point since last July, dropping to 0.25 on Thursday. That shows traders are buying few contracts betting on a VIX decline relative to those betting the VIX will rise.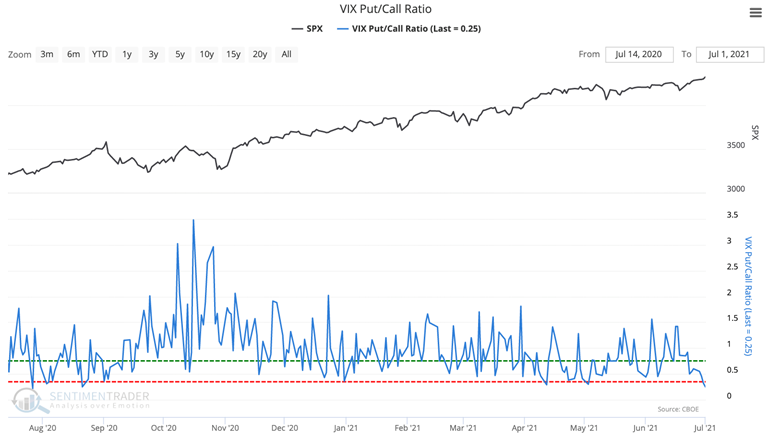 Our

Backtest Engine

allows users to test virtually every indicator our service offers in seconds. You can change indexes, parameters, trends, and lookback periods and see how it impacts future returns. We're working hard on version 2.0 which will allow even more flexibility.

Related Posts:
---
Tagged As:
The post titled Why the Pounding of Value Stocks May Be Nearing an End was originally published as on SentimenTrader.com on 2021-07-07.
At SentimenTrader.com, our service is not focused on market timing per se, but rather risk management. That may be a distinction without a difference, but it's how we approach the markets. We study signs that suggest it is time to raise or lower market exposure as a function of risk relative to probable reward. It is all about risk-adjusted expectations given existing evidence. Learn more about our service , research, models and indicators.
Follow us on Twitter for up to the minute analysis of market action.
Follow @sentimentrader