Why SPY may dip, and a strategy for buying it
---
---
Indexes shrug off weak internals
The NYSE registered 7 consecutive days with more declining issues than advancing issues, even while the S&P 500 was 0.29% below a 252-day high heading into Friday's carnage.
Similar streaks of negative breadth near a high have suggested a pause when it has triggered in the past.
For only the 6th time since 1926, declining issues outnumbered advancing issues for 7 consecutive days when the S&P 500 closed 2% or less from its 252-day high. There were 123 days that triggered if we ignore how far the S&P was trading from its peak. Almost half of those signals occurred when the S&P 500 was down 10% or more from its 252-day high.
While the sample size is painfully small, we looked at the other instances to determine the typical time it took for weakness in stocks to play out.

Stat box



Despite a nearly 2% loss on Friday, traders moved more than $500 million into the Nasdaq 100 Trust (QQQ) on Friday. That's the 14th time this year that tech investors have aggressively bought the dip.
Buying a pullback in an uptrend
Let's consider the potential for using a simple breadth-based indicator to play the long side using shares of ETF ticker SPY (SPDR S&P 500 ETF Trust ).
We will look for times when SPY is above its 200-day moving average and then fewer than 40% of its member stocks are trading above their 10-day moving averages for the first time in 2 months. The first condition filters for an objective "uptrend." The second condition objectively identifies a pullback in the overall index.
There is no shortage of trading signals since SPY's inception.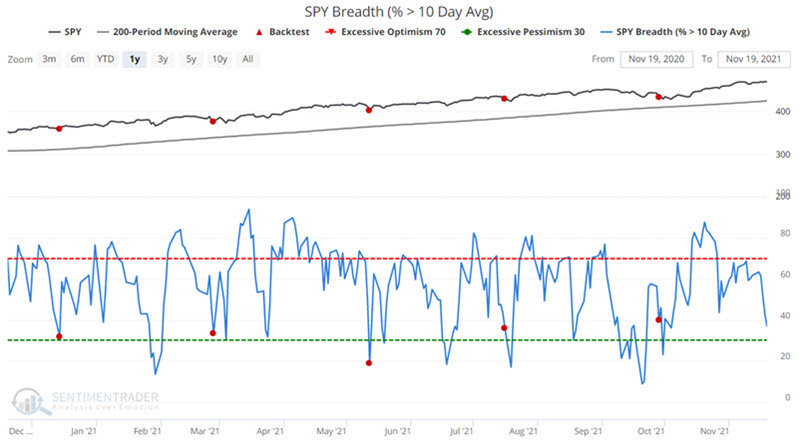 If we bought SPY after every signal and held for 2 months, the cumulative hypothetical growth of $1 since 1998 appears below.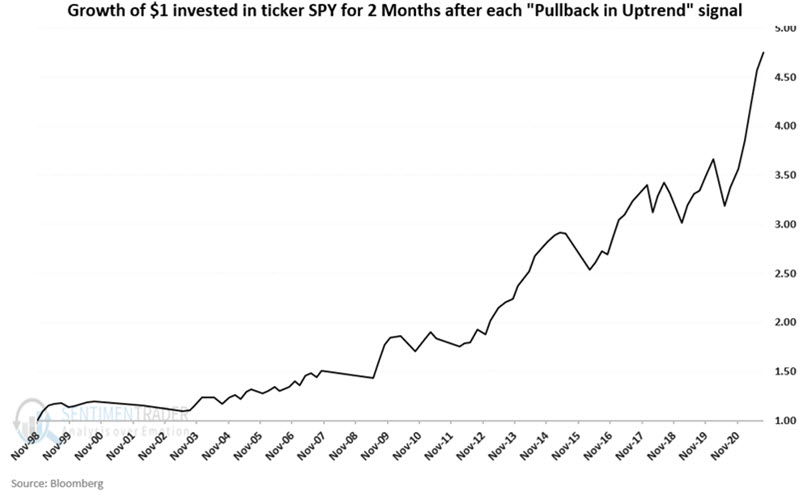 The strategy is not the "be all, end all" of trading systems and can undoubtedly be improved. But note also what it does demonstrate - that a simple "buy the dips in an uptrend" approach to trading can be consistently profitable over time.


The post titled Why SPY may dip, and a strategy for buying it was originally published as on SentimenTrader.com on 2021-11-29.
At SentimenTrader.com, our service is not focused on market timing per se, but rather risk management. That may be a distinction without a difference, but it's how we approach the markets. We study signs that suggest it is time to raise or lower market exposure as a function of risk relative to probable reward. It is all about risk-adjusted expectations given existing evidence. Learn more about our service , research, models and indicators.
Follow us on Twitter for up to the minute analysis of market action.
Follow @sentimentrader