Why So Defensive?
---
---
This is an abridged version of our recent reports and notes. For immediate access with no obligation, sign up for a 30-day free trial now.
High on defensives
The most defensive sectors of the market, consumer staples and utilities, saw a jump in the number of stocks rising to 52-week highs.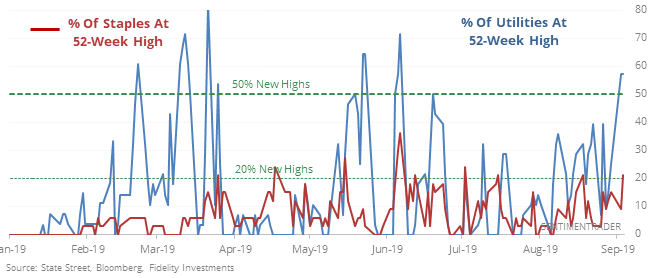 This usually coincides with periods of anxiety for investors, either about corporate or economic growth. And it has also consistently led to a quick alleviation of those fears.
Returns for the S&P going forward were above average, and usually positive. Over the next three months there were only 3 losses, though 2 of those were large. For the defensive sectors themselves, it was an especially big warning sign for utilities, which suffered consistent losses going forward.
Still not buying
The AAII survey continues to show an abnormally low amount of optimism among mom and pop investors. The 5-week average percentage of bulls has dropped to one of the lowest levels in 20 years and is nearing record lows vs "everyone else."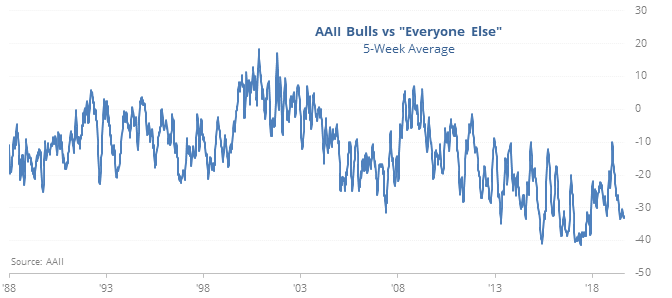 While they have been correct a couple of times, this kind of extreme has consistently been contrary, and a positive for stocks. According to our Backtest Engine, there were 94 weeks when there were this few bulls over a 5-week period, and 89 of those weeks showed a positive return three months later.

Gold purge
Optimism has been high on gold, and it managed to tack on gains despite it, hitting a fresh 52-week high on Wednesday. But selling hit on Thursday and gold suffered a 3 standard deviation loss (compared to its average gain or loss over the past year). Of the 11 other times it went from a 52-week high to 3 standard deviation loss the next day, it showed even more losses over the next month 8 times. All 8 signals since 1980 also showed losses between 6-12 months later.
Relentless
As Troy notes, the 10-year Treasury yield has held below its 50-day moving average for almost 100 straight days. That usually hasn't led to an immediate rebound in yields, but it did for stocks. All 10 times it has triggered, the S&P 500 was higher two months later.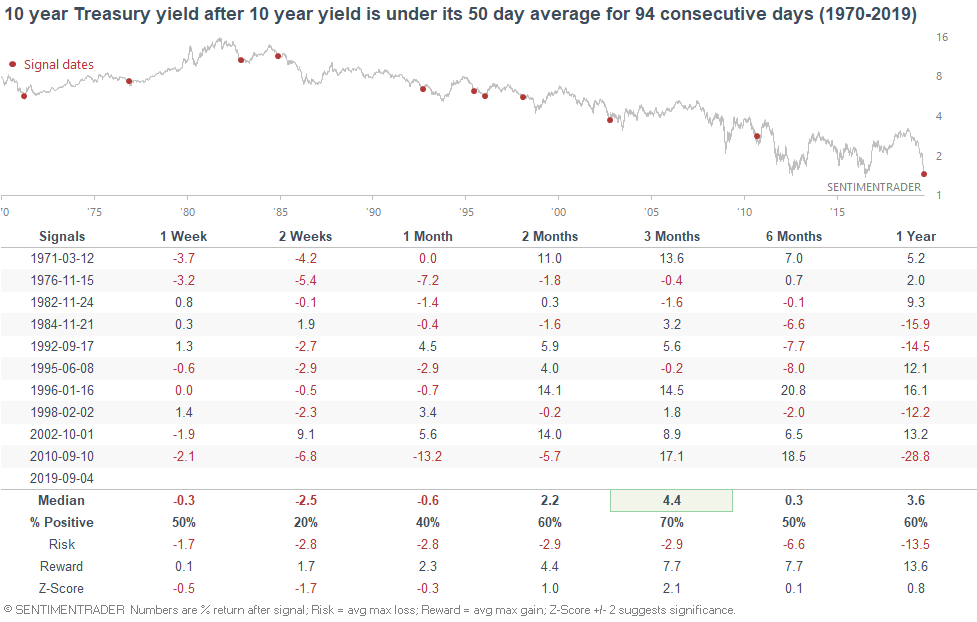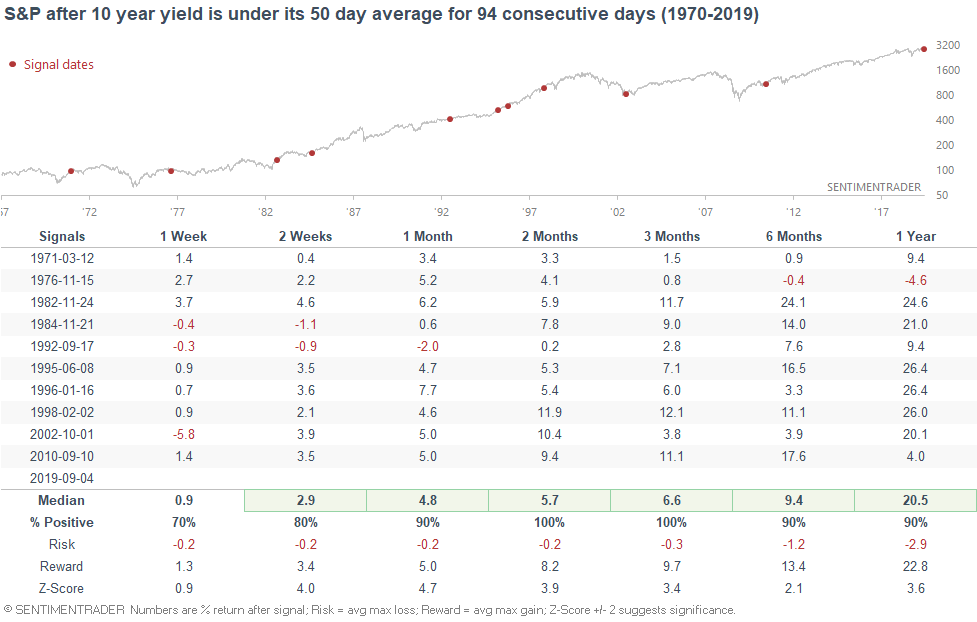 Related Posts:
---
Tagged As:
The post titled Why So Defensive? was originally published as on SentimenTrader.com on 2019-09-06.
At SentimenTrader.com, our service is not focused on market timing per se, but rather risk management. That may be a distinction without a difference, but it's how we approach the markets. We study signs that suggest it is time to raise or lower market exposure as a function of risk relative to probable reward. It is all about risk-adjusted expectations given existing evidence. Learn more about our service , research, models and indicators.
Follow us on Twitter for up to the minute analysis of market action.
Follow @sentimentrader