Why Small Caps Might Be a Better Bet
---
---
Over the past few weeks, there has been a remarkable rotation under the surface.
Since some riskier stocks took a mini-tumble into early May, many of them have stormed back. On May 12, only 31% of stocks in the Russell 2000 were holding above their 50-day moving averages. In the Info Tech sector, only 25% of stocks were above their averages. Both have seen participation more than double since then, while the S&P 500 has stagnated internally, as pointed out by the esteemed Liz Ann Sonders.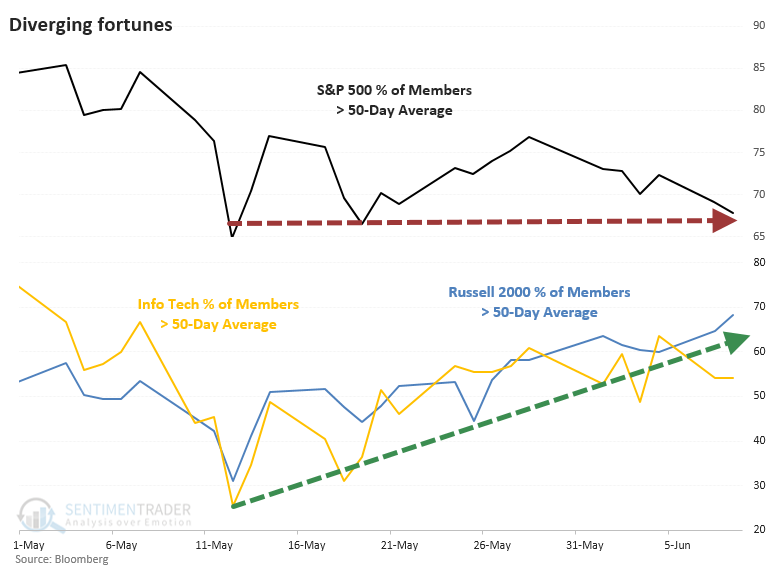 The big question, as always, is "so what?"
Bulls want to believe that the S&P 500 is just treading water and about to head higher, preceded by increasing risk appetite from investors moving into high-beta stocks. Bears will argue that stagnation is a sign of indecision and chop, something usually seen at peaks.
Looking at available history, bears have the more compelling evidence on their side, depending on the index, and the time frame.
For the S&P, this was a horrible sign. Over the next two months, it managed to rally only twice out of eleven attempts. For the other two indexes, however, it wasn't nearly as ominous.
What else we're looking at
Full returns in the S&P 500 after these internal divergence signals
How the Russell 2000 and Nasdaq Composite fared relative to the S&P after the signals - the Russell stands out
Highlighting a backtest for when more than 90% of S&P stocks traded above their 50-day averages
Members in the Russell 2000 have "reset" and show a thrust

---
Stat box



Fewer than 65% of gold mining stocks are now trading above their 50-day moving averages, the fewest in over a month. A 20-day average of this figure has now dropped below 89%. Out Backtest Engine shows this has triggered 28 times in nearly 30 years, and an index of mining stocks rallied over the next month after only 10 of them.
---
Etcetera
Wait for the squeeze. Total short interest among stocks on the NASDAQ exchange is at an all-time high, surpassing its previous peak in the summer of 2008. This doesn't account for the number of issues or float, but it's interesting to note that it just exceeded its prior peak.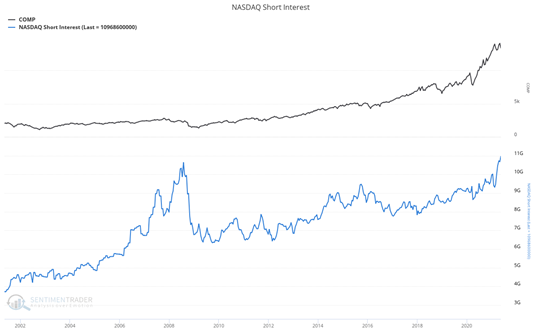 Risky business. Our micro-cap / S&P 500 relative ratio rank has rallied back to near half its latest peak from March 11th. This suggests that investors are exhibiting risk-on behavior after a three-month break.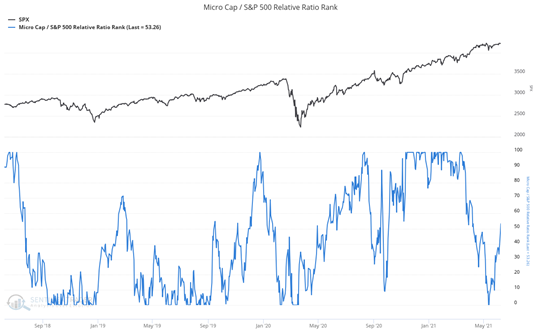 Brazil waxed. More than $175 million exited the Brazil fund, EWZ, earlier this week, the fourth time in 7 years this has happened, according to our Backtest Engine. Three months after the others, EWZ showed a gain each time, averaging 18%.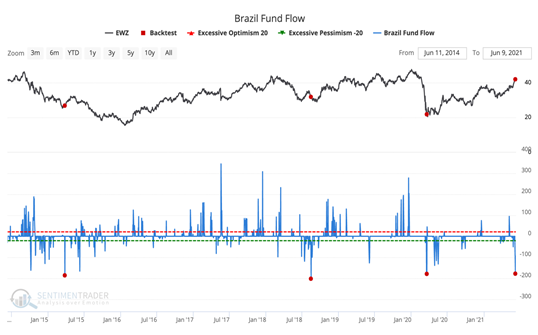 Related Posts:
---
Tagged As:
The post titled Why Small Caps Might Be a Better Bet was originally published as on SentimenTrader.com on 2021-06-10.
At SentimenTrader.com, our service is not focused on market timing per se, but rather risk management. That may be a distinction without a difference, but it's how we approach the markets. We study signs that suggest it is time to raise or lower market exposure as a function of risk relative to probable reward. It is all about risk-adjusted expectations given existing evidence. Learn more about our service , research, models and indicators.
Follow us on Twitter for up to the minute analysis of market action.
Follow @sentimentrader