Why Monday's Decline Was So Shocking
---
---
It's no secret that investors had become accustomed to a historic level of calm. We've been looking at this since the spring, it usually doesn't last, and yet it did for months.
Even with a late-day recovery on Monday, the loss in the most widely-benchmarked index in the world was a rude awakening to those who believe that stocks only travel in one direction. Monday's session was more than two standard deviations from the average daily change over the past year. The only other day with a -2 z-score over the past year was May 12, which marked the bottom for that pullback.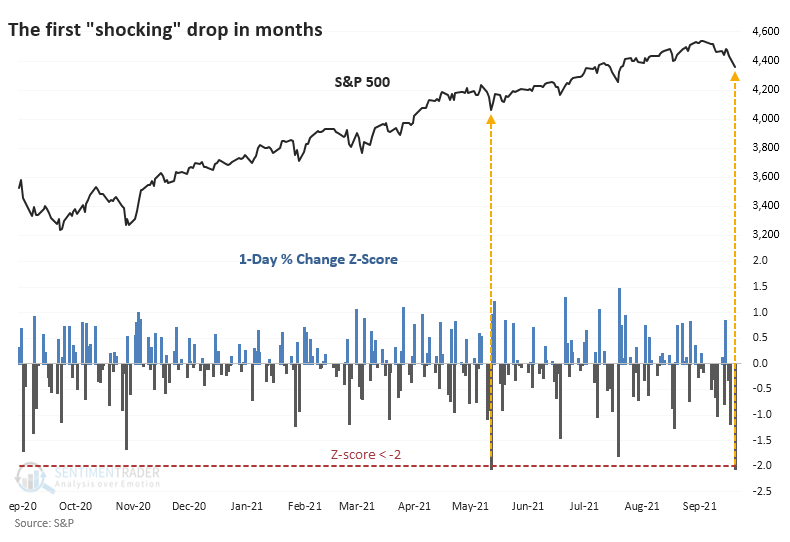 It had been nearly 90 days since that "shocking" decline in May, which is a relatively long time. Over the past decade, this ranked as the 10th-longest stretch between shocking drops.
Most of us are concerned with the question of "so what?" To help give a clue, the table below shows every time since 1928 when the S&P 500 was within 5% and no more than three weeks removed from a multi-year high, then suffered its first -2 standard deviation move in at least four months. These show the times when reality paid investors an unwelcome visit.

---
What else we're looking at
Full returns after stocks suffer a shocking drop
What the risk/reward of all precedents suggest about the coming week(s)
Potentially ways to manage a couple of options trades that are now profitable
A quick update on copper
Looking at several mean reversal signals that have set up (but not yet triggered)
---
Stat box



Put option trading volume in equities and indexes across U.S. exchanges neared 22 million contracts on Monday. That was the 6th-highest reading in the past 5 years.
---
Etcetera
Heavy industry. Recent losses are weighing on sentiment in industrial stocks. Over the past 10 days, the average Optimism Index on the XLI Industrials fund has been below 25%, the 2nd-lowest in two years. These stocks tend to do well once sentiment starts to recover from a very low level.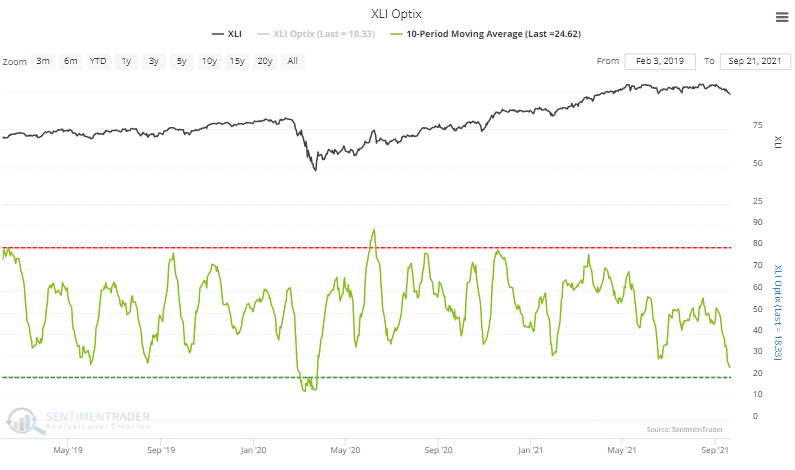 Oscillators oscillate. The McClellan Oscillator for industrial stocks has plunged below -100, showing quick and severe internal selling pressure. It was above +50 as recently as the end of August. The current reading is on par with the most severe reactions in the past year.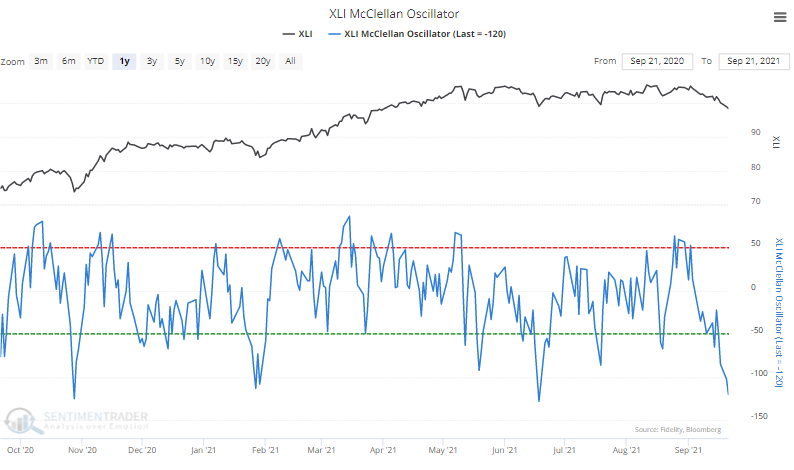 Sell (almost) everything. Heavy selling pressure is also evident in the 10-day advance/decline line for industrials. It's showing an average of nearly 20 more stocks declining than advancing, nearing the most lopsided selling pressure since the pandemic crash.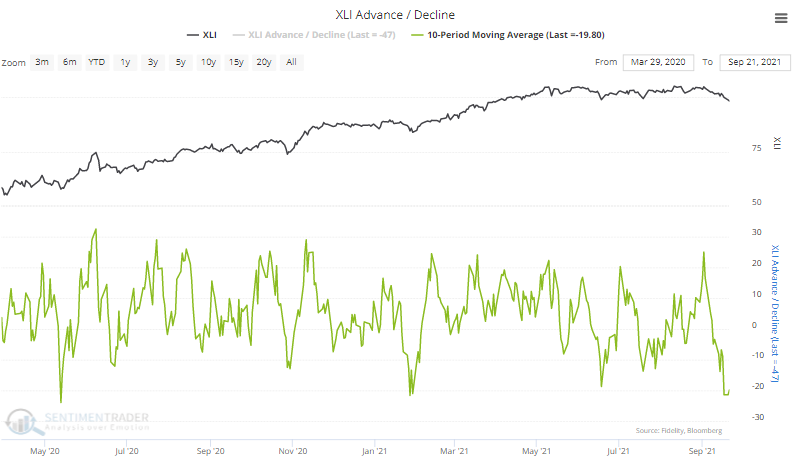 Related Posts:
---
Tagged As:
The post titled Why Monday's Decline Was So Shocking was originally published as on SentimenTrader.com on 2021-09-22.
At SentimenTrader.com, our service is not focused on market timing per se, but rather risk management. That may be a distinction without a difference, but it's how we approach the markets. We study signs that suggest it is time to raise or lower market exposure as a function of risk relative to probable reward. It is all about risk-adjusted expectations given existing evidence. Learn more about our service , research, models and indicators.
Follow us on Twitter for up to the minute analysis of market action.
Follow @sentimentrader