Why Monday was so unusual
It's always sketchy to make a big deal about a single trading session, especially in relation to drawing conclusions about future returns. Markets are too noisy, and sometimes there is a market event that throws things out of whack for a day or two.
At the risk of that, let's make a big deal about Monday.
Despite the S&P 500 closing within 0.1% of a record high on Monday, fewer than 35% of securities on the NYSE managed to close above their closing price from Friday. That was the weakest Up Issues Ratio since 1946.
Since 1928, when the S&P 500 was within 0.25% of a 52-week high, an average of 58% of securities on the NYSE advanced for the day. There have been 3,331 days when the S&P was that close to a high, and the histogram below shows just how unusual Monday's session was.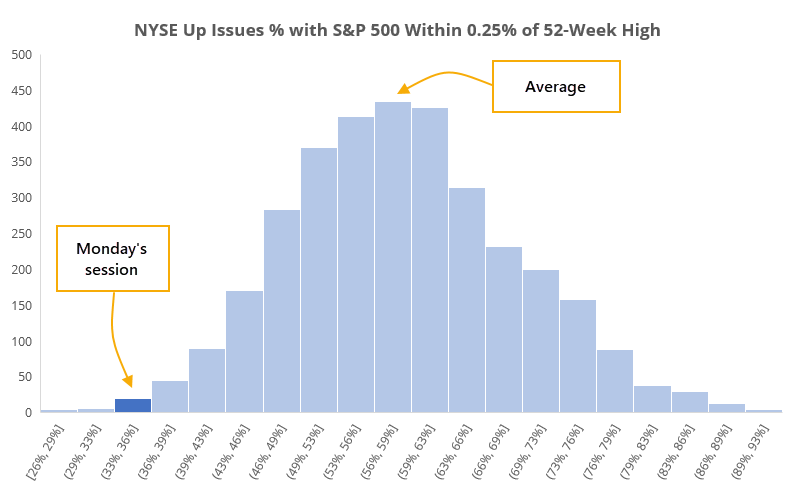 In terms of what those weak days meant for forward returns, the S&P had some trouble holding near its highs when so many stocks had been declining under the surface. Every signal in the past 30 years showed a negative 1-month return.
What else we're looking at
Detailed returns following extremely low Up Issues
The McClellan Oscillator and Summation Index are also unusually low
What it means when financials consistent underperform the broader market - and what that means right now
What happens when optimism on the VXX volatility fund starts to ebb from enthusiasm

Stat Box



Over the past 20 days, an average of

92%

of gold mining stocks have been mired in a bear market. This is the most since early 2014.
Etcetera
The shine has come off precious metals. A 20-day moving average of the Optimism Index for the SLV silver ETF is showing the least optimism since the big thrust starting a year ago. It's about as low as it got during the protracted bear market. Our Backtest Engine shows that even during the bear market, this kind of low optimism generated a positive return over the next month.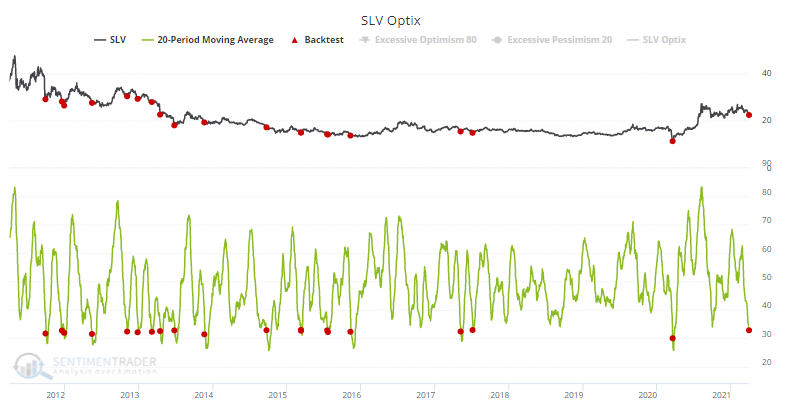 Traders are leaving. After a big spike in assets for a couple of days early in February, the SLV fund has been leaking funds. Over the past month, the fund has lost an average of nearly $34 million per day.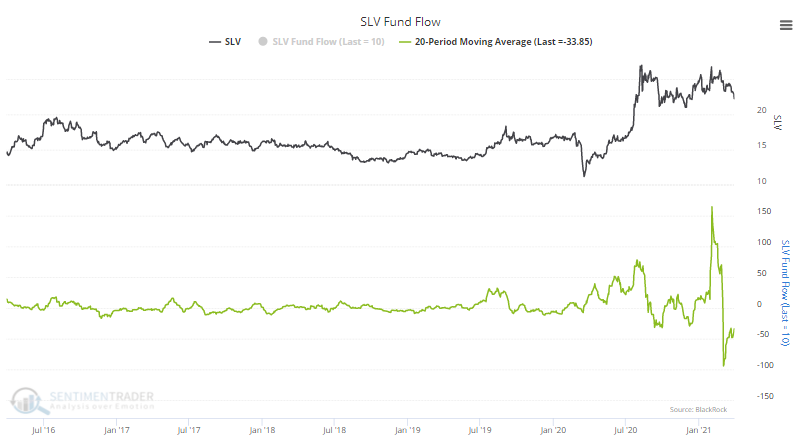 Seasonal boost? The spring winds typically provide a tailwind to SLV, as it has a positive seasonal bias in April...before a tougher stretch during the summer months.