Why Investors' Money Market Rush Isn't Necessarily A Buy Signal
---
---
This is an abridged version of our recent reports and notes. For immediate access with no obligation, sign up for a 30-day free trial now.
Money market mystery
Assets in money market funds continue to ramp higher. Knee-jerk contrarians will take that as a buy signal, but it's not that easy. Assets aren't as high as they appear, and when they've jumped this much over a 12-month period before, it has preceded some very difficult markets.
While the absolute level of money market assets is high, as a percentage of assets, they are well below prior peaks. In the early 1980s, there was twice as much money sitting in money market funds than equity funds.

Over the past year, money market assets have grown by more than 25%, one of the largest rates of change in 35 years. But that has not necessarily been an automatic buy signal for stocks. Two signals were excellent buys, two were excellent sells, and one led to extreme choppiness.
More than anything, what we can take away is that this is by no means an automatic contrary signal.
More breakouts
With more and more overseas equity markets breaking out, their accompanying breadth statistics continue to improve. For example, the % of Nikkei members at a 52 week high has now exceeded 10% for the first time since September 2018.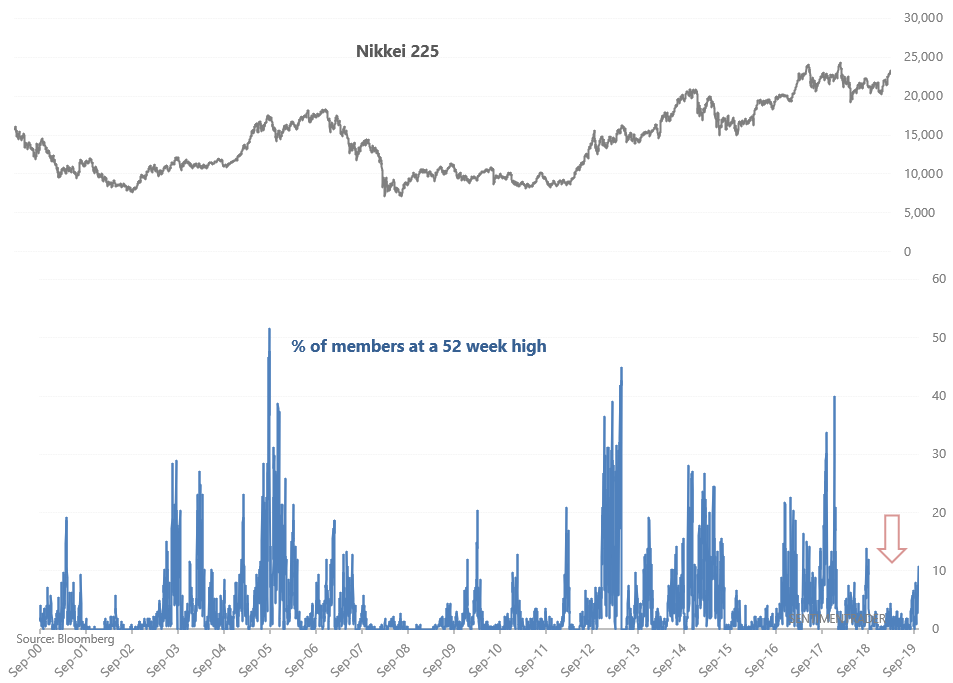 When the % of members at 52 week highs expanded to above 10% in the past, the Nikkei typically continued to rally over the next 1-2 weeks.
A few of them rolled over in the months ahead, but over the next year, the risk/reward was heavily skewed to the upside.
Take a listen
Jason chatted with Dan Ferris from the Stansberry Investor Hour a couple weeks ago. They discussed signs that investors are wildly pessimistic (with an exception), opportunities in energy and overseas stocks, and why watching leveraged investors is instructive.
Oh, and the benefits of scraping cow dung.
Download the episode via the usual channels, or directly here.

Related Posts:
---
Tagged As:
The post titled Why Investors' Money Market Rush Isn't Necessarily A Buy Signal was originally published as on SentimenTrader.com on 2019-11-07.
At SentimenTrader.com, our service is not focused on market timing per se, but rather risk management. That may be a distinction without a difference, but it's how we approach the markets. We study signs that suggest it is time to raise or lower market exposure as a function of risk relative to probable reward. It is all about risk-adjusted expectations given existing evidence. Learn more about our service , research, models and indicators.
Follow us on Twitter for up to the minute analysis of market action.
Follow @sentimentrader