Why do small stocks look so expensive?
---
---
By some measures, stocks have never been so expensive, especially smaller ones.
A lot of small companies lose money, and those are often not included when firms calculate metrics like price/earnings ratios. If we use forward earnings estimates from Bloomberg, then we can alleviate some of those issues. Even so, small stocks haven't been this pricey in 25 years.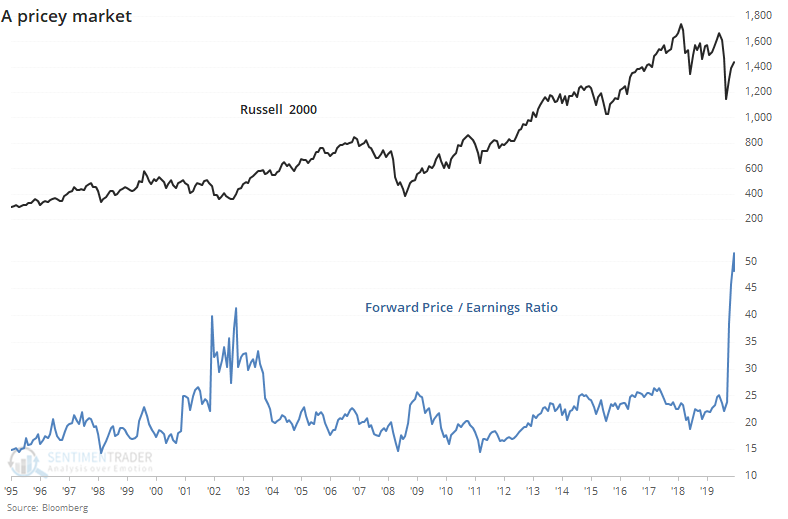 Granted, estimated earnings bring their own set of issues, especially now with uncertainty so high. The last time the forward P/E ratio for Russell 2000 stocks spiked above 40 was the bottom of the 2002 bear market, so this is not necessarily a reason to think stocks are expensive, just that uncertainty about profits is high.
As noted by Marketwatch:
"The reason these two firms report such low P/E ratios is that their calculations exclude firms that are losing money. In many years, this exclusion has little impact. But not now, since a significant percentage of the small- and mid-cap firms that are in the Russell 2000 index are losing money. By excluding those firms, the calculations artificially make the small- and mid-cap sectors appear significantly undervalued."
If we focus on that other issue, the fact that many of these companies are losing money, then it seems like a major negative. Only twice before in 20 years have such a high proportion of these small companies lost money, and as we see so often in markets, what seems true isn't necessarily so, because both times the Russell 2000 ended up rallying.
This is an abridged version of our recent reports and notes. For immediate access with no obligation, sign up for a 30-day free trial now.
We also looked at:
A look at the percentage of stocks in the Russell 2000 with negative operating earnings
What it means when the S&P 500 and Nasdaq rally at least 0.5% for 5 straight days
Copper is historically overbought - what that means for the metal, stocks, and commodities
Volume in SPY has dropped from well above average to well below
A lot of Taiwanese stocks are overbought

The post titled Why do small stocks look so expensive? was originally published as on SentimenTrader.com on 2020-07-08.
At SentimenTrader.com, our service is not focused on market timing per se, but rather risk management. That may be a distinction without a difference, but it's how we approach the markets. We study signs that suggest it is time to raise or lower market exposure as a function of risk relative to probable reward. It is all about risk-adjusted expectations given existing evidence. Learn more about our service , research, models and indicators.
Follow us on Twitter for up to the minute analysis of market action.
Follow @sentimentrader