Why Aren't Hedgies Buying?
---
---
Another near-thrust
Enough stocks have risen during the past two weeks, with enough volume flow, that it has nearly triggered another Zweig Breadth Thrust.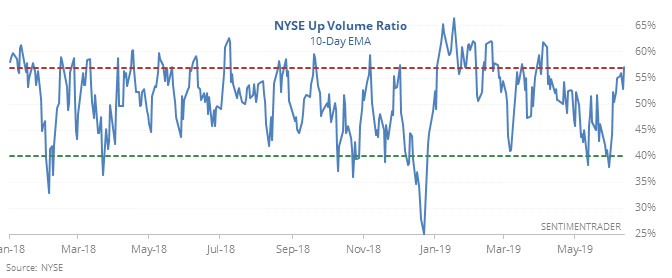 Like we've seen with a lot of indicators over the past month or so, what's most notable about these readings isn't necessarily what they're doing, it's that they're doing it during a relatively healthy market.
These tended to lead to good returns going forward, somewhere between above and well above random. Consistency was good, but not great since there were several losers on various time frames, but a year later there was only one minor loss.
Hedge funds stay put
Equity hedge funds continue to show little interest in stocks. Their correlation to movements in the stock market are at a 5-year low, suggesting they're focused on something other than broad market exposure.
The last time their exposure level was less than 20%, the S&P 500 was sitting at 1842. The index has rallied more than 50% since then, and exposure's right back down to the same level. Similarly low exposure levels have had a stark impact on future returns over the medium-term.
"Trader" funds see inflows
ETFs that cater to quick-fingered traders, as opposed to passive asset allocators, have seen massive inflows since stocks bottomed in early June.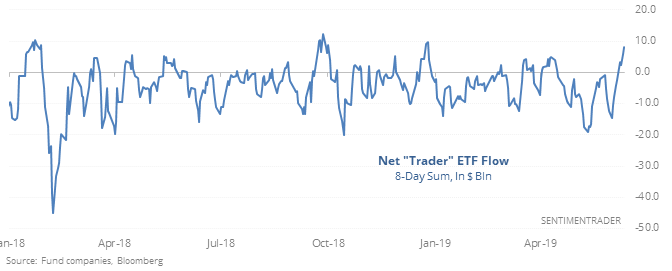 When inflows have been this high, stocks' short-term returns significantly lagged times when traders were fleeing those funds.
The latest Commitments of Traders report has been released, covering positions through Tuesday
The 3-Year Min/Max Screen shows that "smart money" hedgers established a new multi-year high in exposure to heating oil, and short in Eurodollar futures. They added significantly to cotton. Their interest in corn plunged, now holding 10% of open interest net short.
This post was an abridged version of our previous day's Daily Report. For full access, sign up for a 30-day free trial now.

Related Posts:
---
Tagged As:
The post titled Why Aren't Hedgies Buying? was originally published as on SentimenTrader.com on 2019-06-17.
At SentimenTrader.com, our service is not focused on market timing per se, but rather risk management. That may be a distinction without a difference, but it's how we approach the markets. We study signs that suggest it is time to raise or lower market exposure as a function of risk relative to probable reward. It is all about risk-adjusted expectations given existing evidence. Learn more about our service , research, models and indicators.
Follow us on Twitter for up to the minute analysis of market action.
Follow @sentimentrader