Why 2021 was so much like the mid 1990s
---
---
Sector and factor performance most like 2021

Near the end of the year, we looked at the S&P 500's closest analogs. In terms of pure price performance for the index itself, the highest-correlated year was 1995.
If we look at performance under the surface, things change a bit. In 2021, Energy and REITs were the highest-ranked sectors, while the Small-Cap factor took up the rear. This is using total return and ranked against the return of all other sectors and factors. In 1995, Health Care and Financials led everything else, though Small-Caps were still weak.
Using the correlation between sector and factor ranks, 1995 doesn't show up as the closest correlation (+0.27 out of a scale from -1.0 to +1.0). That honor belongs to the following year (0.69). Most sectors/factors with high (green) and low (red) rankings in 2021 showed similar rankings in 1996.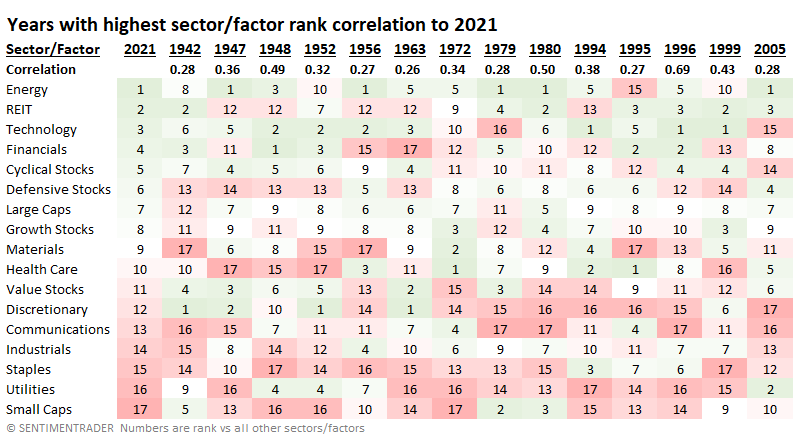 Like we saw with the S&P analog, years with the highest sector and factor correlations to 2021 showed strength in the first couple of weeks, then less so. For the sectors and factors themselves, there was some evidence of mean-reversion.

Stat box



On Monday, 100% of stocks in India's Nifty 50 index traded above their 10-day moving averages. That's only the 11th time in 20 years. All 10 previous signals saw the Nifty rise over the following 6 months.
Yet another wonderful quarter for investors
There have been 56 quarters that have seen the S&P 500 Index gain +9% or more in price since 1933. Forty-seven of those quarters were followed by another up quarter. Only nine times did the S&P 500 decline over the next quarter.
The chart below displays the cumulative growth of $1 invested in the S&P 500 for three months after a +9% quarter.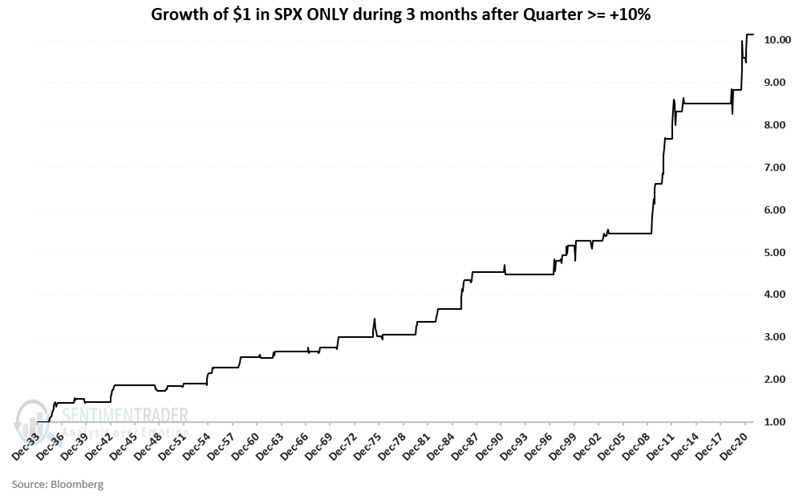 Traders should not assume that the first quarter of 2022 is sure to show a gain for the S&P 500 Index. An 84% success rate is a powerful indication, but it does not guarantee success.


The post titled Why 2021 was so much like the mid 1990s was originally published as on SentimenTrader.com on 2022-01-05.
At SentimenTrader.com, our service is not focused on market timing per se, but rather risk management. That may be a distinction without a difference, but it's how we approach the markets. We study signs that suggest it is time to raise or lower market exposure as a function of risk relative to probable reward. It is all about risk-adjusted expectations given existing evidence. Learn more about our service , research, models and indicators.
Follow us on Twitter for up to the minute analysis of market action.
Follow @sentimentrader