Who's Afraid Of An IPO Surge?
---
---
New issues
The IPO market is thawing, and we could be on track for a record-breaking year. The only other years that investors absorbed this much in new issues, stocks stumbled the next year. But when accounting for inflation and the growing market value of all equities, it's not such a worry.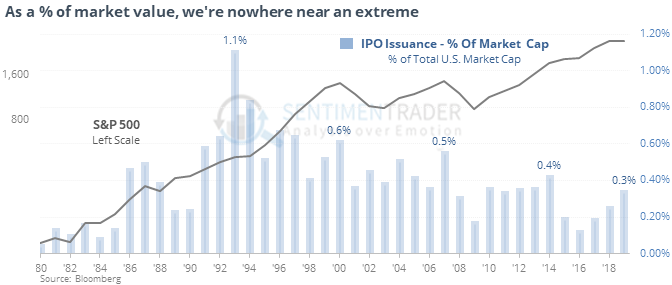 If the stock market holds together in the next few months, we'll likely see a rush of huge new issues, so this data could become more extreme. We likely won't near the previous extremes in terms of percentage of market cap, but we could in inflation-adjusted terms.
Metal mush
Palladium suffered a huge setback this week, with as much as a 15% decline from its peak. Sharp breaks in palladium is sometimes considered a potential warning about slowing economic growth.
As noted by CNBC:
Palladium gained 2.0 percent on Friday to $1,375.00 per ounce, having slid over 12 percent in the week amid worries that industrial demand for the precious metal would be hurt by a weakening economy.
This is better in theory than practice. Similar plunges in the metal led to mixed returns in most assets. For palladium itself, as well as the dollar and gold, it was a likewise mixed signal.
Mo-mo quarter
The S&P 500 managed to string together at least 1% rallies each of the first three months of the year. It was also a string of three months following a 12-month low. Both signs of momentum led to good forward returns, especially the latter (see inside).
The latest Commitments of Traders report was released, covering positions through Tuesday
The 3-Year Min/Max Screen shows that hedgers established new multi-year extreme short positions in the Mexican peso and cattle futures.
This post was an abridged version of our previous day's Daily Report. For full access, sign up for a 30-day free trial now.

The post titled Who's Afraid Of An IPO Surge? was originally published as on SentimenTrader.com on 2019-03-30.
At SentimenTrader.com, our service is not focused on market timing per se, but rather risk management. That may be a distinction without a difference, but it's how we approach the markets. We study signs that suggest it is time to raise or lower market exposure as a function of risk relative to probable reward. It is all about risk-adjusted expectations given existing evidence. Learn more about our service , research, models and indicators.
Follow us on Twitter for up to the minute analysis of market action.
Follow @sentimentrader