When This Happens, Value Stocks Soar
---
---
Stocks and bonds have both been rallying, throwing the usual "inflation" playbook into a tizzy.
Late last week, the S&P 500 hit a record high at the same time that 10-year Treasury note yields plunged to their lowest level in months.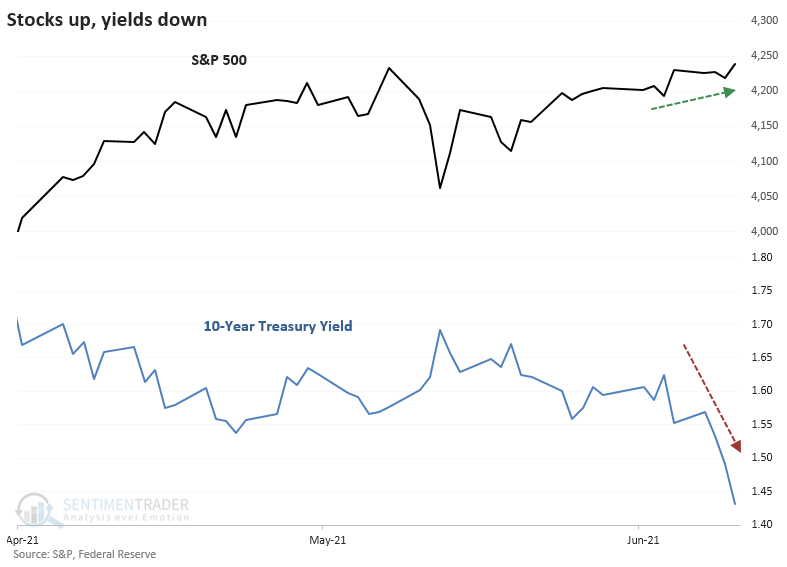 Dean looked at what happens when the S&P 500 closes at a new all-time high as the 10-year yield closes at a 3-month low. After screening out repeat signals by requiring the 10-year bond yield to register a new 3-month high before an additional signal could trigger, he saw that stocks generally held up well going forward.
There were certain sectors, like Energy and Financials, that did particularly well. Factors like Value stood out as well.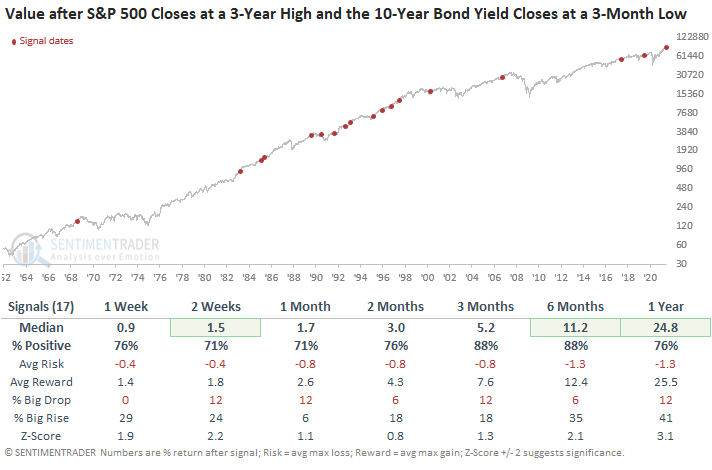 Over the next 3-6 months, Value stocks rose after 15 out of 17 signals, with well above-random average returns and an excellent risk/reward skew.
What else we're looking at
Full returns across indexes and sectors following divergences between stocks and yields
What happens when stocks in medium-term trends turns higher
Our Optimism Index on TLT has reached an extreme
Optimism on crude oil is high and turning lower

---
Stat box



Last week, "smart money" commercial hedgers in S&P 500 futures contracts were holding $52 billion worth of contracts net short, a record amount of short exposure in any equity futures index.
---
Etcetera
Oil spill. Flows into the OIH oil services fund have reached its highest point in history, taking in more than $400 million in a single day late last week. Our Backtest Engine shows that two months after any inflow of more than $200 million, the average return in OIH was negative 5.1%.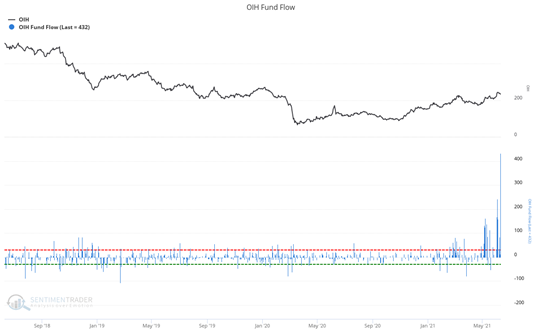 Beware of bio. The IBB Optimism Index has reached its highest point in the last year. Over the past decade, the two-week forward return in IBB after any reading above 92 was a median -0.4%.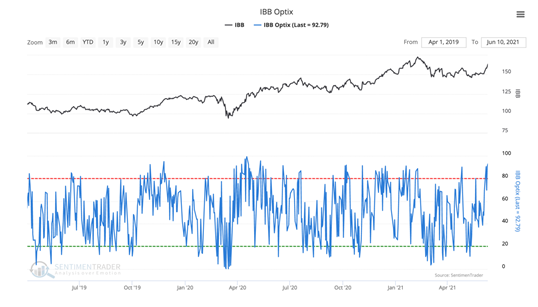 Mocha mania? Coffee seasonality is contradicting years past. Coffee is up more than 25% year-to-date, bucking its usual mediocre return through early June, which has been its worst month on average.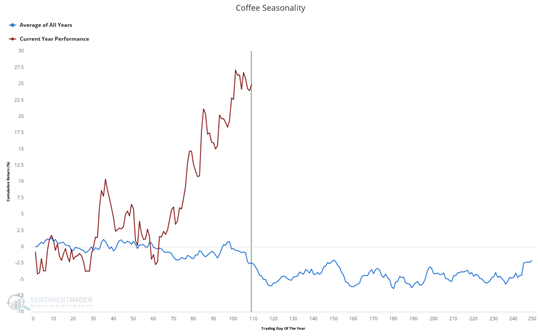 The post titled When This Happens, Value Stocks Soar was originally published as on SentimenTrader.com on 2021-06-14.
At SentimenTrader.com, our service is not focused on market timing per se, but rather risk management. That may be a distinction without a difference, but it's how we approach the markets. We study signs that suggest it is time to raise or lower market exposure as a function of risk relative to probable reward. It is all about risk-adjusted expectations given existing evidence. Learn more about our service , research, models and indicators.
Follow us on Twitter for up to the minute analysis of market action.
Follow @sentimentrader