When this happened before, stocks never lost
---
---
Another thrust in participation

In early December, buying interest across stocks was broad and urgent. More than 80% of volume on the NYSE flowed into advancing securities, triggering a rare breadth thrust.
Within the most benchmarked index in the world, buying interest has been just as impressive. The percentage of S&P 500 member stocks trading above their 10-day moving averages cycled from only 25% on December 20 to more than 90% by last week.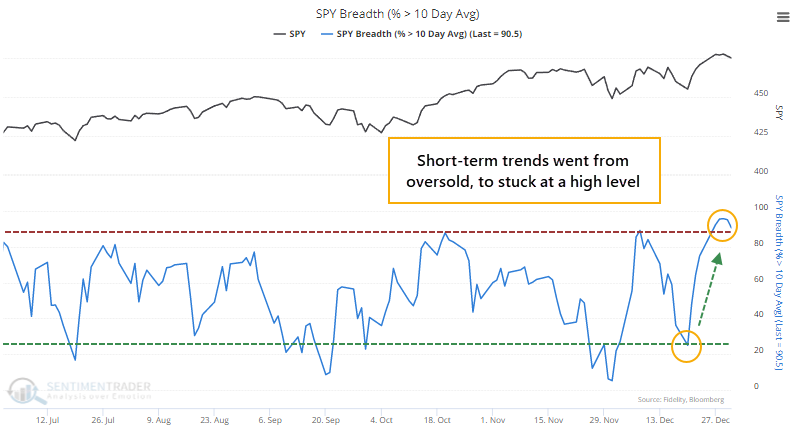 Our Backtest Engine shows that since 1998, the S&P 500 performed well after more than 90% of its stocks traded above their 10-day averages, preceding a positive one-year return after 187 out of 193 signals.
When these short-term trends cycled from below 25% (rounded) to above 90% on consecutive days, the S&P never lost ground over the next 6 months.
But it's even more impressive than that. By December 27, more than 90% of stocks were trading above their 10-day averages, and it hasn't dropped below 90% since then. This 5-day streak is tied for the 4th-longest since 1950.

Stat box



For only the 7th time in its history, the ProShares Ultra VIX Short-term Futures ETF (UVXY) declined for 9 consecutive days. Volatility tended to increase in the weeks following the prior signals.
Extending gold miners' seasonal window
In December, Jay noted a particular positive seasonal bias in gold mining stocks during the latter half of December.
Now let's consider the standard Santa Claus Miner Rally period during post-election years and extend the holding period through the close of January Trading Day of Month #11 in the mid-term election year.
The chart below displays the growth of $1 invested in HUI ONLY during the extended Santa Claus Miner Rally period every four years.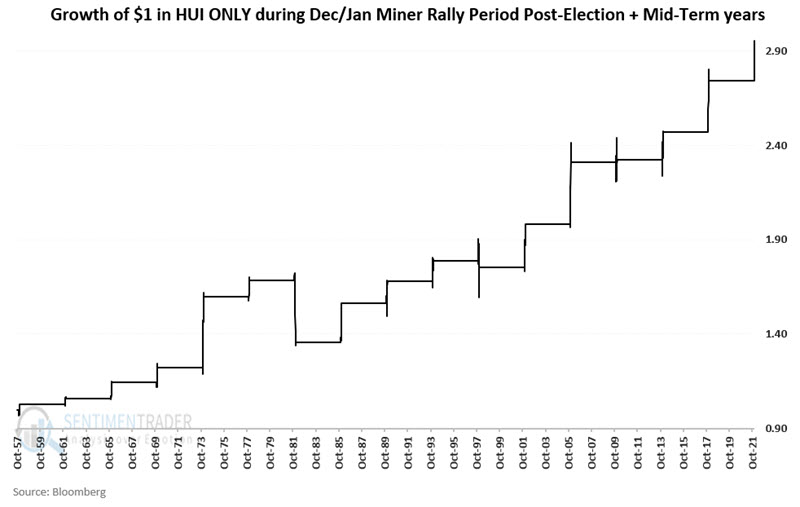 Out of 16 cycles, this pattern showed a profit 14 times.
If history proves an accurate guide, the rally in gold miners that started on 12/16 may extend through 1/18/2022. Nevertheless, traders must recognize the speculative nature of trading gold mining stocks and remember that significant loss is possible.


Related Posts:
---
Tagged As:
The post titled When this happened before, stocks never lost was originally published as on SentimenTrader.com on 2022-01-04.
At SentimenTrader.com, our service is not focused on market timing per se, but rather risk management. That may be a distinction without a difference, but it's how we approach the markets. We study signs that suggest it is time to raise or lower market exposure as a function of risk relative to probable reward. It is all about risk-adjusted expectations given existing evidence. Learn more about our service , research, models and indicators.
Follow us on Twitter for up to the minute analysis of market action.
Follow @sentimentrader