When the ducks are quacking
---
---
Among the most opportunistic groups on Wall Street are investment bankers. If they see an appetite for something, they will work tirelessly to fulfill it. They've been busy over the past year, and there's no letup so far.
We noted the rise in IPOs, and their performance, in December. We've neared or exceeded the prior bubble peak in most metrics that count. It's not just IPOs, but additional offerings like secondaries that are enjoying open arms among investors.
Over the past year, there has been nearly $400 billion in issuance according to Bloomberg data.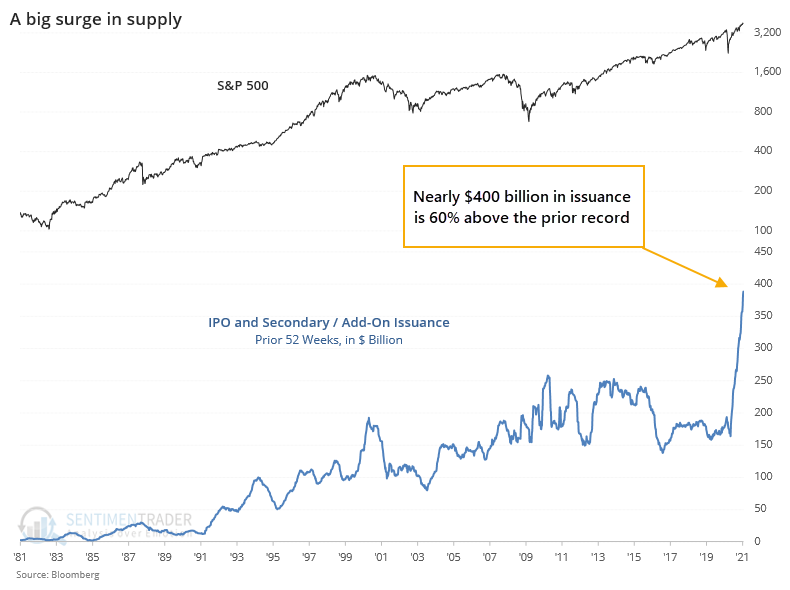 Markets have grown - a lot - so as a percentage of the total market capitalization of U.S. stocks, this issuance is not nearly as extreme.
What else we're looking at
A closer look at IPO and secondary issuance relative to the market
It's not just the dollar amount that's extreme, but also the number of issuers
Once again, investors are leveraging up against their stock portfolios
A long-term look at the bond market
The housing market is giving a fundamental buy signal

Stat Box



For only the 10th time since 1928, the S&P 500 closed at a 52-week high while fewer than

45%

of its member stocks managed to close even above their 10-day moving averages. It's happened only once in the past 30 years, on August 21, 2020.
Sentiment from other perspectives
Whenever you see corporate insider buying and selling data for free, or one touts some miracle algorithm, you should be immediately skeptical. Analyzing insider transactions in a meaningful way takes years of experience and deep knowledge of the workings of how they buy and sell. That's why a ratio of these smart money investors, calculated by someone who knows how, is now at a worrying level. Source: Marketwatch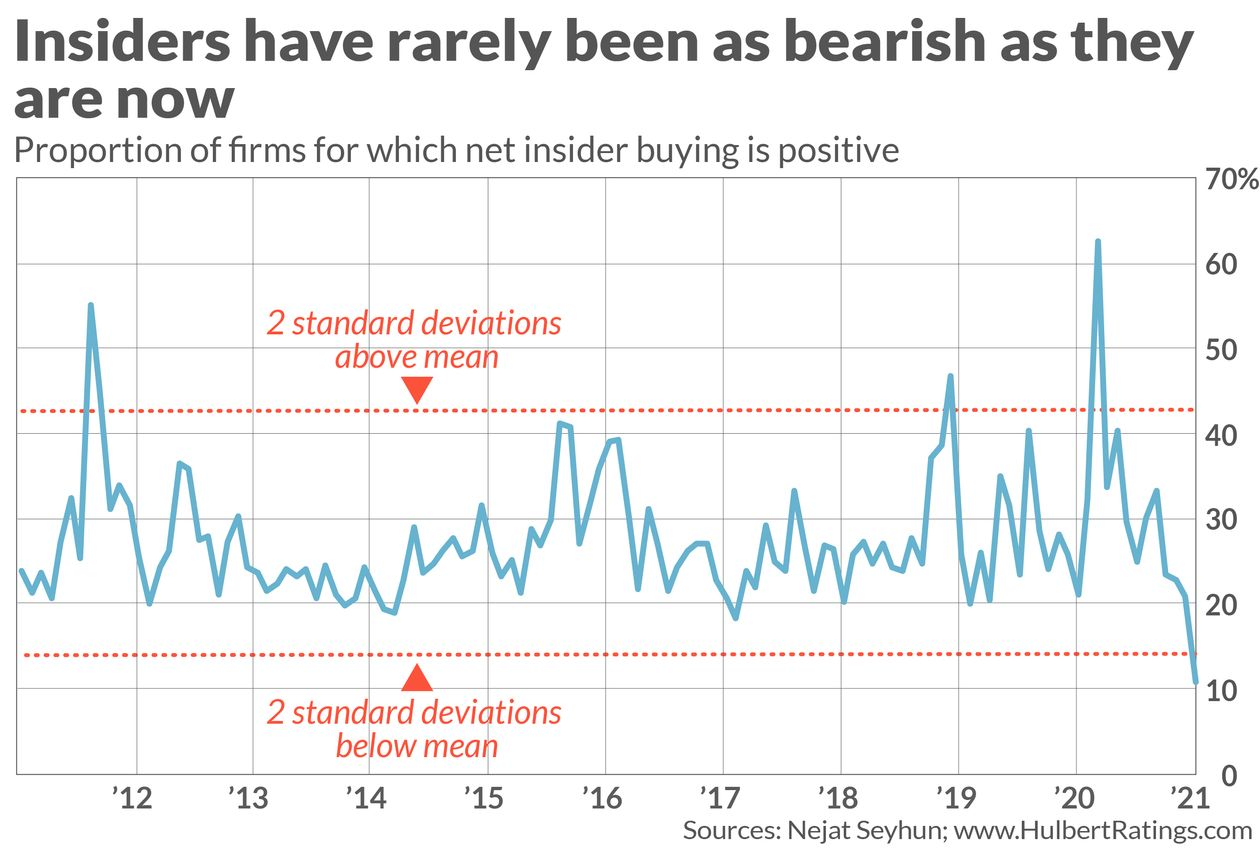 This is stunning. We're seeing record-high volume in call options being bought to open. And where are those traders focusing their efforts? On the least profitable companies. Pure speculation, in its rawest form. Source: Deutsche Bank via Daily Shot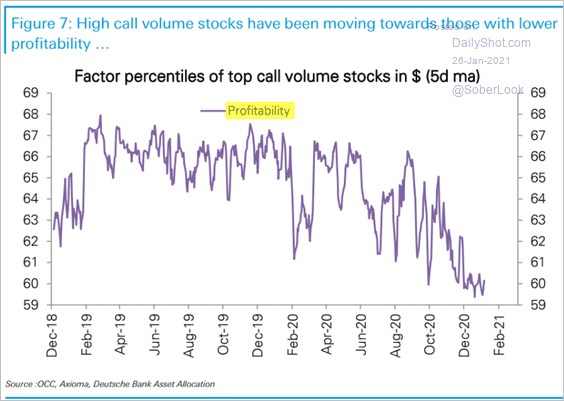 The active managers who participate in a weekly survey from NAAIM are a savvy group, so they are not an effective contrary indicator. Still, it's notable that even the most bearish among them is still heavily net long stocks. Source: NAAIM via Bloomberg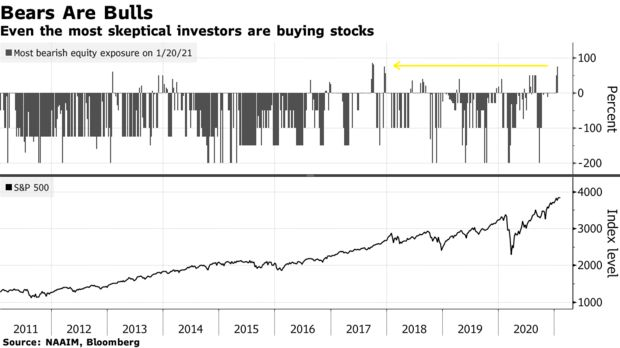 Related Posts:
---
Tagged As:
The post titled When the ducks are quacking was originally published as on SentimenTrader.com on 2021-01-26.
At SentimenTrader.com, our service is not focused on market timing per se, but rather risk management. That may be a distinction without a difference, but it's how we approach the markets. We study signs that suggest it is time to raise or lower market exposure as a function of risk relative to probable reward. It is all about risk-adjusted expectations given existing evidence. Learn more about our service , research, models and indicators.
Follow us on Twitter for up to the minute analysis of market action.
Follow @sentimentrader