When Almost Every Stock Rises, This Happens
---
---
With internal weakness that's been festering for a while, then a dip in most stocks to end last week, some sensitive breadth measures neared oversold territory. Monday's surge took care of much of that.
Traders get excited when there is a lopsided day in the markets. On Monday, it was all-aboard to the upside, with few stocks failing to rise. There have been more than 450 net advancing stocks within the S&P 500 only five other times in the past five years when SPY was above its 200-day moving average.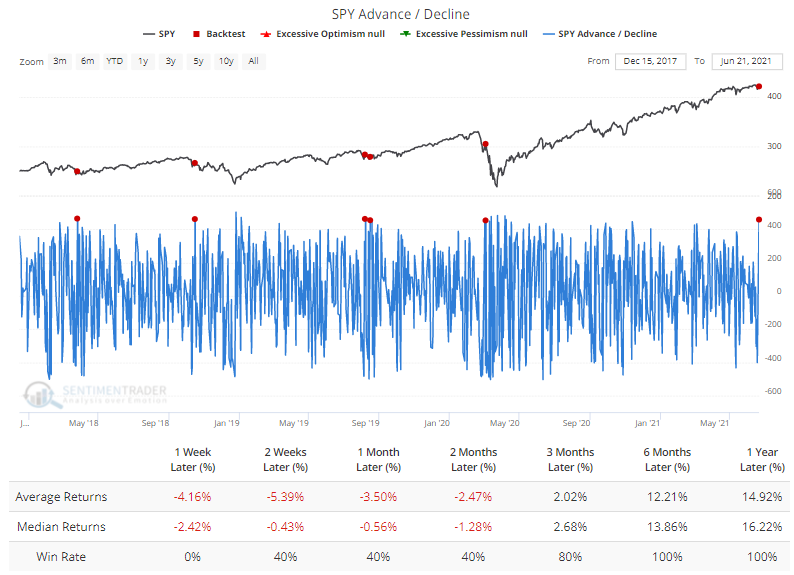 For what it's worth, all five saw the S&P trade lower over the next week before rebounding. It took about 5 seconds to test this assumption using our Backtest Engine.
Going back to 1928, Monday was among the best breadth days ever, with more than 90% of its stocks advancing, when the S&P was sitting within 1% of a multi-year high. It never happened from 1928 through 1986.
Before Monday's surge, for only the third time since the pandemic low, fewer than 35% of S&P 500 stocks were holding above their 50-day moving averages. This ended a streak of more than seven months, the longest in over three years and ranking as one of the best since 1927. And despite the drop in stocks holding above their 50-day averages, nearly 90% of them were still above their 200-day averages.
What else we're looking at
Full returns following a lopsided breadth day near a high since 1928
What happens after a drop in stocks above their 50-day averages
Returns following ends of medium-term uptrends but within long-term positive trends
A very curious thing happened during Tuesday's session
Why it's time to keep a close eye on natural gas
A reminder about looming S&P 500 seasonality
Crude oil has been very "trendy" lately - what it means going forward

---
Stat box



On Tuesday, the S&P 500 closed within 0.25% of a 52-week high, but fewer than 46% of its stocks were above their 10-day moving averages. That ranks as the 6th-lowest reading out of 3,395 days since 1928.
---
Etcetera
Crypto crash. The Bitcoin Optix has dropped to 7.6 for only the third time this year, with the others both being late last month.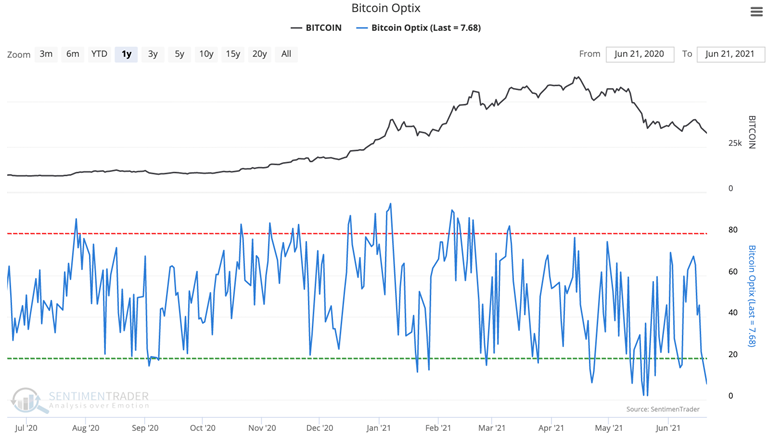 Major meltdown. The Major Index Combo has dropped to its lowest point in two years, slumping to -98. When this has happened within the last decade, according to the Backtest Engine, returns were mostly negative over the next 2-8 weeks.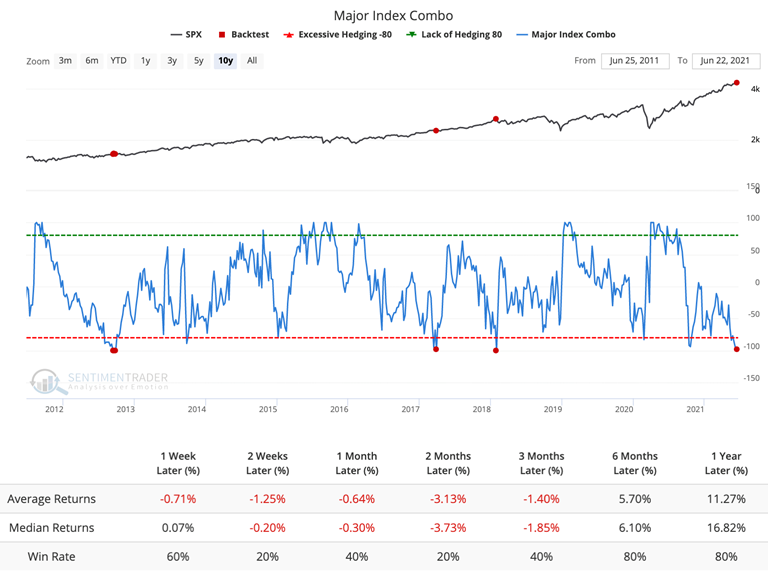 No average joe. Average coffee seasonality is close to its lowest point of the year. Over the past 30 years, the contract has usually bottomed around the 115th trading day of the year. Hard to imagine in 2021 with massive gains already.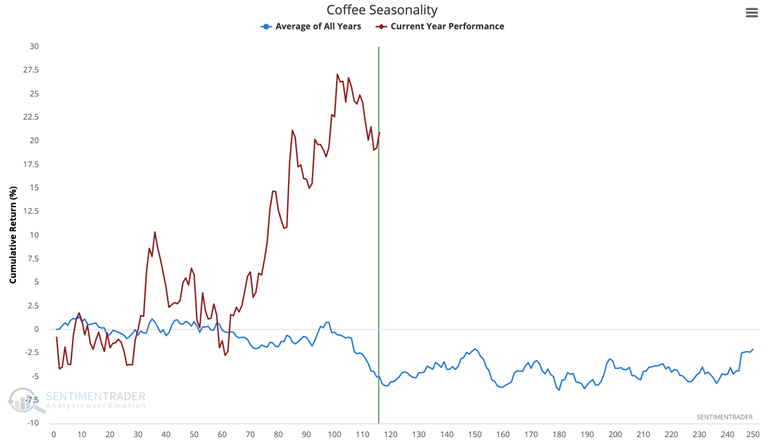 Related Posts:
---
Tagged As:
The post titled When Almost Every Stock Rises, This Happens was originally published as on SentimenTrader.com on 2021-06-23.
At SentimenTrader.com, our service is not focused on market timing per se, but rather risk management. That may be a distinction without a difference, but it's how we approach the markets. We study signs that suggest it is time to raise or lower market exposure as a function of risk relative to probable reward. It is all about risk-adjusted expectations given existing evidence. Learn more about our service , research, models and indicators.
Follow us on Twitter for up to the minute analysis of market action.
Follow @sentimentrader