What's Wrong With The Smart Money?
---
---
This is an abridged version of our recent reports and notes. For immediate access with no obligation, sign up for a 30-day free trial now.
Another one bites the dust
The Conference Board's Leading Economic Index® is a popular indicator to watch for potential recessions ahead, and the latest reading shows a 2nd consecutive drop month-over-month.
The LEI hasn't gone much of anywhere for a year, showing signs of plateauing. Its Bollinger Band has tightened to a near-record degree, showing that the index has flattened out over the past year.

Using a long time frame, we can see still that it was not a successful "get out now" signal for stocks. Across most time frames, the S&P was negative only once or twice, and overall average returns and risk/reward were better than random. There was a definite bias toward staples stocks and away from discretionary ones, however.
Smart Money Flow Index
The Smart Money Flow Index (or Smart Money Index) is based on the premise the "smart money" trades at the end of the day while "dumb money" trades at the start of the day. This indicator particularly catches traders' attention when it goes down (headline: SMART MONEY IS SELLING).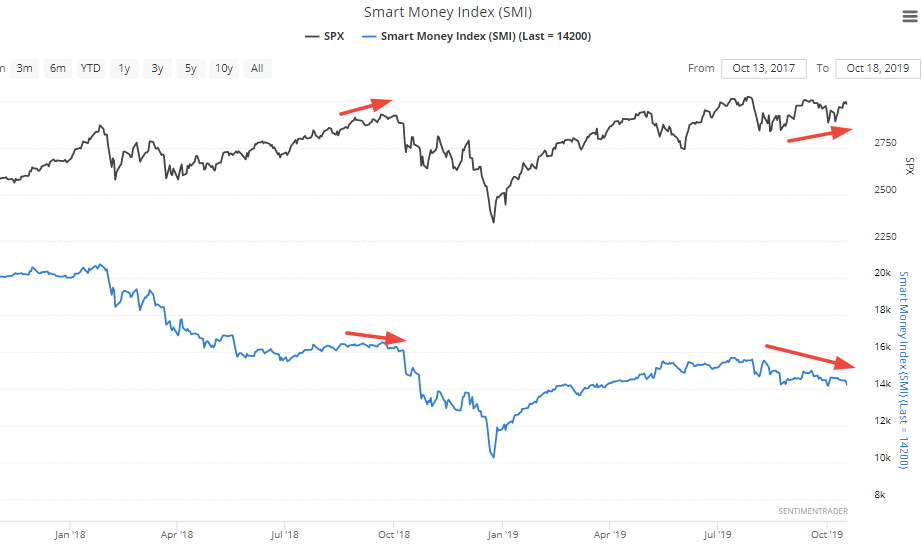 Despite its popularity and catchy name, it hasn't been particularly useful for timing purposes. The premise that "smart money trades at the end of the day" is increasingly not true, due to the popularity of ETFs.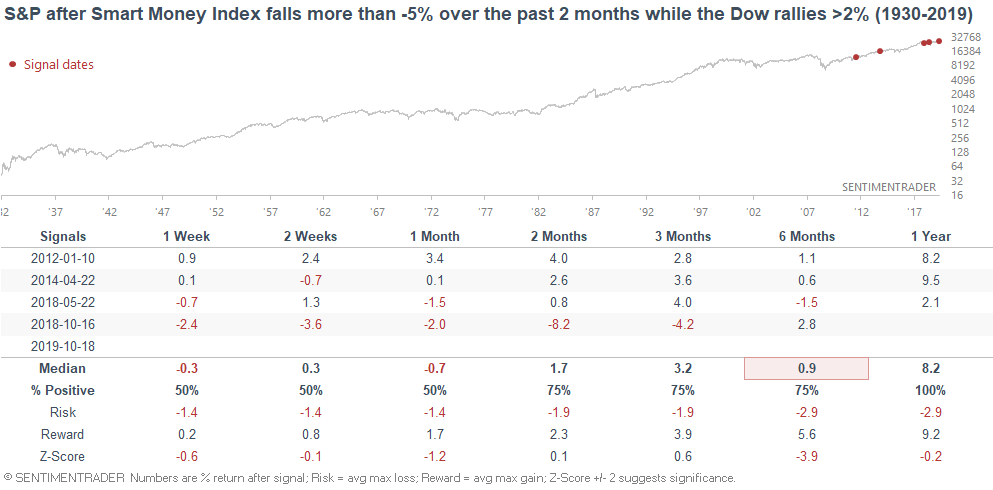 Related Posts:
---
Tagged As:
The post titled What's Wrong With The Smart Money? was originally published as on SentimenTrader.com on 2019-10-22.
At SentimenTrader.com, our service is not focused on market timing per se, but rather risk management. That may be a distinction without a difference, but it's how we approach the markets. We study signs that suggest it is time to raise or lower market exposure as a function of risk relative to probable reward. It is all about risk-adjusted expectations given existing evidence. Learn more about our service , research, models and indicators.
Follow us on Twitter for up to the minute analysis of market action.
Follow @sentimentrader