What's Better Than Bonds?
---
---
This is an abridged version of our recent reports and notes. For immediate access with no obligation, sign up for a 30-day free trial now.
Beautiful breadth
The Cumulative Advance/Decline Line for most of the major indexes are at or near all-time highs. Same for every one of the major S&P 500 sectors. Even the worst sector isn't that bad.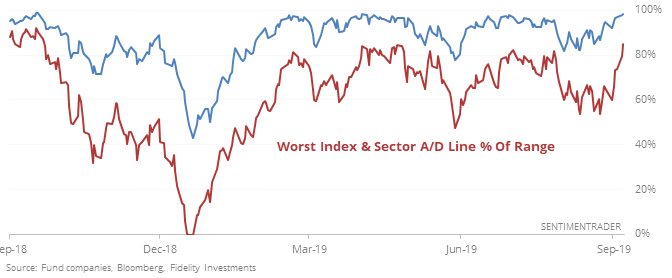 When the A/D Lines have been this strong, it has typically been a good sign for the market. Out of the 20 signals, only 1 saw the S&P decline more than -5.5% at any point over the next three months.
There has also been a surge in the percentage of stocks jumping out of their upper Bollinger Bands.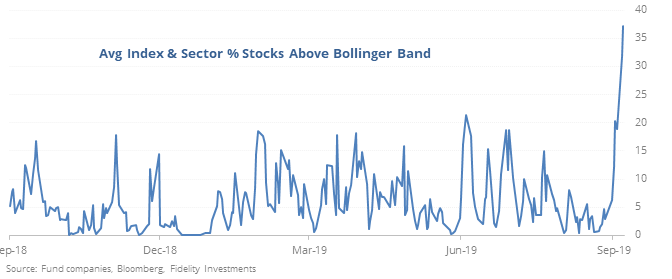 Better than bonds
With the drop in bond prices (and rise in yields) over the past week, it's been getting harder to investors to justify stocks' values versus bonds. But not for some sectors – the dividend yields alone for energy, financial, health care, and industrial stocks are still well above what's offered on Treasuries.
Russell rebound
This week, we've seen a massive change in character from winners to losers, and growth to value. We can also see that with a jump in the small-cap Russell 2000, which had been lagging. It just registered its 3rd straight 1% gain, coming soon after what had been a 6-month low.
After the other times it managed to do this, the index was higher a year later every time but once.
Finally getting better
Economic surprises the world over are finally getting better, ending the longest streak in at least 17 years. It has been a good sign for the S&P 500, with a gain over the next year all 9 times, averaging 14%. The MSCI World Index (excluding the U.S.) showed a gain 7 times, averaging 13.2%.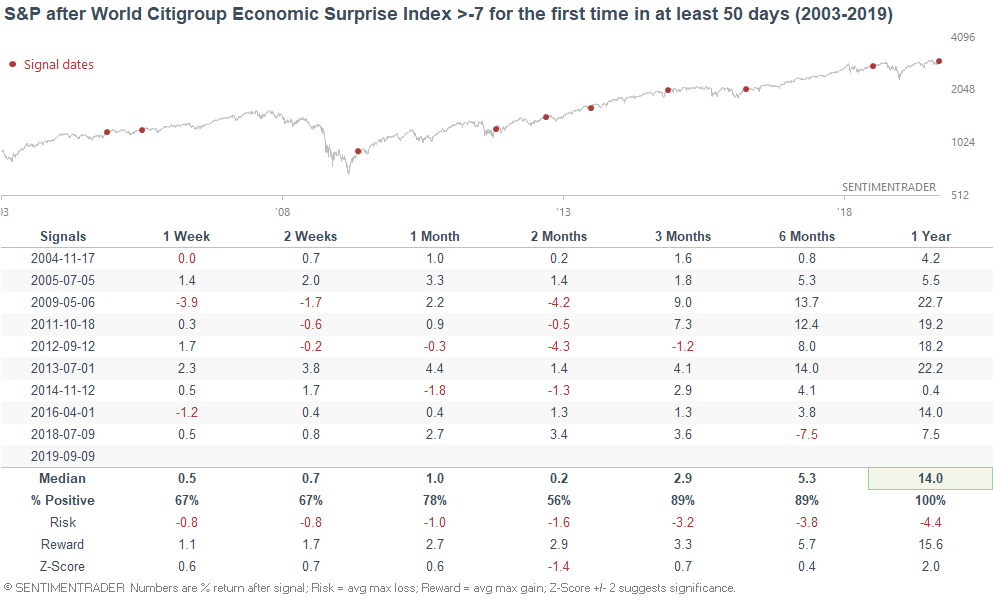 Related Posts:
---
Tagged As:
The post titled What's Better Than Bonds? was originally published as on SentimenTrader.com on 2019-09-12.
At SentimenTrader.com, our service is not focused on market timing per se, but rather risk management. That may be a distinction without a difference, but it's how we approach the markets. We study signs that suggest it is time to raise or lower market exposure as a function of risk relative to probable reward. It is all about risk-adjusted expectations given existing evidence. Learn more about our service , research, models and indicators.
Follow us on Twitter for up to the minute analysis of market action.
Follow @sentimentrader