What the violent rotation out of Growth stocks means for Value
---
---
Value sees a violent rotation from Growth

One of the most vicious reversals of the new year has been the rotation out of Growth and into Value. After plunging to nearly a 20-year low late last year, the ratio between Value and Growth factors has soared. On Monday, it reached a 6-month high, surpassing its peak from October.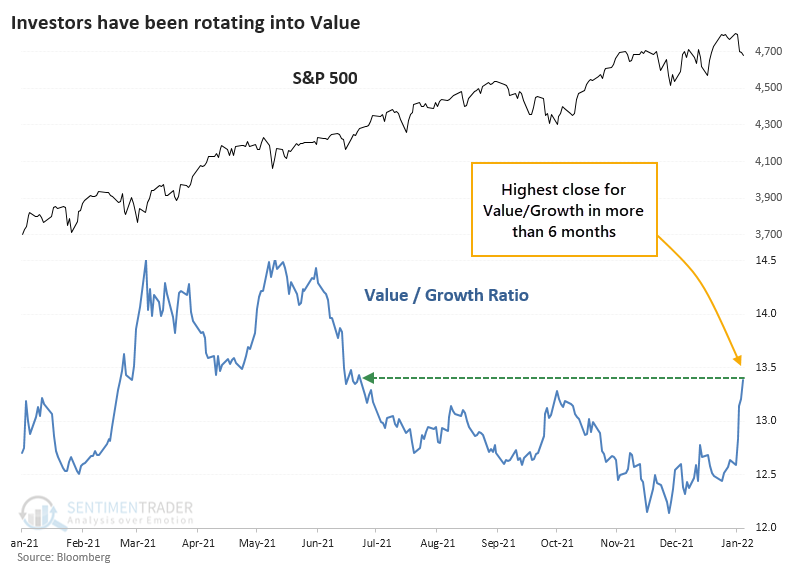 This is yet the latest temptation for Value investors. Previous rallies were nothing but siren songs, but hope springs eternal. At some point, valuations have to matter. Right?
There may be a silver lining here for those who insist on actual profit-earning businesses that aren't absurdly speculative. After the Value/Growth ratio cycled from a 1-year low to a 6-month high within 3 months, Value continued to outperform in the months ahead.
For the broader market, it was a mixed blessing. One might reasonably assume that a sudden shift toward Value would be a dire warning for the S&P 500, but that wasn't really the case.

Stat box



More than 50% of Energy stocks closed at a 52-week high on Tuesday. Over the past 20 years, our Backtest Engine shows that the XLE fund gained further during the next 2 weeks after 24 of the 61 previous days.
A low-stress bet on silver seasonality
Jay showed that silver is presently within a seasonally favorable period. Specifically, this favorable period lasts through mid-February.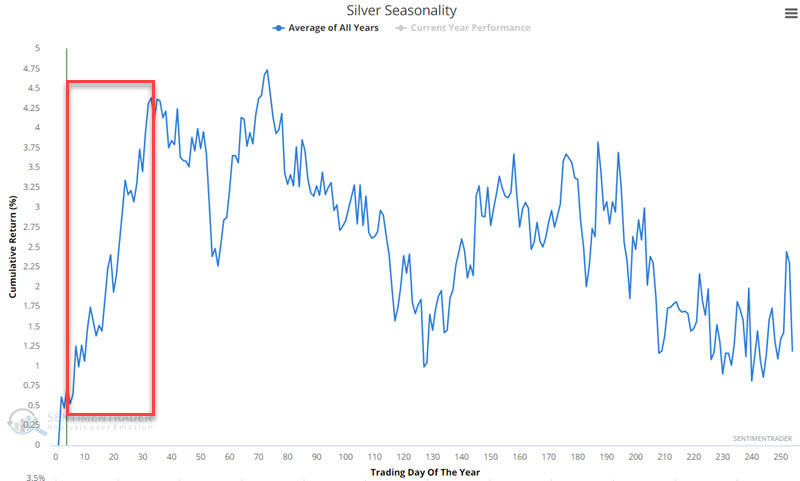 The chart below shows that the implied volatility (IV) for options on SLV is presently towards the low end of the historical range. In layman's terms, this means that the amount of time premium built into SLV options is relatively low, i.e., SLV options are "cheap" (remember, the higher the IV, the more time premium built into the options, and the lower the IV, the less time premium built into the options).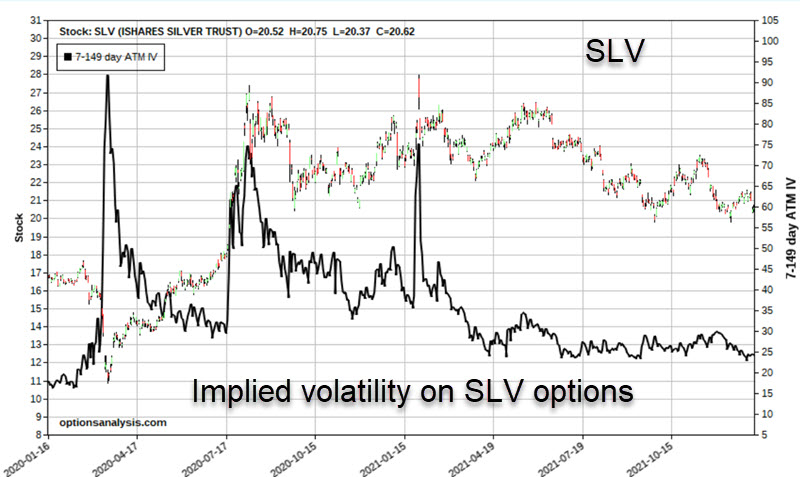 Jay then showed a way for a trader to construct a low-stress way to bet on the positive seasonal window without a lot of capital commitment.


Related Posts:
---
Tagged As:
The post titled What the violent rotation out of Growth stocks means for Value was originally published as on SentimenTrader.com on 2022-01-12.
At SentimenTrader.com, our service is not focused on market timing per se, but rather risk management. That may be a distinction without a difference, but it's how we approach the markets. We study signs that suggest it is time to raise or lower market exposure as a function of risk relative to probable reward. It is all about risk-adjusted expectations given existing evidence. Learn more about our service , research, models and indicators.
Follow us on Twitter for up to the minute analysis of market action.
Follow @sentimentrader