What the junk bond market is telling stock market investors
---
---
Given the paroxysm of speculative activity over the past 1-2 months, we've been keeping an eye on some other markets that have had a decent tendency to provide a heads-up that risk appetite was starting to wane.
One of those is the high-yield bond market. Watching for deterioration there gives us a sense as to whether bond investors are starting to price in more defaults, which can often happen before stock investors take notice.
One of the primary gauges for that is the net percentage of high-yield bonds that are hitting 52-week highs minus those falling to 52-week lows. If it's positive, then it's a good sign for both high-yield bonds and the stock market.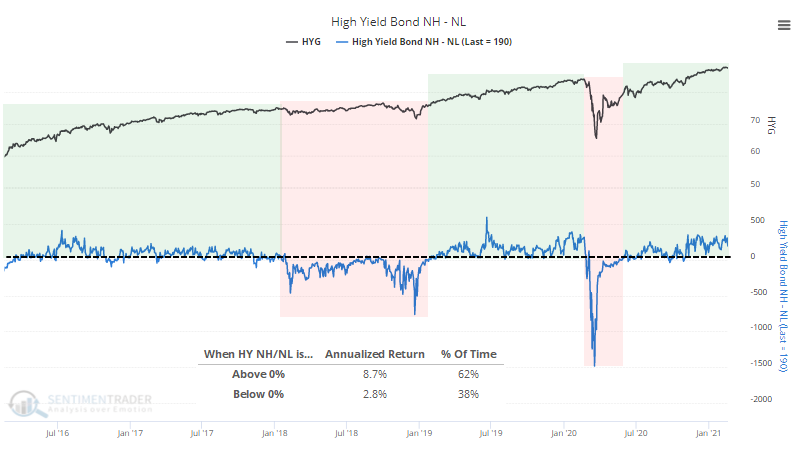 The S&P 500 has held up well when this is positive. The difference in its annualized return is stark depending on whether there are more junk bonds hitting new highs or new lows. The fact that this is still well above zero indicates a healthy junk-bond market, or at least one that buyers are still supporting.
About the only negative is that conditions have been so positive for so long, it has indicated medium-term exhaustion in the past.
What else we're looking at
Full returns in HYG following an extreme in new high - new low breadth
How that has impacted the S&P 500
A risk-on signal using the Risk Appetite Index shows promise
Part 3 of knowing what you're getting into with options
A Bridgewater estimate of where we are in a bubble versus the Dow Industrials
What happens after big intraday reversals in the S&P 500 and Nasdaq Composite

Stat Box



The S&P 500 and Nasdaq Composite both recovered from near-record intraday losses on Tuesday. For the Nasdaq, it was only the 2nd time in more than 30 years that it almost fully erased more than a

3.5%

intraday decline while being within 5% of a 52-week high. The other date was January 13, 1999.
Sentiment from other perspectives
Hedge funds are shorting bonds. The correlation between CTA returns and bond yields has jumped, suggesting that funds are betting aggressively against bonds. Source: Bloomberg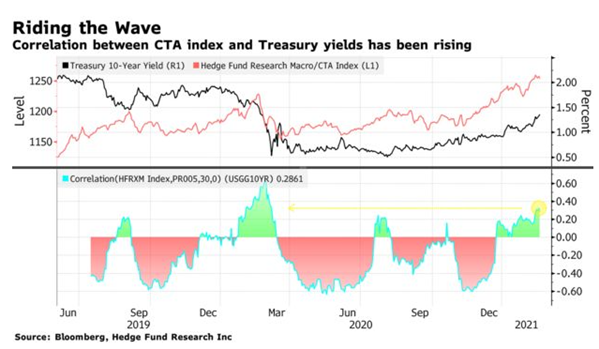 So is everyone else. Sentiment on bonds has become so soured that its Relative Strength Index is the lowest in years. Source: Bloomberg via Katie Greifeld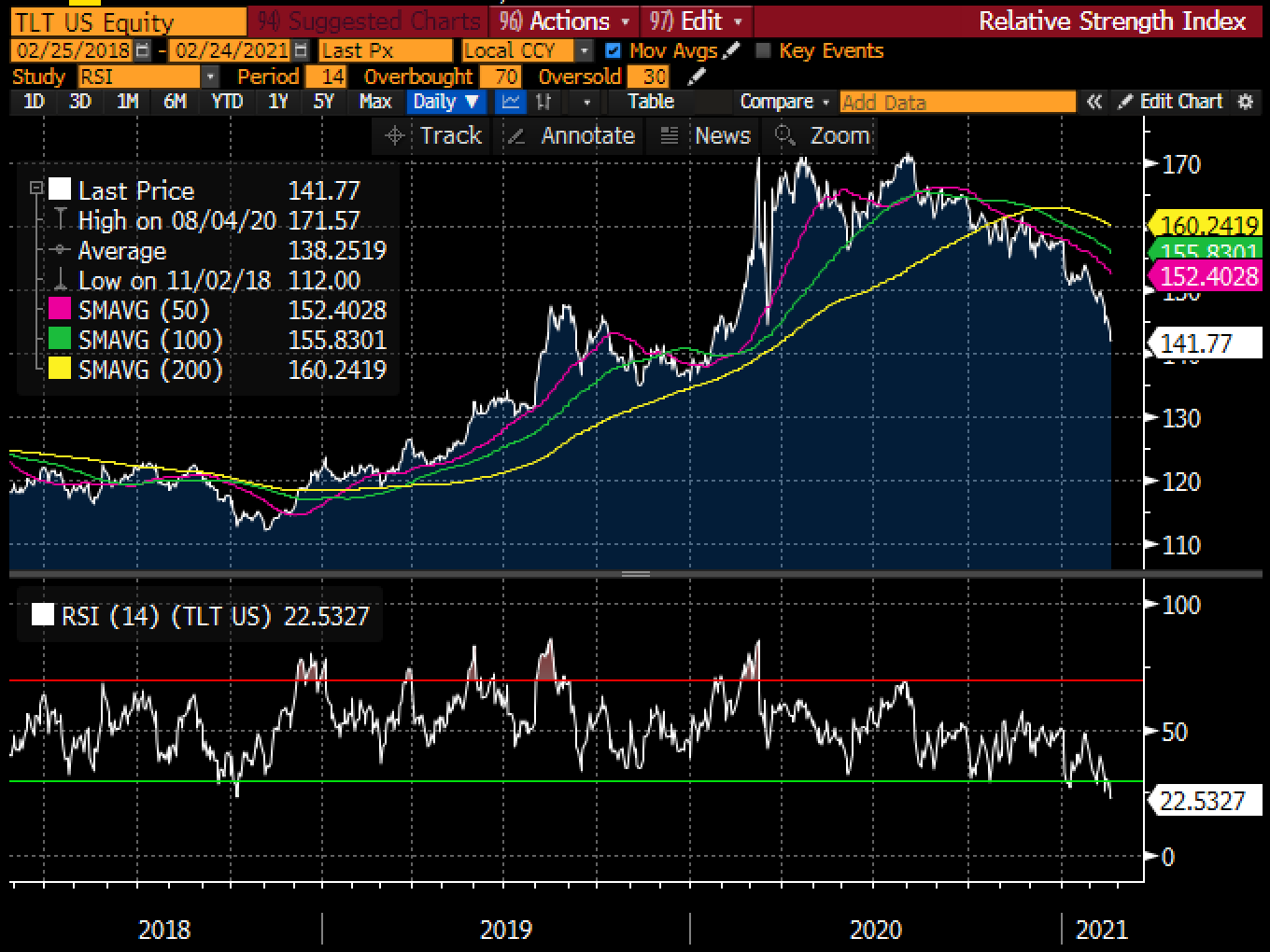 It's because of an inflation scare. Expectations for future inflation have become unmoored from actual inflation calculations, which is partly what's been unnerving all of those bond bears. Source: Bloomberg TV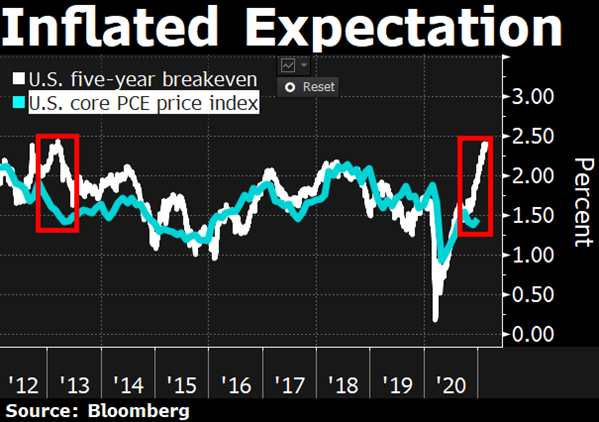 Related Posts:
---
Tagged As:
The post titled What the junk bond market is telling stock market investors was originally published as on SentimenTrader.com on 2021-02-24.
At SentimenTrader.com, our service is not focused on market timing per se, but rather risk management. That may be a distinction without a difference, but it's how we approach the markets. We study signs that suggest it is time to raise or lower market exposure as a function of risk relative to probable reward. It is all about risk-adjusted expectations given existing evidence. Learn more about our service , research, models and indicators.
Follow us on Twitter for up to the minute analysis of market action.
Follow @sentimentrader