What The Fed's First Cut Has Meant
---
---
First cut
The probability that the Fed will cut rates is rising. It's still only about a 20% chance in June but more than 80% in July. That will end the longest-ever streak with steady or rising rates. Following these "first cuts", stocks have done either poorly, or really well, with no middle ground, but the positives mostly offset the negatives.

During the next month, all but two of the cuts led to a jump in stocks, and those two losses were minor. The risk/reward was skewed heavily to the upside, at least until the negative effects of the three failures started to hit.
Other assets
Other assets also saw some mixed returns, with mostly weakness in the dollar initially, then gold and commodities. Treasury note futures did well across time frames.
Among sectors, the most consistent – and biggest – winners were defensive ones like consumer staples and utilities, the only 2 sectors that averaged more than a 20% gain over the next year.
Gold bugged
Optimism on gold has jumped by 30% over a two-week period, nearly the largest change in sentiment since '91.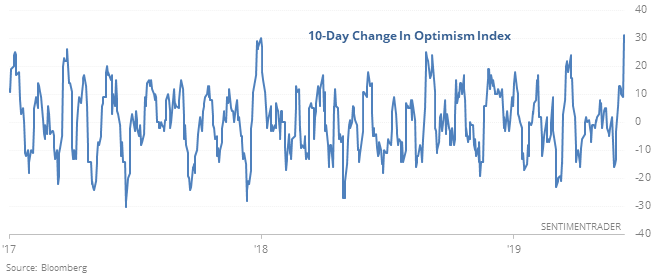 For an asset that's subject to the whims of sentiment more than most others, this has been a tough hurdle to cross.
Crude behavior
Crude oil has lost more than 2.5% during the day in 6 out of the past 15 sessions, falling to a multi-month low. Six months after the other times this happened in the past 30 years, oil returned +47%, -3%, +47%, +7%, +33%, and +44%.
Korean surge
The McClellan Oscillator for the Kospi index has jumped above 85. According to the Backtest Engine, this has happened 3 other times, all leading to volatile shorter-term returns, but gains over the medium- to long-term each time.
This post was an abridged version of our previous day's Daily Report. For full access, sign up for a 30-day free trial now.

Related Posts:
---
Tagged As:
The post titled What The Fed's First Cut Has Meant was originally published as on SentimenTrader.com on 2019-06-13.
At SentimenTrader.com, our service is not focused on market timing per se, but rather risk management. That may be a distinction without a difference, but it's how we approach the markets. We study signs that suggest it is time to raise or lower market exposure as a function of risk relative to probable reward. It is all about risk-adjusted expectations given existing evidence. Learn more about our service , research, models and indicators.
Follow us on Twitter for up to the minute analysis of market action.
Follow @sentimentrader