What the credit market is telling stock investors
---
---
Much of the rally in assets over the past few months seems to have been driven by ever-easier financial conditions. Only lately have those conditions started to tighten.
Part of this is due to changes within the bond market. We're just now seeing the spread between the lowest-rated investment-grade corporate bonds rising faster than that of the highest-rated bonds. This suggests that credit investors are starting to get just a bit nervous.
Generally, we can assume that when the spread between lower-quality and high-quality bonds is rising, it's during times of rising anxiety. The chart below shows this clearly (note that the scale on the spread is inverted).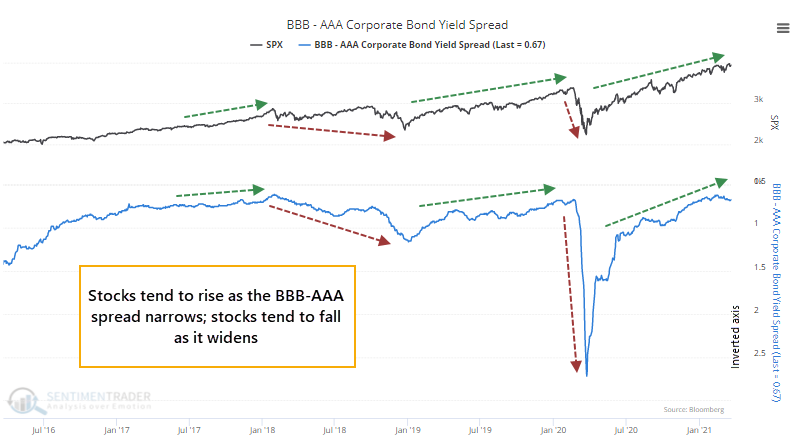 For the first time in almost a year, spreads on riskier bonds are starting to rise compared to spreads on the safest ones. It had been more than 200 days since the 50-day average of the spread was rising, ending the 3rd-longest streak in 25 years.
What else we're looking at
Full returns in stocks, gold, and Treasuries when the corporate yield spread starts to turn
What happens when the euro cross below its long-term average
Small-cap stocks just ended their 14th-longest streak above their medium-term moving average
The VIX recent got smacked - the day of the week tends to matter
The TLT bond fund shows a very consistent calendar quirk

Stat Box



Stocks triggered a Titanic Syndrome technical warning on Tuesday. According to our Backtest Engine, even a single warning has preceded an average return of

-0.65%

in the S&P 500 over the next couple of weeks since 1965.
Etcetera
Speculation is ebbing. Bloomberg notes that call option volumes have dropped off as speculative activity eases along with stock price declines. But it's also worth noting that overall speculative options activity is STILL more than 10% - 15% higher than any other period in the past 20 years.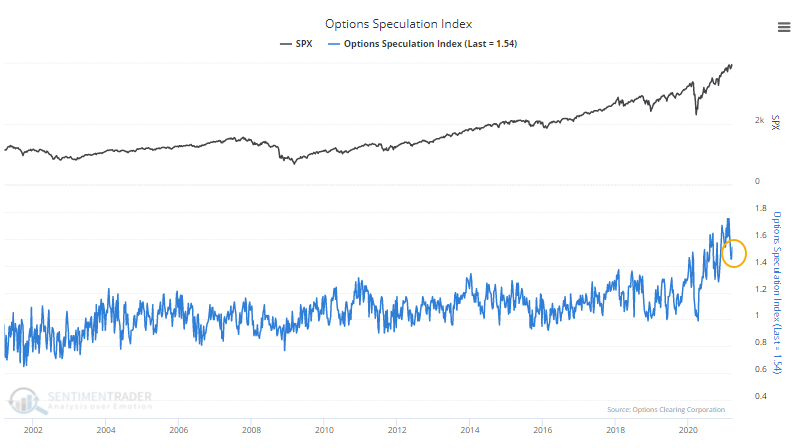 Buying a few more puts. Options traders showed a bit of fear on Tuesday with the big drop in small-cap stocks, as the put/call ratio among member stocks in the Russell 2000 index jumped to its 3rd-highest level in 6 months.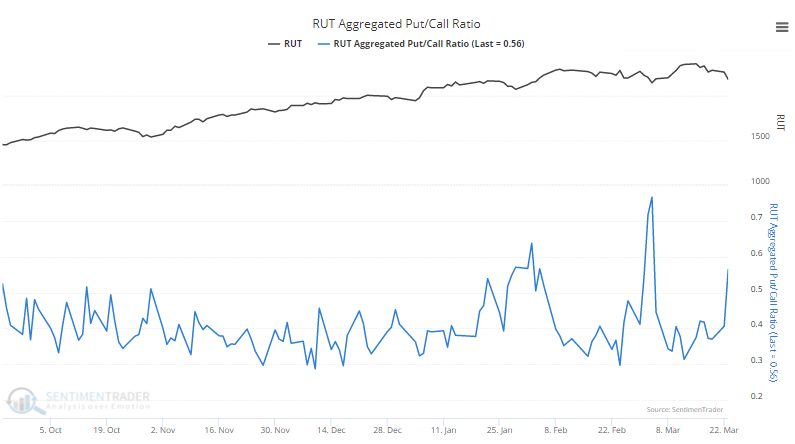 Technical warning. When stocks were recently at a 52-week high, then there is a surge of 52-week lows among securities on the NYSE, it triggers a Titanic Syndrome warning sign. That happened on Tuesday.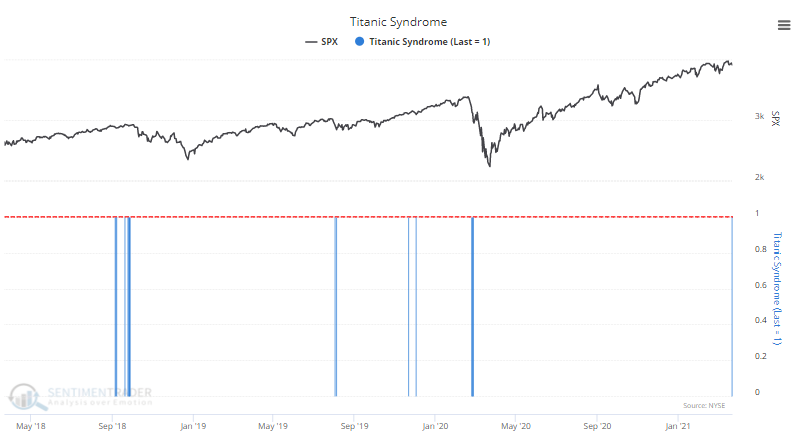 The post titled What the credit market is telling stock investors was originally published as on SentimenTrader.com on 2021-03-24.
At SentimenTrader.com, our service is not focused on market timing per se, but rather risk management. That may be a distinction without a difference, but it's how we approach the markets. We study signs that suggest it is time to raise or lower market exposure as a function of risk relative to probable reward. It is all about risk-adjusted expectations given existing evidence. Learn more about our service , research, models and indicators.
Follow us on Twitter for up to the minute analysis of market action.
Follow @sentimentrader