What Scary Thing Do Bond Traders Know?
---
---
End to inversion
The spread between 3-month and 10-year Treasury yields has been inverted for more than a month, with the shorter-term bills yielding more than the longer-term notes.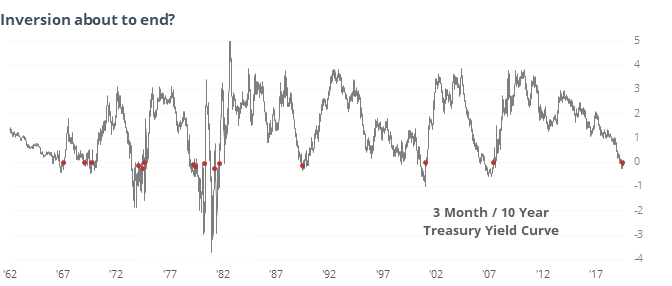 At 35 days, the current stretch of an inverted curve is the longest since 2007. When that spread turns positive, it has been more of a negative for stocks, and it's nearing that scenario now. In other markets, the U.S. dollar did not react well to the ends of these inversions.
Fleeing risky bonds
The riskiest of junk bonds are seeing some selling pressure. Their spread over Treasuries is widening much faster than safer bonds that are rated higher.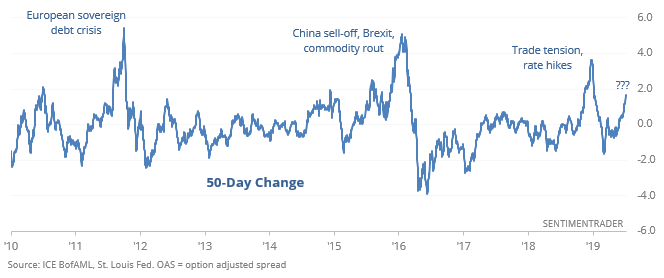 Over the past 50 days, the difference between those risky bonds and safer ones has expanded quickly, prompting some to wonder what bond traders know. Like the yield curve inversions, the times when it served as a warning led to some very large declines, and the overall risk/reward was negative across every time frame.
The latest Commitments of Traders report was released, covering positions through Tuesday
The 3-year Min/Max Screen shows that "smart money" hedgers established new multi-year long exposure to copper and cotton, while selling corn even more aggressively. By the time they were this exposed to copper over the past 7 years, it was enough to stem the selling in that contract 6 times, with an exception in late 2014.
New lows for small-caps
The Russell 2000 hit a 52-week low relative to the S&P 500 on Thursday, while the S&P hit a new high. Since 1979, the Russell continued to underperform a year later 91% of the time.
This post was an abridged version of our previous day's Daily Report. For full access, sign up for a 30-day free trial now.

Related Posts:
---
Tagged As:
The post titled What Scary Thing Do Bond Traders Know? was originally published as on SentimenTrader.com on 2019-07-15.
At SentimenTrader.com, our service is not focused on market timing per se, but rather risk management. That may be a distinction without a difference, but it's how we approach the markets. We study signs that suggest it is time to raise or lower market exposure as a function of risk relative to probable reward. It is all about risk-adjusted expectations given existing evidence. Learn more about our service , research, models and indicators.
Follow us on Twitter for up to the minute analysis of market action.
Follow @sentimentrader