What Happens When Volatility Spikes as Stocks Churn Near Highs
---
---
For those who were indoctrinated on technical analysis textbooks, we were taught that when stocks turn volatile during a bull market, then trouble is brewing.
It's simply not true. Or at least not consistently enough to be a useful heuristic.
It's an issue now because the S&P 500 is mired in its longest pullback in a year. Despite a relatively shallow pullback, though, the index has been gyrating wildly, with over a week of days with 1% daily moves. That has pushed the index's 10-day realized volatility to a 90-day high.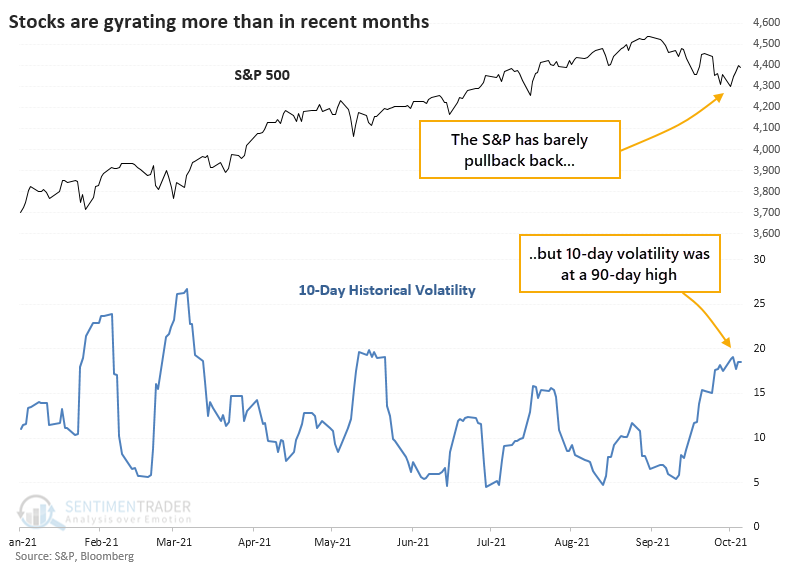 Instead of reading tea leaves, let's look at the evidence. When we go back to 1928 and look at every time when the S&P was close to a former high and its 10-day volatility rose to a multi-month high, the S&P's returns over the next two months were nothing special. It showed a positive return only half the time, with a median return well below random.
But that was about it for the bearish side of things. Over the next six months, the index rose after 20 out of 22 signals.

---
What else we're looking at
Full returns following rising volatility when stocks are near a high
Decision time for Roku's stock, and how to trade it using options
The Hang Seng index has triggered a reversal signal
---
Stat box



The largest ETF in the U.S., SPY, has closed in the bottom 25% of its intraday range for 4 consecutive sessions. That's tied for the 2nd-longest streak of weak closes in the fund's history.
---
Etcetera
Sun shines on solar stocks. A jump in solar stocks pushed the TAN fund higher and the Optimism Index soared close to 90% for one of the handful of times in the past year.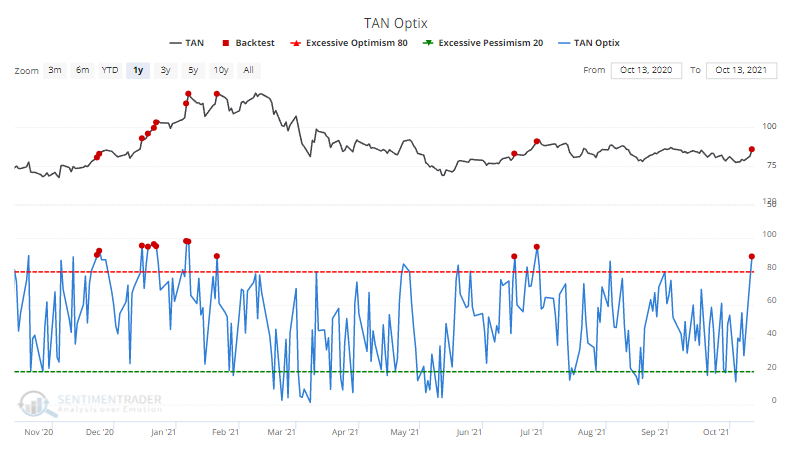 Chile peppered with selling. The ECH fund focused on Chilean stocks is showing the most pessimism out of any ETFs we follow over the past 10 days. Our Backtest Engine shows that the fund rallied 82% of the time since its inception after optimism was this low.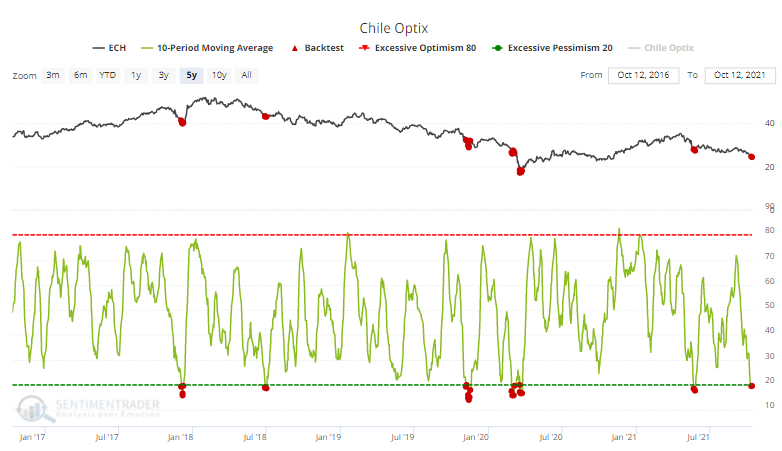 Big test for gold miners. Over the past three days, an average of 97% of gold mining stocks have held above their 10-day moving averages, even while the GDX fund is trading below a declining 200-day moving average. Similar setups (red dots in the chart from our Backtest Engine) showed that miners rolled over quickly after the others.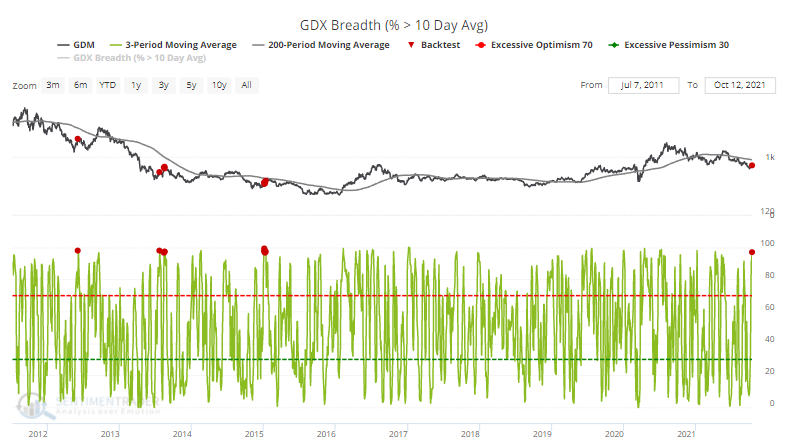 Related Posts:
---
Tagged As:
The post titled What Happens When Volatility Spikes as Stocks Churn Near Highs was originally published as on SentimenTrader.com on 2021-10-13.
At SentimenTrader.com, our service is not focused on market timing per se, but rather risk management. That may be a distinction without a difference, but it's how we approach the markets. We study signs that suggest it is time to raise or lower market exposure as a function of risk relative to probable reward. It is all about risk-adjusted expectations given existing evidence. Learn more about our service , research, models and indicators.
Follow us on Twitter for up to the minute analysis of market action.
Follow @sentimentrader