What Happens When Oil Recovers From A Plunge
---
---
A crude recovery
As markets sold off in December, crude oil futures fell more than 30% below the 200-day average, one of the largest deviations since their inception in 1986. This week, they made a complete recovery, now trading above the 200-day.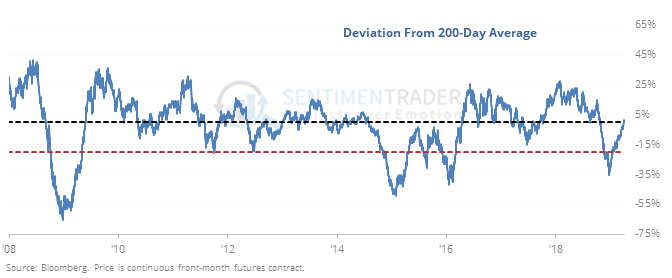 Other times the commodity recovered from such a severe decline from its average, it continued to gain.
Energy stocks also tended to benefit from these recoveries in oil, with the S&P 500 Energy Sector showing positive returns across most time frames.
Survey says…buy!
Near the end of December, pessimism was hitting its practical maximum in some of our indicators and models, including the AIM Model of surveys. It has fully recovered since then, and will rise to 80% this week, the highest since early 2018.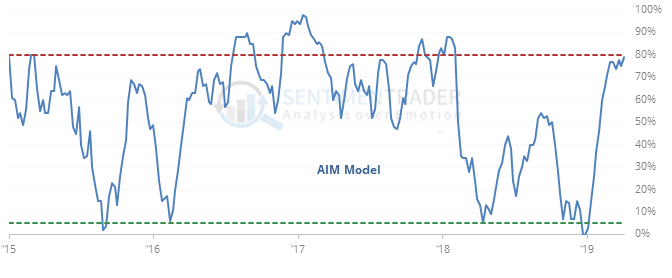 Like many other studies that look at a fully cycle of sentiment, this one shows relatively weak returns in the medium-term, but fairly strong ones longer-term.
Good times
More than 200 junk bonds set a 52-week high than set a 52-week low this week, the most in two years. Since the recovery from the financial crisis, the high-low differential has been this positive on only 40 total days. According to the Backtest Engine, funds like HYG struggled a bit over the next couple of weeks.
Optimistic money managers
According to the NAAIM survey of active investment managers, the average manager is more than 90% exposed to stocks. This is not your typical contrary survey, though. When managers were more than 90% for the first time in at least four months, two months later the S&P 500 was higher 6 out of 6 times.
This post was an abridged version of our previous day's Daily Report. For full access, sign up for a 30-day free trial now.

Related Posts:
---
Tagged As:
The post titled What Happens When Oil Recovers From A Plunge was originally published as on SentimenTrader.com on 2019-04-05.
At SentimenTrader.com, our service is not focused on market timing per se, but rather risk management. That may be a distinction without a difference, but it's how we approach the markets. We study signs that suggest it is time to raise or lower market exposure as a function of risk relative to probable reward. It is all about risk-adjusted expectations given existing evidence. Learn more about our service , research, models and indicators.
Follow us on Twitter for up to the minute analysis of market action.
Follow @sentimentrader