What Do Options Traders Know?
Options traders don't trust the calm conditions.
The S&P 500 declined for 5 consecutive sessions, but the overall loss was tiny. Historically, that combination has preceded a rebound - calm conditions tend to persist until that one moment when they don't, and the trend changes.
Conditions have been pretty much perfect for stock investors all year. A slow, steady drumbeat of gains is nirvana. But the VIX "fear gauge" of implied future volatility has been holding up for weeks, which is unusual since it's occurring at the same time that actual, realized volatility in the S&P 500 index has dripped close to all-time lows.
This becomes clearer when we look at realized volatility versus its 50-day trading range. It's scraping the bottom of it. But the VIX has been priced at the upper end of its own range.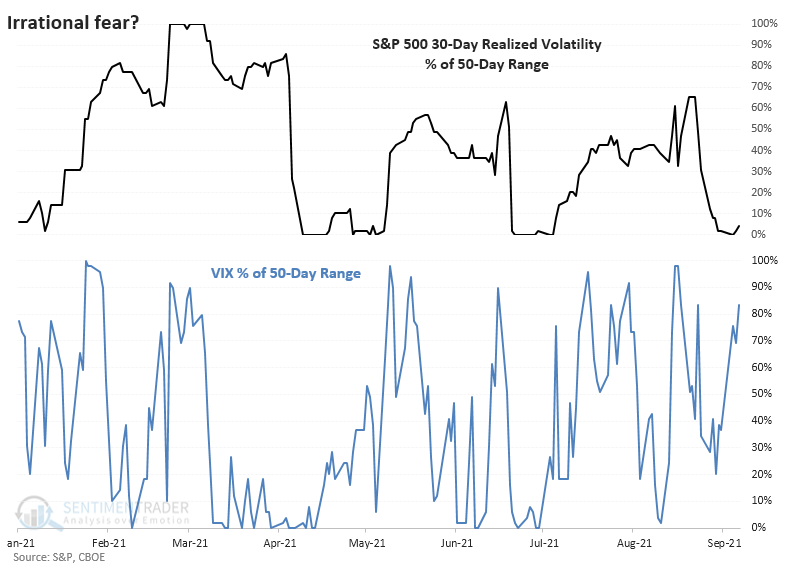 So who knows more, equity investors or volatility traders? A look at historical signals shows that in the short-term, options traders are "smarter," while in the medium-term, investors have been.
Over the next 1-4 weeks, the S&P had great difficulty holding any meaningful gains when this signal triggered while the index was hovering within 1% of its prior highs, as it was last week. Even so, over the next two months, it rallied every time. And longer-term, there were no major losses.

---
What else we're looking at
Full details on S&P 500 and VIX forward returns after divergences in their ranges
An update on absolute and relative trends in industry, sector, and country ETFs
What happens after persistent - but small - declines in the S&P 500
---
Stat box



Fewer than 40% of stocks in the S&P 500 have outperformed the index over the past three months, and this has persisted for more than 40 sessions. According to Dean's calculations, that just set a record for the longest stretch of individual-stock underperformance since 1928.
---
Etcetera
Rolling corrections. Since April, there has been a rolling correction among stocks in the S&P 500. Even as the index has marched steadily higher, more and more stocks are trailing their 52-week highs by more than 10%, similar activity to 2015.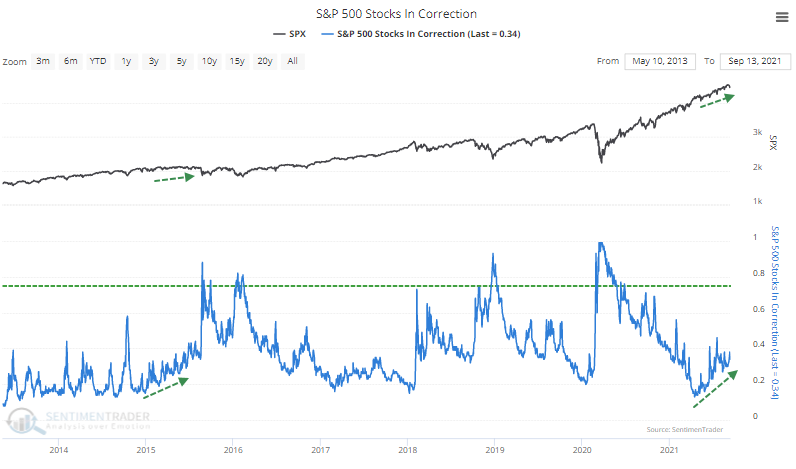 Unnatural gas. The 10-day Optimism Index on the UNG natural gas fund has climbed above 83%, the 2nd-highest reading since the fund's inception.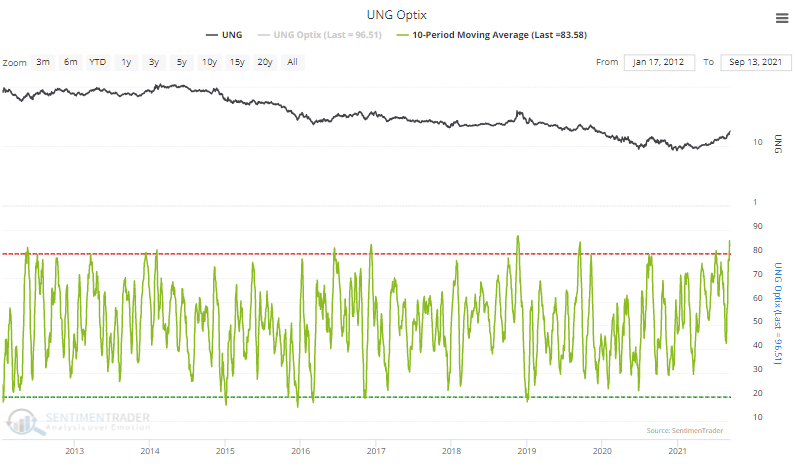 Pot has gone to pot. The 5-day average Optimism Index for the MJ cannabis fund has been smoked and is now at the lower end of the range over the past year.