Want a smoother ride through market ups and downs?
---
---

Want a smoother ride through market ups and downs?
Watch this webinar now to see how
On Wednesday, February 17th, I'm hosting a special webinar called, "How to Generate Better Risk-adjusted Returns and Lower Draw Downs Without Big Losses in an Overheated Market."
There's a reason I did this...
Over the past few months, I've been getting emails and private messages from investors who struggle with how to figure out the best time to sell stocks. First, let me say that you're not alone in this.
So many investors just like you want to know how to lower risk and grow your investment portfolio without all the bumps and bruises experienced in a year like 2020. I've been there myself... many times. And it's a pain trying to figure it all out by yourself, isn't it?
I have teamed up with Brad Lamensdorf, CIO of Active Alts, a leader in actively managed liquid alternatives, to launch the Active Alts SentimenTrader Long/Short Strategy.
That's why I put together this exclusive online webinar with Brad that will show you how to...
Navigate the rocky markets we have been living through
How to generate alpha on the long and short side of the market
The power of our proprietary exposure gauge and what it means for investment returns in current market conditions
The Active Alts SentimenTrader Long/Short Strategy returned 25.87% in 2020 compared with 7.86% in the Credit Suisse Long / Short Index. What's more, the Strategy experienced a 9.99% drawdown and held an average cash position of 19.4% for the year.
To watch this exclusive webinar, click here: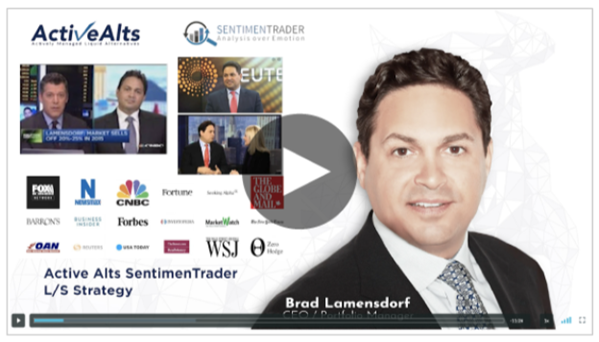 I'm excited to show you how powerful this strategy truly is.
Jason
P.S. The strategy we will be presenting has proprietary indicators developed over decades of real stock market experience that you won't find anywhere else. Don't miss out!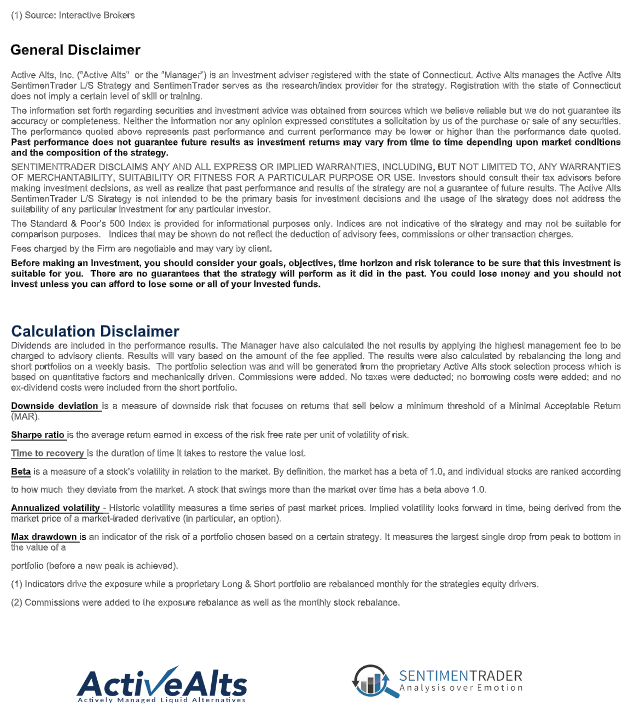 The post titled Want a smoother ride through market ups and downs? was originally published as on SentimenTrader.com on 2021-02-17.
At SentimenTrader.com, our service is not focused on market timing per se, but rather risk management. That may be a distinction without a difference, but it's how we approach the markets. We study signs that suggest it is time to raise or lower market exposure as a function of risk relative to probable reward. It is all about risk-adjusted expectations given existing evidence. Learn more about our service , research, models and indicators.
Follow us on Twitter for up to the minute analysis of market action.
Follow @sentimentrader