Wall Street strategists have never been more pessimistic about the 2nd half
---
---
Wall Street has never been more confused, or apprehensive. Even while analysts have been upgrading price targets from the bottom up, strategists have hesitated to raise their price targets from the top down.
Bloomberg notes that there is a wide disparity in where strategists think the S&P 500 is going to end the year. Indeed there is - the standard deviation among year-end price targets at the end of June has never been wider, by a long shot.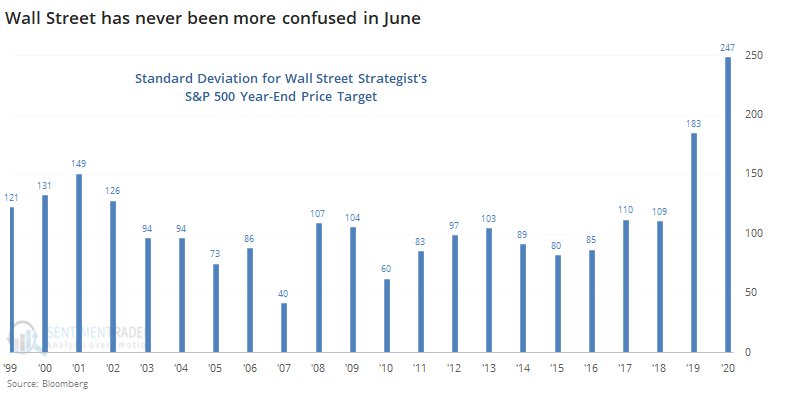 What's even more notable is that strategists aren't giving the S&P much room to rally. On average, they have a year-end target of 2998, about 2% below where the S&P is trading. That's tied for the lowest-ever year-end target relative to where the S&P was trading at the end of June. Strategists by nature are optimists, so it's highly unusual to see them with such a low opinion of where the S&P should go over the next six months.
Individually, these folks are invariably smart and well-educated. Like other surveys of smart money or big money populations, though, in aggregate we can sometimes see signs of group-think, and that tends to be a contrary indicator. That's the case here, too. The S&P performed much better in the 2nd half of the year when strategists were pessimistic than when they were optimistic.
This is an abridged version of our recent reports and notes. For immediate access with no obligation, sign up for a 30-day free trial now.
We also looked at:
A more in-depth look at strategists' year-end estimates and how it impacted future returns
The S&P is both overbought and volatile, using the stochastic and a synthetic VIX index back to 1962
Consumer confidence has rebounded in the U.S. and eurozone
What it means when Black Swan risk is high according to the SKEW index

Related Posts:
---
Tagged As:
The post titled Wall Street strategists have never been more pessimistic about the 2nd half was originally published as on SentimenTrader.com on 2020-07-01.
At SentimenTrader.com, our service is not focused on market timing per se, but rather risk management. That may be a distinction without a difference, but it's how we approach the markets. We study signs that suggest it is time to raise or lower market exposure as a function of risk relative to probable reward. It is all about risk-adjusted expectations given existing evidence. Learn more about our service , research, models and indicators.
Follow us on Twitter for up to the minute analysis of market action.
Follow @sentimentrader