Wall Street Is The Most Confused In 20 Years
---
---
This is an abridged version of our recent reports and notes. For immediate access with no obligation, sign up for a 30-day free trial now.
The Street is behind and confused
Wall Street analysts have underestimated the growth in S&P 500 company earnings growth for a year, one of the longest stretches in nearly 30 years.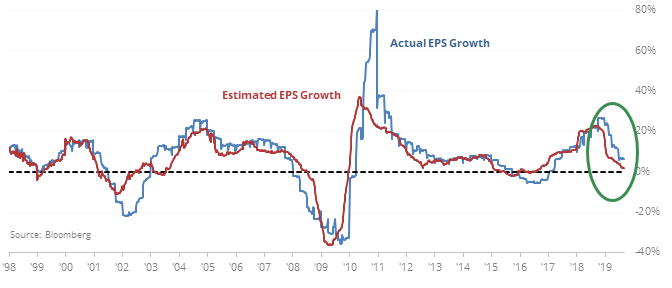 It's not a great surprise that the better-than-expected stretches in actual results ended up leading to better-than-average returns, though it wasn't a raging buy signal.
It's not just analysts - strategists on the Street are the most confused they've been in at least 20 years, with highly variable year-end price targets for the index.

There isn't a clear correlation between strategists' year-end targets and actual returns, but there was a modest bias toward higher returns when strategists were confused.
No direction
Over the past month, the S&P 500 hasn't gone anywhere. The Positive and Negative Directional Movement for the index are both near 50, showing that there has been no strong or sustained moves either way.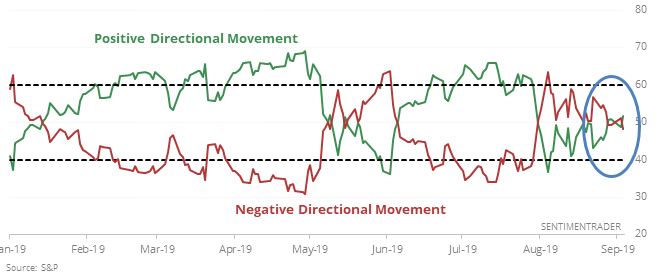 Now the index is on the upper end of that range, which should be a good sign, though evidence is mixed. Returns were decent in the shorter-term, but probably a little disappointing for bulls counting on a breakout. The S&P did usually break out of its range to the upside, but gains tended to be somewhat limited and failed to sustain themselves several times.
Power surge
Utility stocks had a great day on Tuesday, showing a bit of exhaustion on Wednesday. Hard to blame them – nearly 60% of the sector's stocks hit a 52-week high, one of the largest readings in 20 years. Our Backtest Engine shows that XLU had a positive return two months later only 33% of the time after similar surges. If we substitute SPY for XLU in the backtest, then we can see the S&P was higher 95% of the time two months later.
Silver's run
The ratio between gold and silver hit oversold territory for the first time in 5 years. This has consistently led to a negative return in silver from 2 months and beyond, especially over 6-12 months.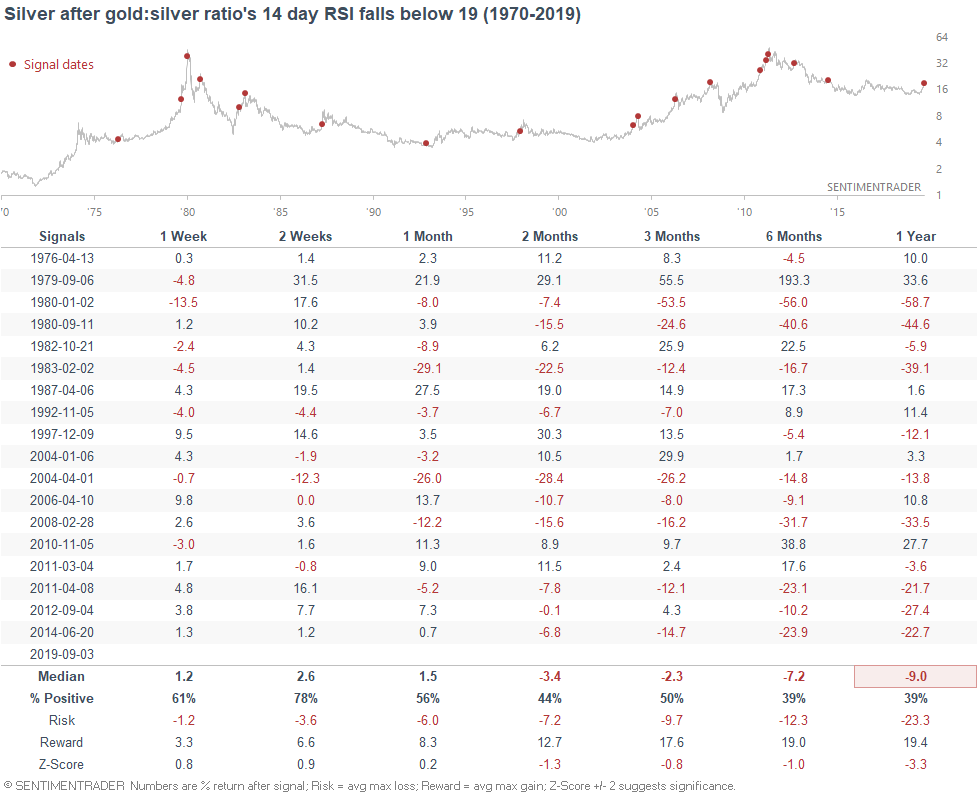 Related Posts:
---
Tagged As:
The post titled Wall Street Is The Most Confused In 20 Years was originally published as on SentimenTrader.com on 2019-09-05.
At SentimenTrader.com, our service is not focused on market timing per se, but rather risk management. That may be a distinction without a difference, but it's how we approach the markets. We study signs that suggest it is time to raise or lower market exposure as a function of risk relative to probable reward. It is all about risk-adjusted expectations given existing evidence. Learn more about our service , research, models and indicators.
Follow us on Twitter for up to the minute analysis of market action.
Follow @sentimentrader