Wall Street Analysts Are Catching Up To Dumb Money
---
---
Not-so-dumb money
Dumb Money Confidence rose to an extreme in February, yet the S&P 500 has tacked on more than 5% since then, suggesting it's not so dumb after all. The recent gains in stocks have attracted more of these traders, and their Confidence just surged to a new high – that has been a problem in the past.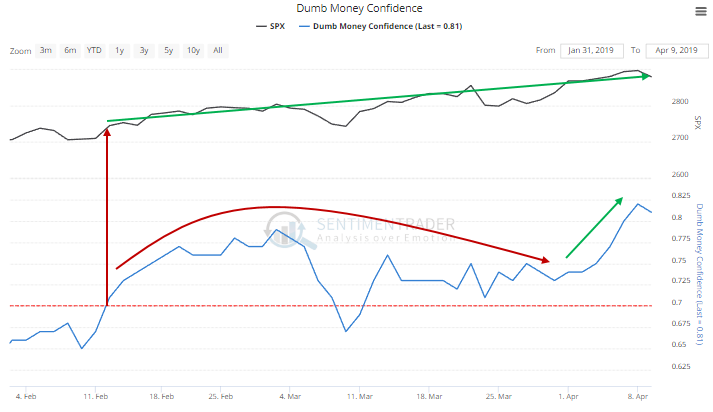 When Dumb Money has crested and then surged to a new optimistic extreme like it's done now, stocks struggled mightily for up to the next three months.
Upside panic among analysts
As earnings reporting season is about to ramp up, Wall Street analysts are scrambling to not be left behind.
On Wednesday alone, they raised their price targets on 90 more stocks than they lowered targets on, one of the highest readings in almost a decade. When Wall Street rushes to upgrade or downgrade a bunch of stocks at once, it's been best to take the other side.
Fiesta time
Buyers have been interested enough in Mexican stocks that the McClellan Summation Index for the Mexbol Index has crossed +500. That usually doesn't happen in bear markets. According to the Backtest Engine, when the Summation Index is above 500, the Mexbol has returned an average of 21.3% a year later.
Don't short a dull market
There are reasons to be cautious here, but price action is not one of them. SPY has skimmed along within 1% of its high for a week, on volume that's 25% below its 3-month average. That led to gains over the next 2-3 months 68% of the time.
This post was an abridged version of our previous day's Daily Report. For full access, sign up for a 30-day free trial now.

The post titled Wall Street Analysts Are Catching Up To Dumb Money was originally published as on SentimenTrader.com on 2019-04-11.
At SentimenTrader.com, our service is not focused on market timing per se, but rather risk management. That may be a distinction without a difference, but it's how we approach the markets. We study signs that suggest it is time to raise or lower market exposure as a function of risk relative to probable reward. It is all about risk-adjusted expectations given existing evidence. Learn more about our service , research, models and indicators.
Follow us on Twitter for up to the minute analysis of market action.
Follow @sentimentrader