Volatility Spike - What Happens Next
---
---
One and done
Monday's session was notable for several reasons, mainly its shocking quality after investors became accustomed to much smaller moves. Wall Street generally believes this is not a "one and done" and there is more volatility to come.
Historically, the argument for that is not clear-cut. The probability of a big down day following a huge one-day loss is not that much greater than the probability of seeing one after a huge one-day gain.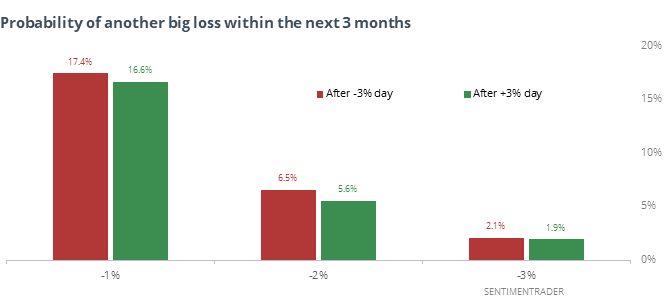 The jump in volatility has led traders to think volatility will get even more extreme in the weeks ahead. The old VIX calculation (VXO) has doubled in the past week. After other times that happened, the S&P's path was relatively consistent during the next 3-6 months.

Lows relax
The spike in 52-week lows among securities trading on the NYSE earlier this week was disturbing since it came so soon after the S&P 500 had been at a new high.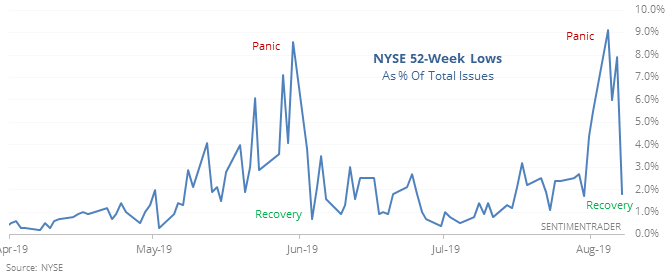 But the new low list has already collapsed, easing concerns that we were on the edge of a precipitous decline. When this happened previously, it didn't eliminate shorter-term risk, but the S&P's returns going forward were generally above average. The best performance was over the next six months, with only two losses, of them small.
The latest Commitments of Traders report was released, covering positions through Tuesday
The 3-Year Min/Max Screen shows that smart-money hedgers moved to new multi-year highs in exposure to copper, cotton, and natural gas (and nearly the British pound), while selling Eurodollars. Their position in copper is now the largest in history at nearly 57,000 contracts. But it's only 18.7% of open interest, well below prior extremes (you can see that by clicking the "Choose a Secondary indicator" drop-down box). Many of the sustained lows in the metal have come when hedgers held more than 25% of open interest net long.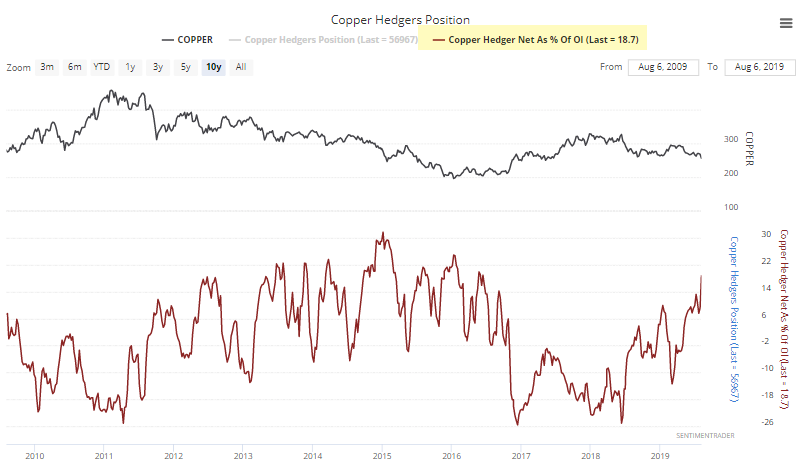 They're also now holding more than 50% of open interest in gold net short. Since the 2011 peak, this only happened in October – December 2012 and June – September 2016.
This post was an abridged version of our previous day's Daily Report. For full access, sign up for a 30-day free trial now.

Related Posts:
---
Tagged As:
The post titled Volatility Spike - What Happens Next was originally published as on SentimenTrader.com on 2019-08-12.
At SentimenTrader.com, our service is not focused on market timing per se, but rather risk management. That may be a distinction without a difference, but it's how we approach the markets. We study signs that suggest it is time to raise or lower market exposure as a function of risk relative to probable reward. It is all about risk-adjusted expectations given existing evidence. Learn more about our service , research, models and indicators.
Follow us on Twitter for up to the minute analysis of market action.
Follow @sentimentrader