Volatility Regime Change; More New Lows
---
---
This is an abridged version of our Daily Report.
Regime change
Stocks have swung more than 1.5 standard deviations on more than half the days during the past two months. That's a big change from September when it happened only once.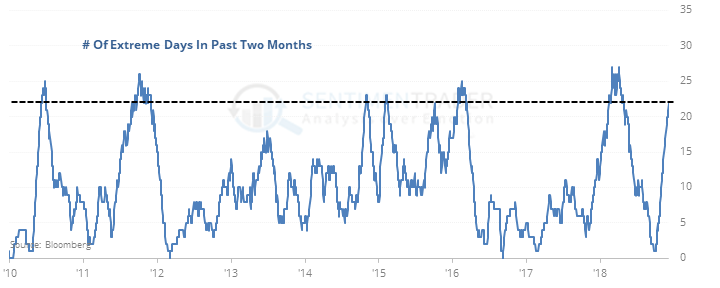 When stocks change from a low-volatility regime to a high one, it has preceded mostly higher prices longer-term. There wasn't a lot of evidence that the change to a higher level of extreme daily price changes preceded significant changes in the market environment.
More new lows
Even while the S&P 500 is holding above its lows from the past year, many securities have sunk to a lower low, enough so that 52-week lows on the NYSE are the highest in two years.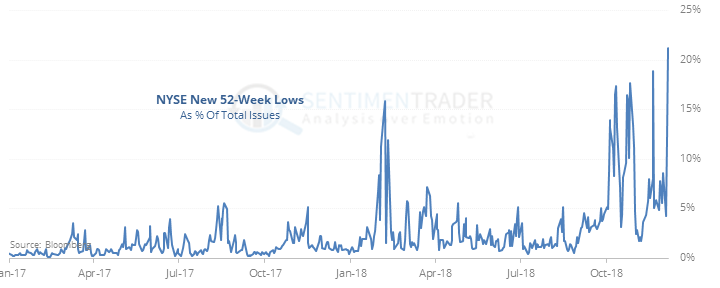 They accounted for more than 21% of all issues on Thursday. This has been a short-term negative in the past.
Unreliable reversal
The S&P 500 fund, SPY, gapped down more than 1%, lost more than 2% during the day and eclipsed its lowest close over the past six months, but reversed to close almost positive on the day. This looks nice on a chart, but the other 8 times it's happened, SPY built on its gains only 2 times over the next two weeks. Single-day reversal patterns are notoriously fickle.
Except for small-caps
The IWM fund had a more dramatic reversal, falling below its lowest close of the past year before reversing. Of the 6 other times it's done so, it continued to rally over the next week all 6 times averaging 3.3%.



Related Posts:
---
Tagged As:
The post titled Volatility Regime Change; More New Lows was originally published as on SentimenTrader.com on 2018-12-07.
At SentimenTrader.com, our service is not focused on market timing per se, but rather risk management. That may be a distinction without a difference, but it's how we approach the markets. We study signs that suggest it is time to raise or lower market exposure as a function of risk relative to probable reward. It is all about risk-adjusted expectations given existing evidence. Learn more about our service , research, models and indicators.
Follow us on Twitter for up to the minute analysis of market action.
Follow @sentimentrader