US Dollar Reversals Show A Mixed Record
---
---
One of the big stories today is in the US Dollar, which is reversing strongly from what had been a new 52-week low: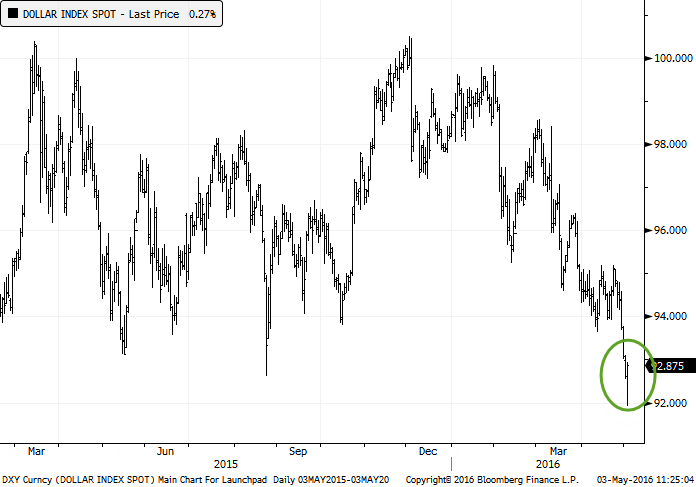 That looks great on a chart, and sentiment on the dollar is poor. Traders in the Rydex family of mutual funds are among the least-invested in a strong dollar in years: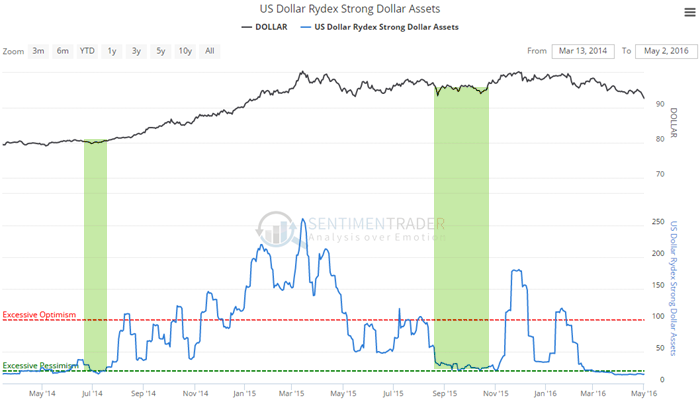 That's helping to push the Optimism Index to a low level, but on a longer-term basis it is still in neutral territory. It has a ways to go before we could conclude that sentiment is broadly and universally pessimistic: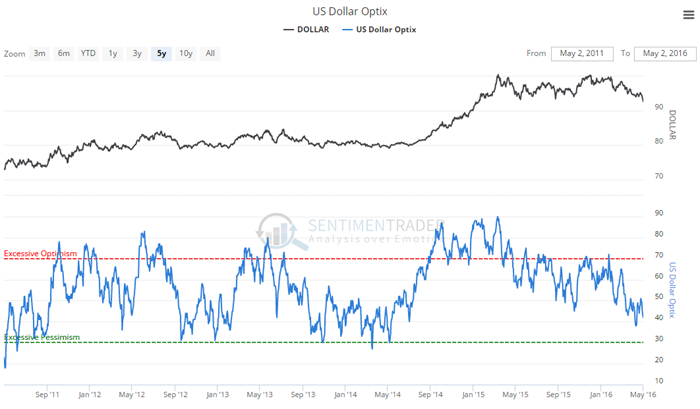 At least seasonality is positive. As noted in the Report last night, the dollar has tended to do well in May: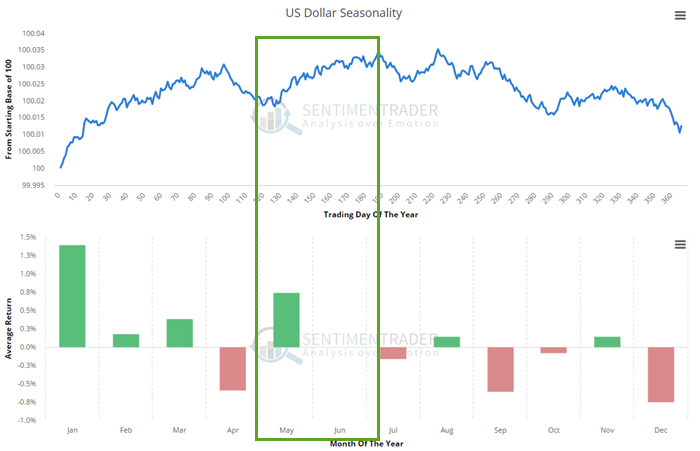 When the dollar hit a 52-week low at some point in May, buying and holding through June gave mixed returns. Out of 7 occurrences, there were two substantial losses, during the extended bear market that lasted from 2001 - 2007. Otherwise, the risk/reward was quite positive: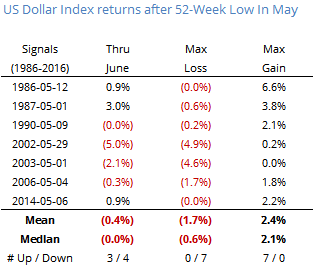 If we just take a look at the dollar's intraday reversal, the results weren't great. Looking at intraday data for a commodity is difficult because of futures contract rollovers, and that's especially the case for currencies which trade on a nearly 24-hour basis. So price patterns (especially intraday) are suspect and we don't place a lot of weight on them. For what it's worth, here is how the dollar has fared after falling at least 0.5% intraday to a 52-week low, then reversing enough to close in positive territory. Shorter-term returns were tepid at best. Up to a month later, there was a definite negative skew: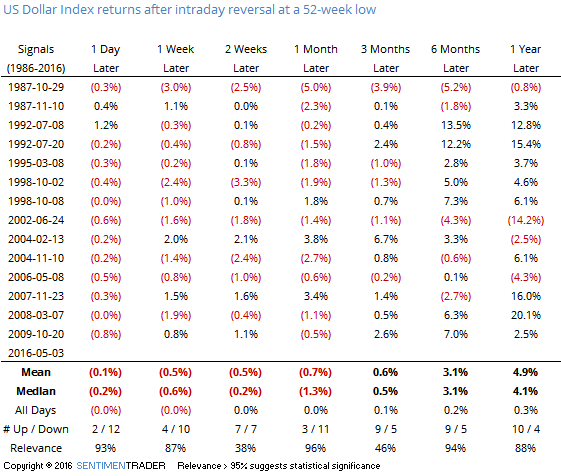 So we have a situation where the dollar is showing a strong reversal (so far) from what had been a new low, speculators are betting fairly heavily against it and seasonality is positive. A nagging factor is that one-day reversals from a low have had a poor record at preceding further rallies. We'd be more inclined to bet on a dollar rally if the Optix were more extreme and the reversal stats were (much) more positive. As it stands, there is only a modestly positive case for a rally based on the measures and type of price activity we follow.
Related Posts:
---
Tagged As:
The post titled US Dollar Reversals Show A Mixed Record was originally published as on SentimenTrader.com on 2016-05-03.
At SentimenTrader.com, our service is not focused on market timing per se, but rather risk management. That may be a distinction without a difference, but it's how we approach the markets. We study signs that suggest it is time to raise or lower market exposure as a function of risk relative to probable reward. It is all about risk-adjusted expectations given existing evidence. Learn more about our service , research, models and indicators.
Follow us on Twitter for up to the minute analysis of market action.
Follow @sentimentrader