Up Volume Going For 3 In A Row Above 80%
---
---
There is still a few hours to go in today's session, but buyers are working on a third straight day of impressive pressure.
Friday, Tuesday and today (so far) have all seen more than 80% of volume on the NYSE flowing into stocks that are positive on the day.
From the intraday charts: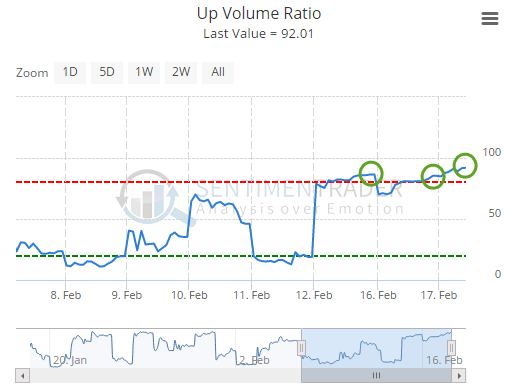 The last time this happened was back in 2010 and it has only happened a total of 10 times since 1957 when the S&P became a 500 stock index. Returns going forward tended to be quite positive: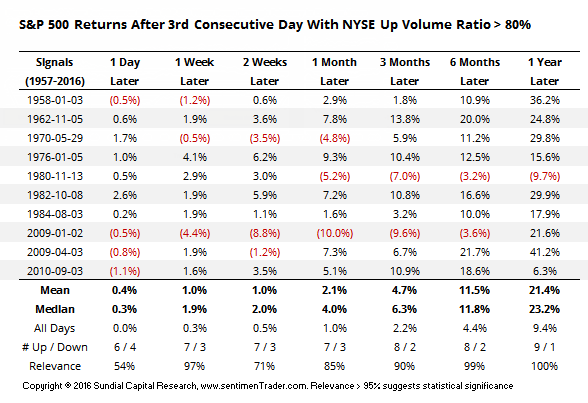 We can see that across all time frames, returns were above average, significantly so in the 1 week, 6 month and 1 year time frames. A year later, there was only one negative return and among the others, only one more that was less than +15%.
The biggest outlier was January 2009, when buyers rushed in at the beginning of the year, after what looked like a false breakdown in the indexes. It didn't turn out that way, and there was an almost immediate reversal to new lows.
If stocks hold up into the close, we'll likely see a flood of extremes, as usually happens when there is a persistent 3-day move. That almost always means some give-back in the shorter-term, but also almost always means more gains in the medium-term.
Related Posts:
---
Tagged As:
The post titled Up Volume Going For 3 In A Row Above 80% was originally published as on SentimenTrader.com on 2016-02-17.
At SentimenTrader.com, our service is not focused on market timing per se, but rather risk management. That may be a distinction without a difference, but it's how we approach the markets. We study signs that suggest it is time to raise or lower market exposure as a function of risk relative to probable reward. It is all about risk-adjusted expectations given existing evidence. Learn more about our service , research, models and indicators.
Follow us on Twitter for up to the minute analysis of market action.
Follow @sentimentrader