Unstable Staples Lead To Energy Bounce
---
---
This is an abridged version of our Daily Report.
Staples are unstable
Consumer Staples hit a 52-week low on Wednesday even while the broader market holds up. The only times in more than 90 years we've seen this to this degree were in 1993 and 1999, which led to gains over the medium-term.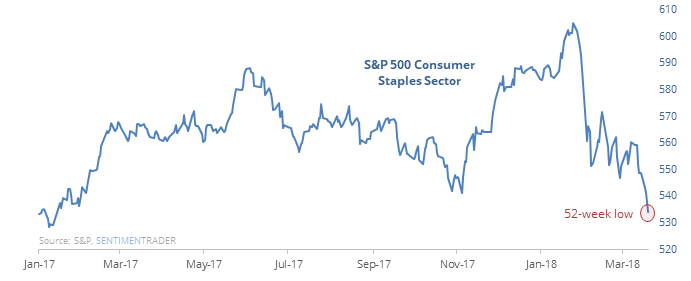 Times with similar performance across all sectors led to mixed returns with no clear pattern.
Energy sizzles after long slump
The Energy sector has declined to one of its lowest weights in the S&P 500 in nearly 30 years, making up less than 6% of the index. Wednesday's rally was the best in more than six months, which has led to further gains. It has also tended to rally after a big jump following a slump to a six-month low.
Change of character?
The Optimism Index for the Staples ETF, XLP, sunk below 7 for the 22nd time since the 2009 bottom.
Speaking of character
The Optimism Index on the crude oil ETF, USO, jumped above 90. In the fund's history, it has struggled after similarly high readings, adding to gains over the next three days only 40% of the time according to the Backtest Engine.
For access to the full report, indicators, charts, screens, and Backtest Engine, log in or sign up for a free 30-day trial today.
The post titled Unstable Staples Lead To Energy Bounce was originally published as on SentimenTrader.com on 2018-03-22.
At SentimenTrader.com, our service is not focused on market timing per se, but rather risk management. That may be a distinction without a difference, but it's how we approach the markets. We study signs that suggest it is time to raise or lower market exposure as a function of risk relative to probable reward. It is all about risk-adjusted expectations given existing evidence. Learn more about our service , research, models and indicators.
Follow us on Twitter for up to the minute analysis of market action.
Follow @sentimentrader