Two common sentiment indicators are in complete conflict
---
---
Defining "sentiment" isn't a one-sided affair. All of us want to look at a single end-all, be-all indicator of what the hordes are thinking or how they're behaving, but it's just not that simple. Using one metric has been way too prone to error.
The frustrating part about this is that most of the time, at least a few measures are in conflict with each other. There are usually 2-3 times per year in each market where almost everything lines up, and defining where sentiment is can be relatively straightforward.
Right now, most shorter-term guides are showing a lot of optimism, some on a historic scale. On a medium- to long-term basis, it's much more mixed, and some are even showing outright pessimism, even after a historic rally.
We've looked at these conflicts many times in the past, and one of the most egregious right now is between the options market and some surveys, like AAII. As noted by Urban Carmel, the two have rarely been this much at odds.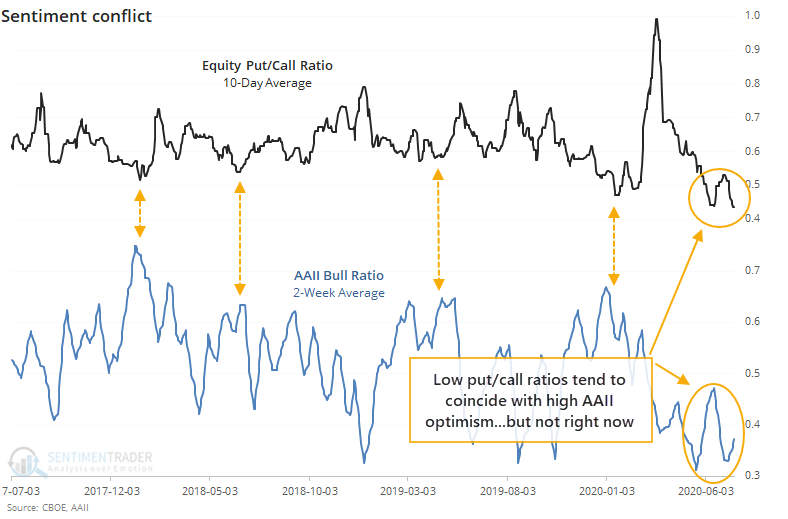 Over the past two weeks, options traders have shown a historic level of speculation, and that has pushed the 10-day Equity-only Put/Call Ratio to its lowest level since the year 2000. At the same time, the AAII survey of individual investors shows a Bull Ratio that ranks among the lowest in the survey's history.
So who do we believe? Are investors in a speculative frenzy as indicated by the options market, or are they depressed like some survey's show?
We always place more weight on real-money indicators as opposed to surveys, because people often say one thing but do another. That's true in real life, and it's true in markets.
If we go back to 1993 and look at other times these indicators diverged, then we can see that the influence of the options extreme was more prevalent in the short-term and the survey long-term.
This is an abridged version of our recent reports and notes. For immediate access with no obligation, sign up for a 30-day free trial now.
We also looked at:
A more in-depth look at the put/call ratio versus AAII extremes
Industrial production has turned up - what that means for stocks, sectors, and factors

Related Posts:
---
Tagged As:
The post titled Two common sentiment indicators are in complete conflict was originally published as on SentimenTrader.com on 2020-07-20.
At SentimenTrader.com, our service is not focused on market timing per se, but rather risk management. That may be a distinction without a difference, but it's how we approach the markets. We study signs that suggest it is time to raise or lower market exposure as a function of risk relative to probable reward. It is all about risk-adjusted expectations given existing evidence. Learn more about our service , research, models and indicators.
Follow us on Twitter for up to the minute analysis of market action.
Follow @sentimentrader