Since we won't be publishing a Daily Report today, we're going to send this Premium Note to all members.
This is similar to what's published most days around midday. It's essentially my notebook of things I'm looking at during the day, some of which make it into the Daily Report. There tends to be more of a focus on other markets, sectors, and fundamentals.
Bond Volatility...
The rush into the potential safety of Treasury bonds has triggered an exponential rise in that market, along with its expected volatility. Most investors are familiar with the VIX, which almost always declines as stocks rise. Other markets don't typically act that way - when those markets rise quickly, traders often price in even greater volatility going forward.
That's what's happening in the bond market. Both the price of 10-year Treasury futures and the bond market's VIX equivalent are hitting 1-year highs at the same time.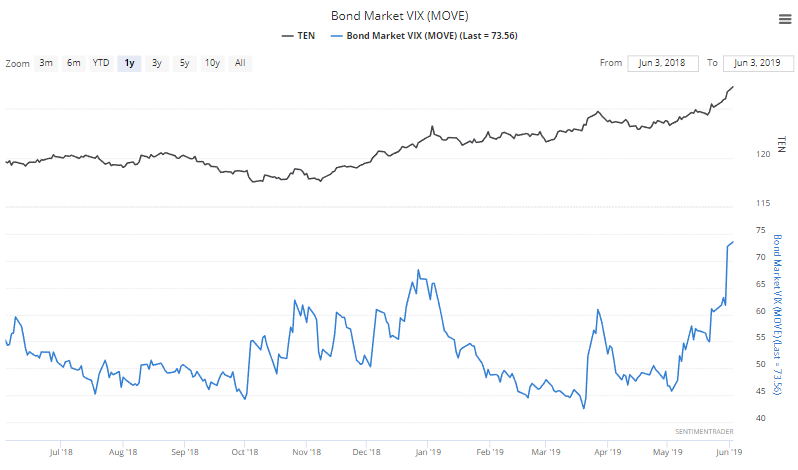 Every time this has happened before, it was a good sign for stocks over the medium-term. The S&P 500 was higher a month later each time, by a massive amount.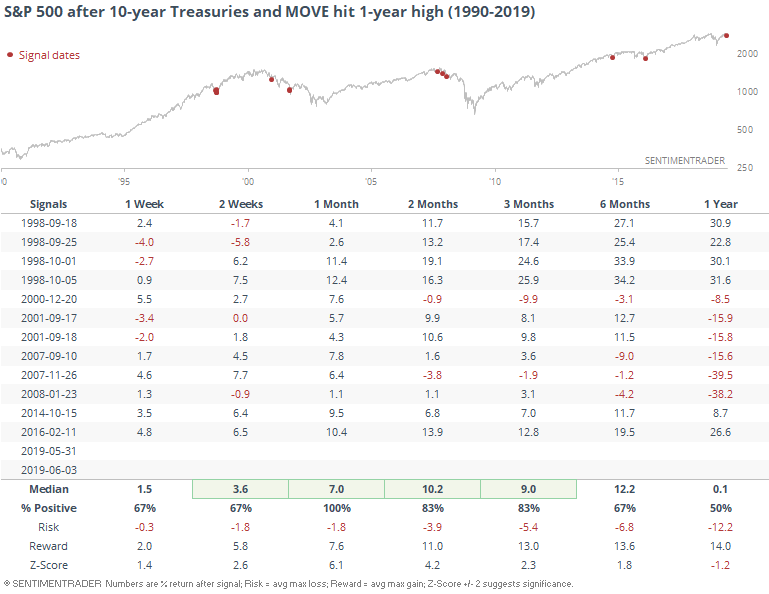 It was decidedly less positive for 10-year Treasuries.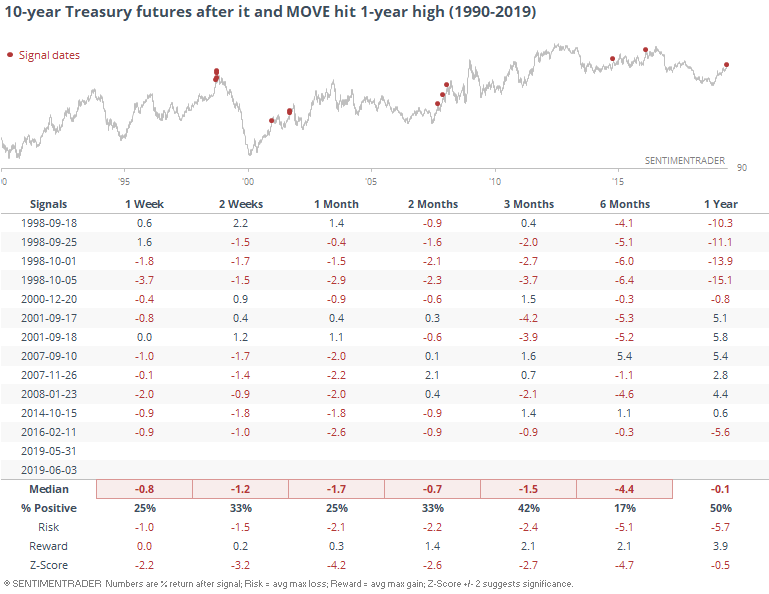 ...And High Optimism
The rush into bonds has pushed the Optimism Index for that market well above 70. While it got caught on a few parabolic moves higher, that was definitely the exception.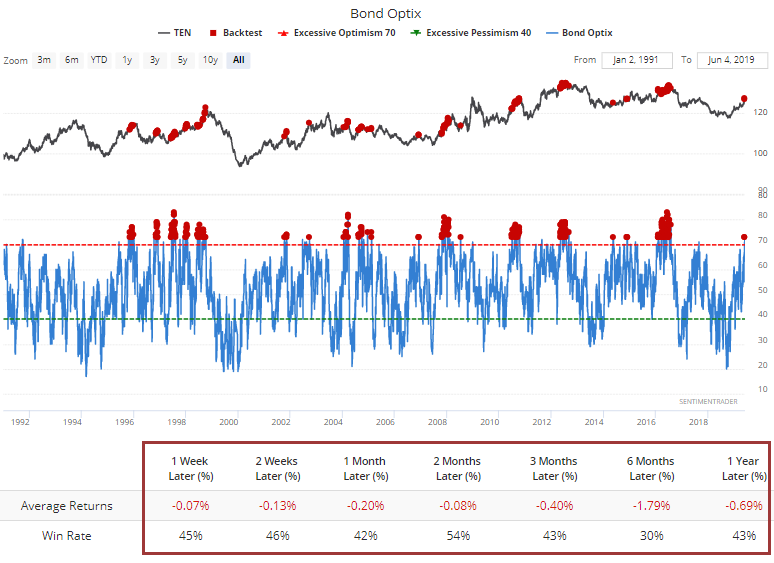 If we look at it since the inception of the TLT fund, that has also struggled. This doesn't include dividends, so that's mostly what an investor would have to rely on from here in terms of potential returns.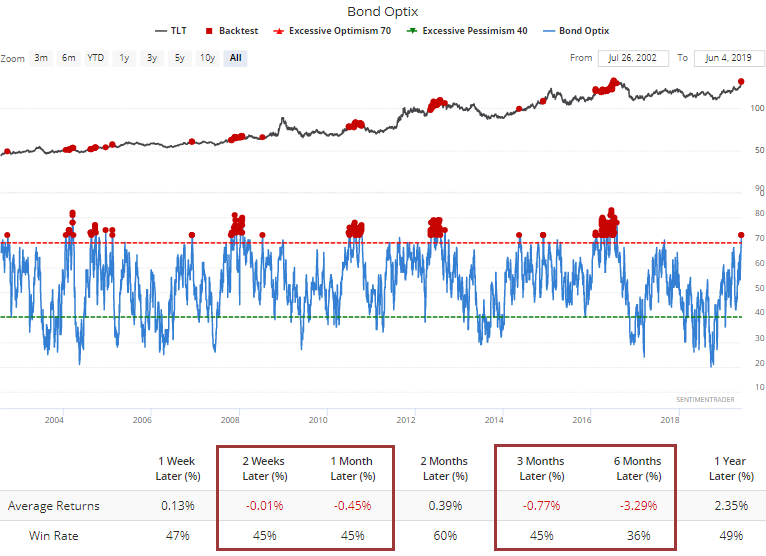 Stock funds have performed much better when bond sentiment was so high.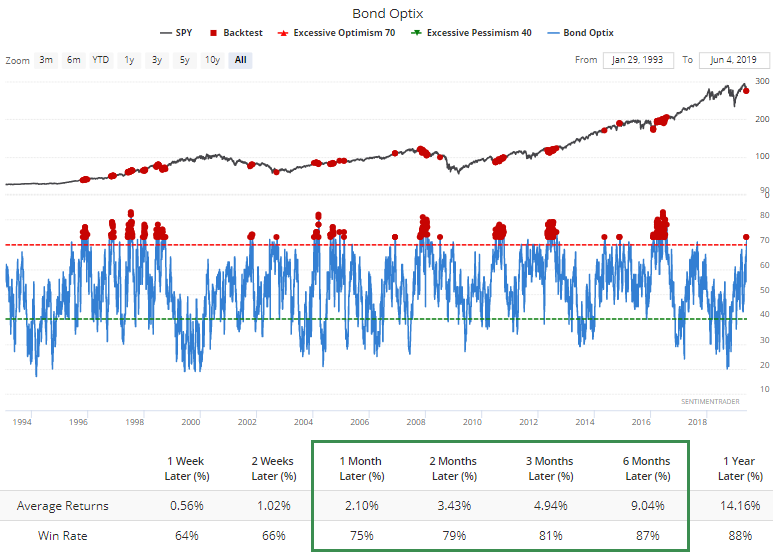 Even for broader bond funds, optimism is extremely high. Over the past 3 sessions, the Optimism Index for BND has soared above 92. In that fund's history, it has been this high over multiple sessions only three other distinct times. Not a disaster by any stretch, but it was tough for it to sustain much, if any, further shorter-term gains.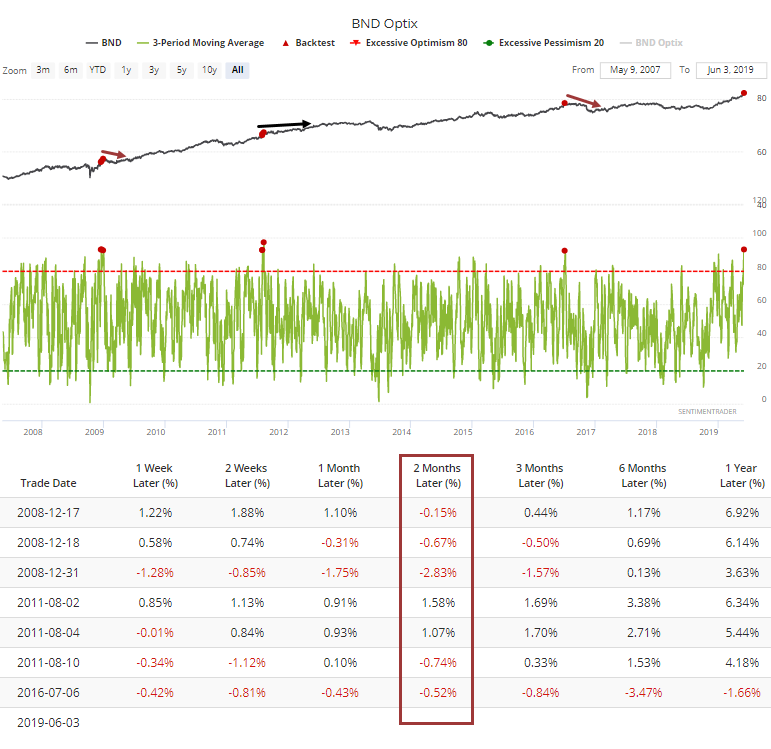 Bonds have seasonally bottomed about now, but as we can see from the chart, 10-year futures have done almost exactly the opposite of what they "should" do in a typical year. Seasonality is an imperfect art.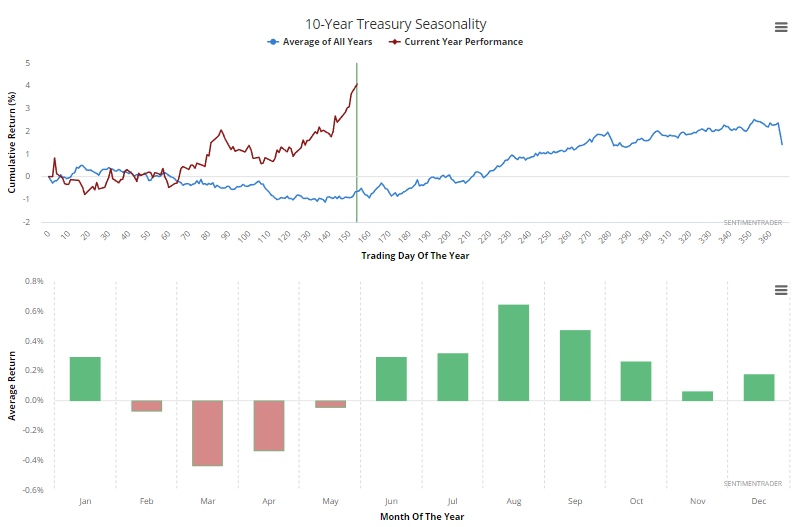 What seems to be freaking some folks out is that while bond volatility is skyrocketing, the actual VIX (for stocks) is relatively subdued. It hasn't moved much in response to the volatility in bonds, or to the drop in stocks. The VIX is nearly half what it was at its peak over the past year.
This is a worry for some because of the old cliche that bond traders are smarter than stock traders. So if bond volatility is skyrocketing, then stock volatility is likely to follow.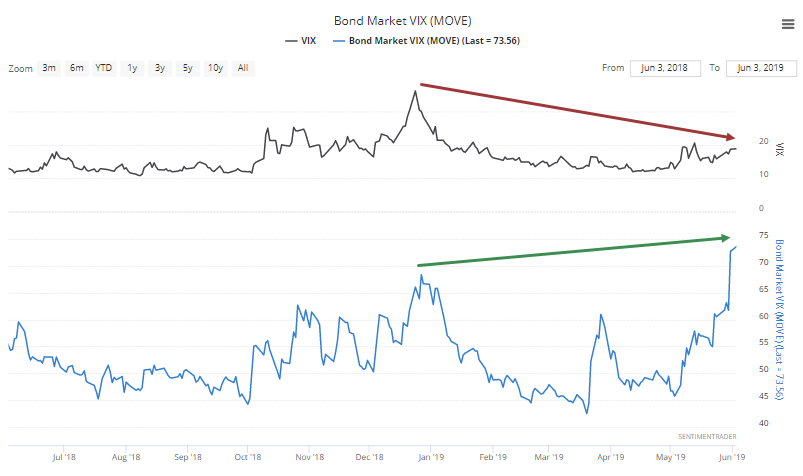 Historically, that hasn't been much of a worry.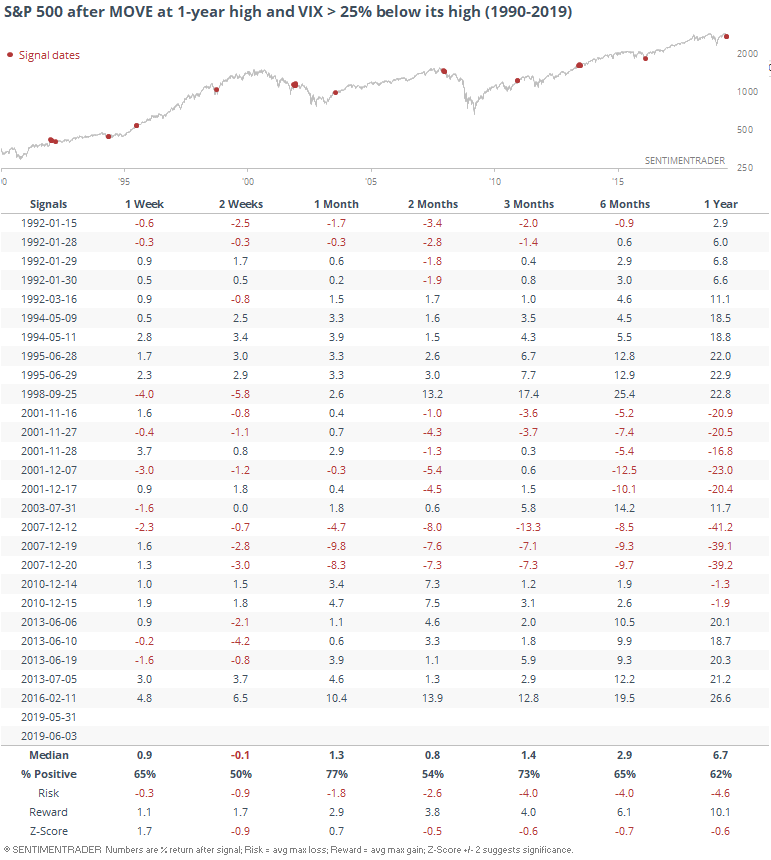 Gold, Too
While investors can move into bonds for a variety of reasons, when it goes parabolic like this, it's typically because of some kind of panic in stocks. That goes doubly when gold also rallies hard. Over the past three sessions, both gold and bonds have shot higher, and as we can see below, that usually means stocks have been hit, and it also typically doesn't last.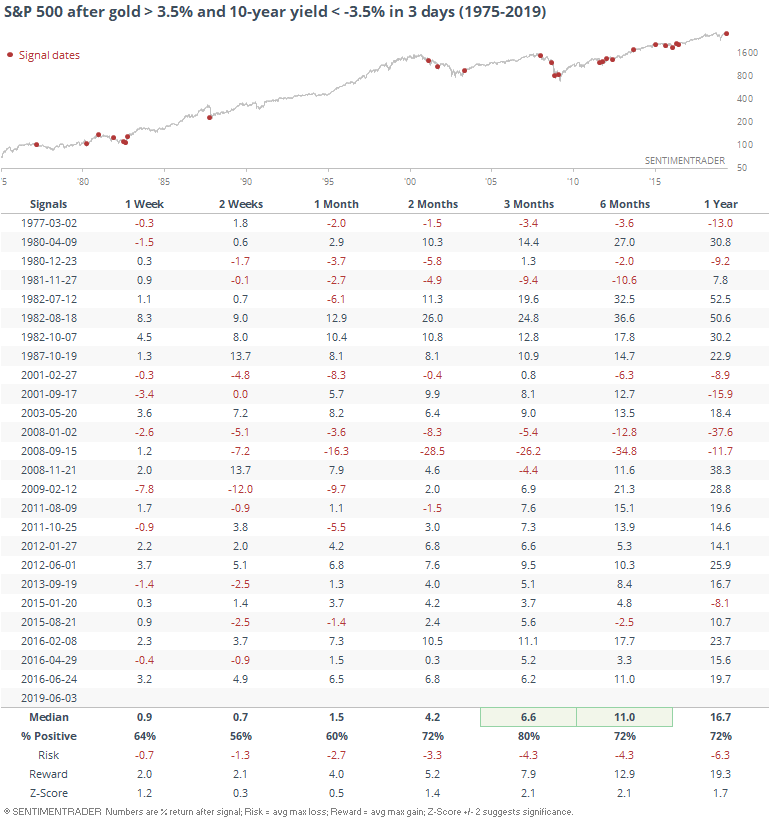 That move into gold has triggered an influx of interest in the GLD fund, which saw more than a $500 million inflow on Monday alone. It has struggled after other large rushes into the fund.
Twitter users have taken note. Over the past week, bullish messages on that social media platform have outnumbered bearish ones, pushing the 5-day average Social Sentiment score below 1. Over the past five years, GLD has struggled after such lopsided bullish tweets.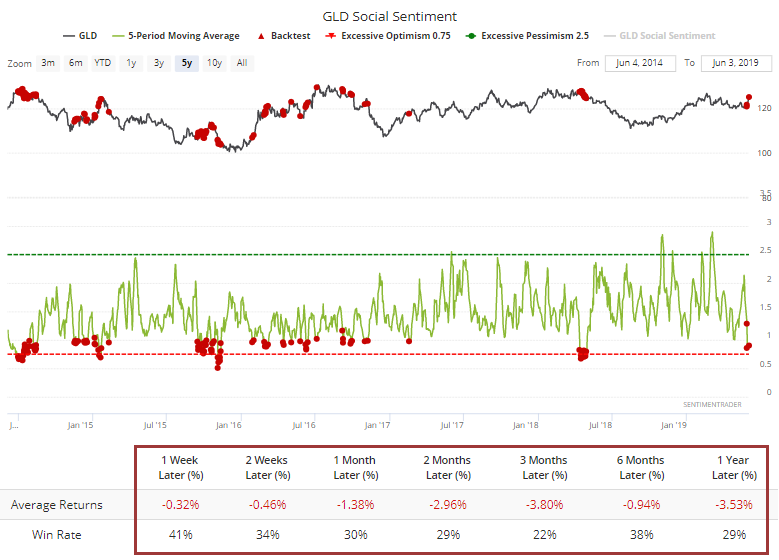 Contrast that to times when bearish messages outnumbered bullish ones by 2-to-1. Returns weren't great, but certainly much better than when the Twitterverse was as positive as it is now.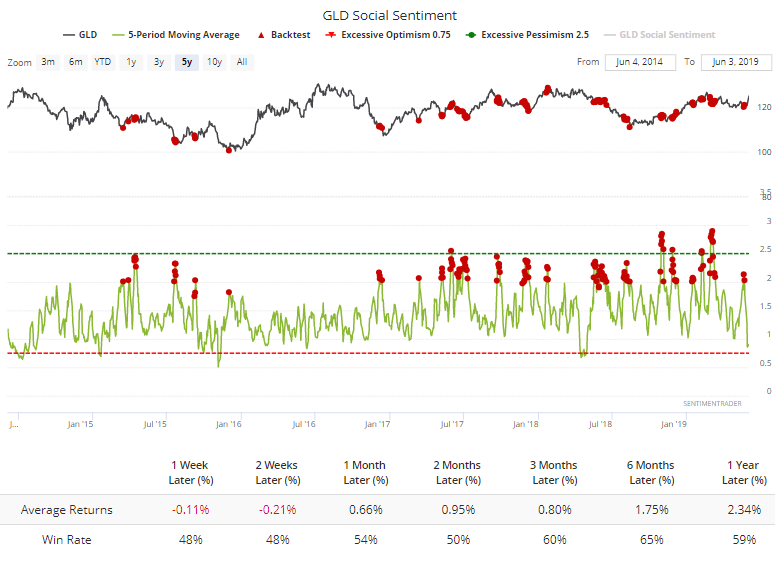 The fund has kind of followed it typical seasonal pattern. If that continues to play out, then it has a bit more weakness around this time of year before picking up as summer progresses.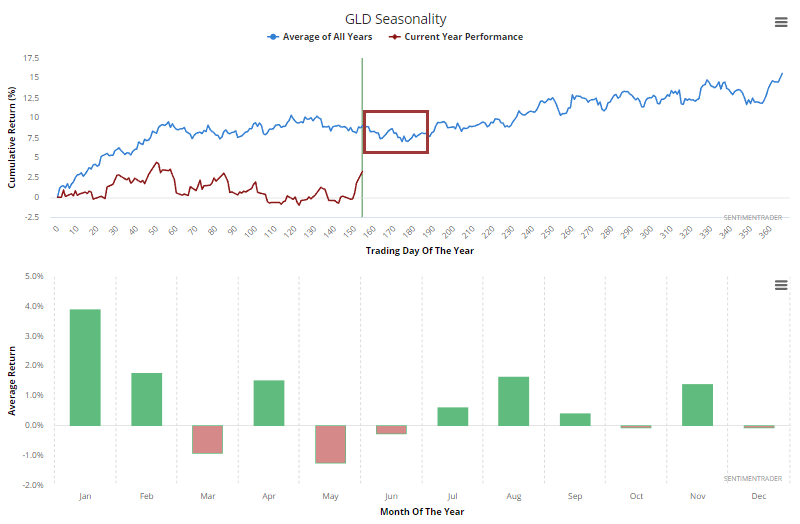 If we look at the gold futures contract, which goes back a lot further, then it's still the same basic pattern.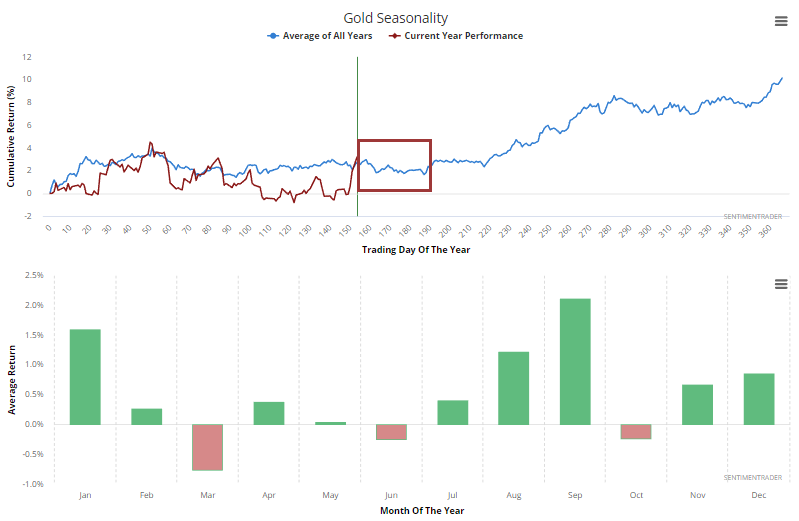 Flows
The latest monthly ETF fund flows show a near-record amount coming out of all broad U.S. sectors in May.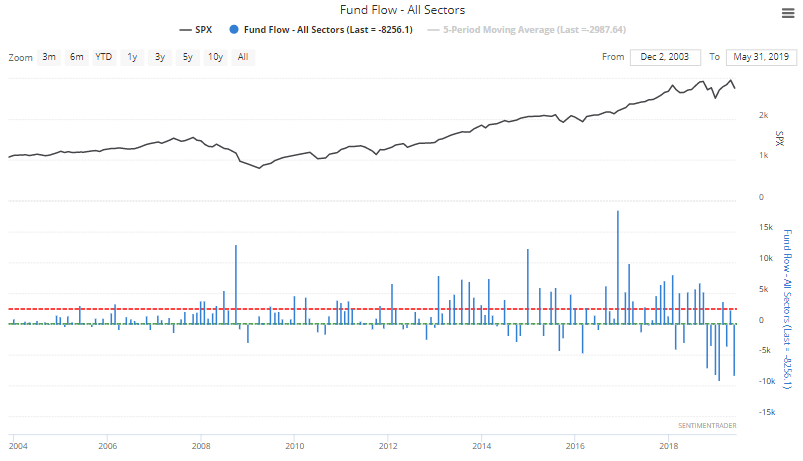 Over the past 10 months, sector funds have lost an average of more than $2 billion per month.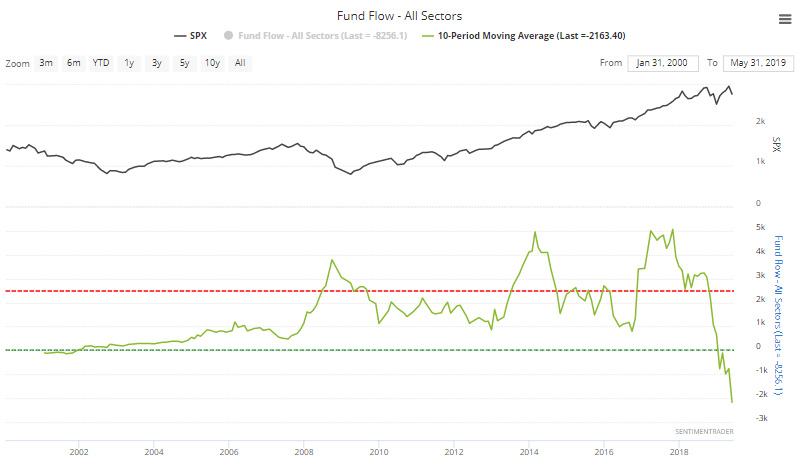 Health care was among the worst of them, suffering the worst one-two punch of outflows since February / March 2016.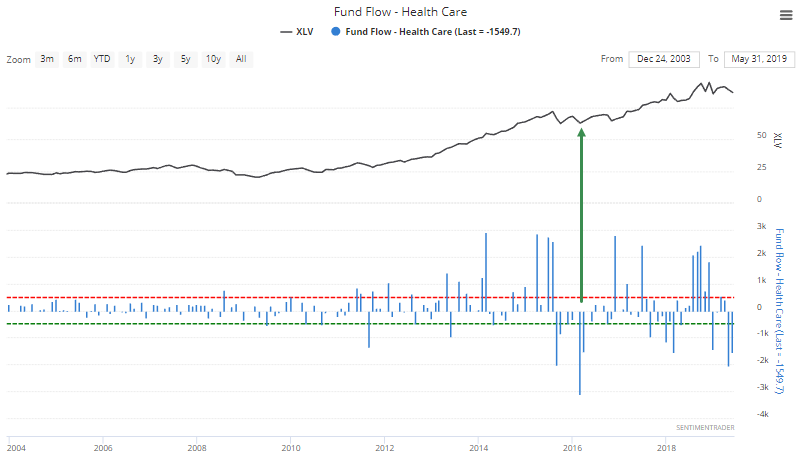 Emerging markets did set a record for outflows in a single month, eclipsing May 2016.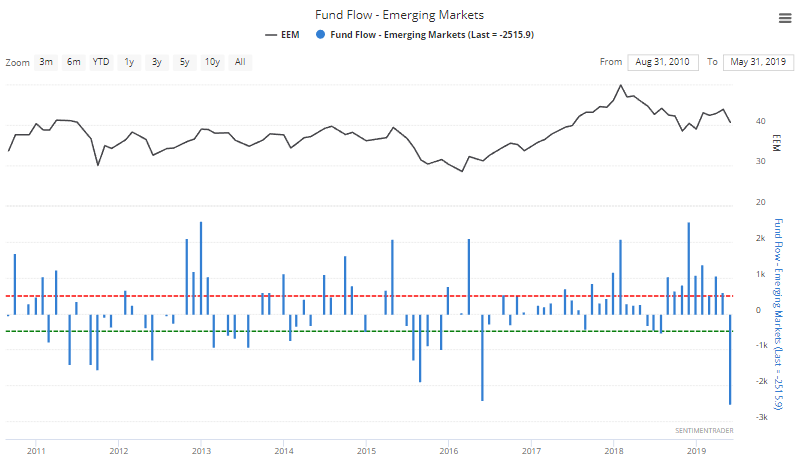 Volatility funds also suffered a big outflow, which often happens when the VIX rises during the month. And it has usually stopped soon after. The Backtest Engine shows how the VIX tended to decline sharply following any month when VIX ETFs suffered an outflow of more than $500 million.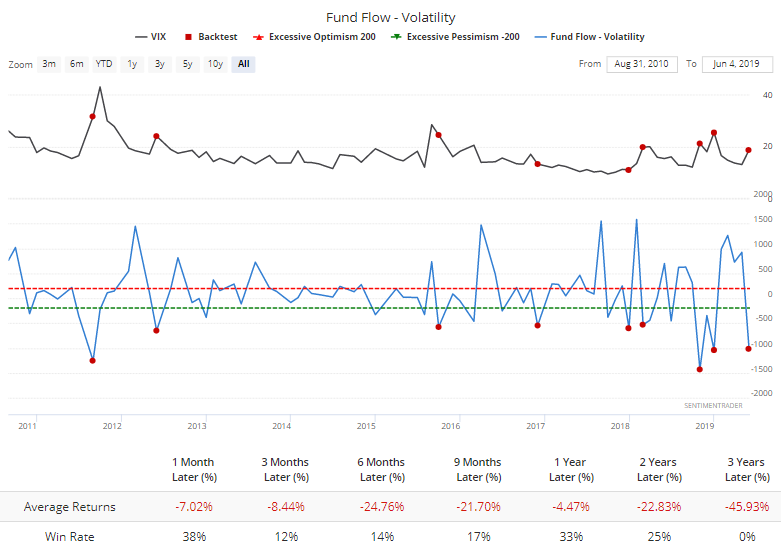 Breadth Review
There weren't too many extremes of note. I thought there might be some interesting developments in tech, but not so much. A couple did catch my eye.
The XLK fund has somehow managed to hold above its long-term 200-day moving average, yet fewer than 15% of tech stocks are still above their 50-day averages. That has led to a decent probability of rebounding, but it's not super strong.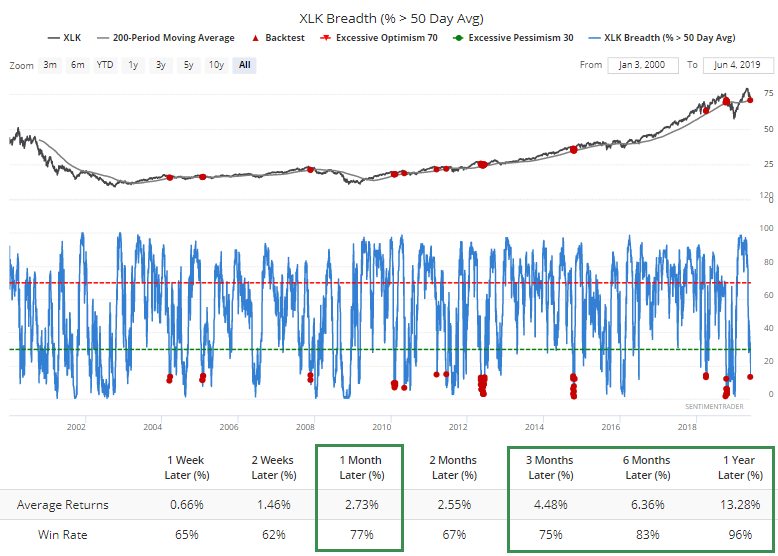 Same goes for the McClellan Oscillator, which fell to nearly -100.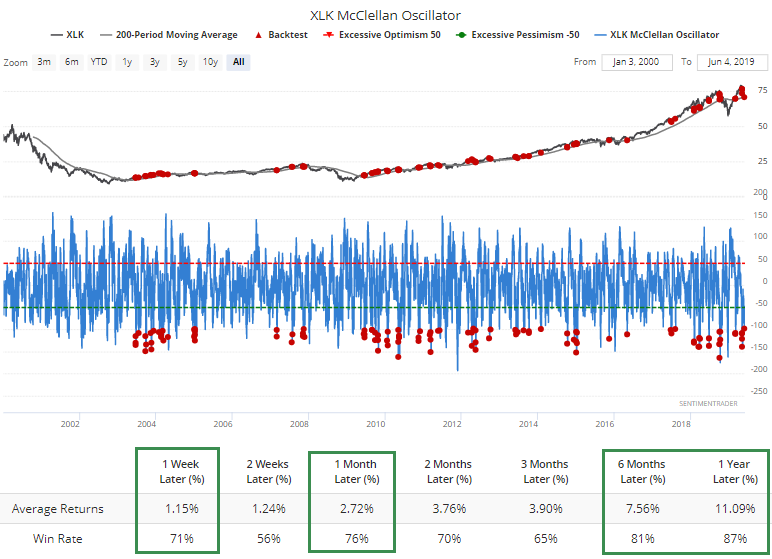 ---