Treasuries tumble, and traders are betting on more
---
---
The Georgia election results weren't received warmly by bond investors, who decided to sell first...and aggressively.
Futures traders are a bit sanguine, with speculators holding a minor net long position as of last week. Options traders, however, have seemingly been significantly more worried.
On Tuesday and Wednesday alone, more than 1 million puts traded on 10-year Treasuries. On Tuesday, there were over 4 puts traded for every call, the highest Put/Call Ratio in more than 5 years. Put volume has been heavy for weeks, so the 20-day average of the ratio has soared to nearly a record high, just below the peak from late 2013.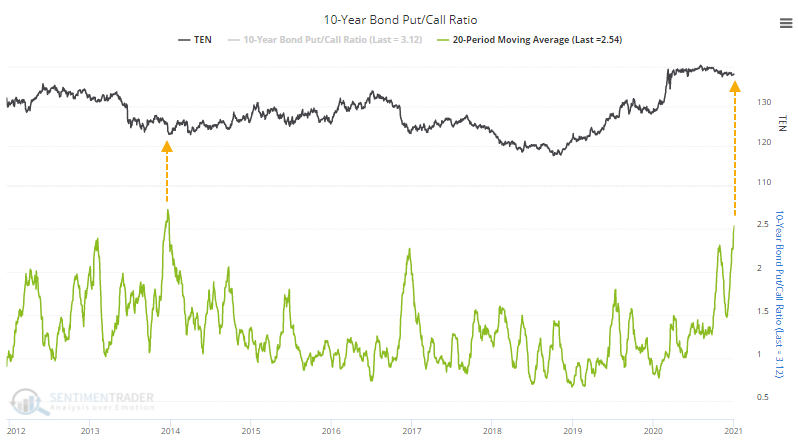 Other times when traders focused on puts over calls by more than a 2-to-1 ratio has preceded just-okay returns per our Backtest Engine. Returns were better for the TLT fund when the ratio was high, with 94% of days showing a positive return 3 months later.
---
What else is happening
These are topics we explored in our most recent research. For immediate access with no obligation, sign up for a 30-day free trial now.
Results in 10-year Treasuries and the TLT fund after high put/call ratios
Institutional investors have shifted to a heavy short position in this market
Hedge funds have gone net short, too
Even so, implied volatility in the bond market is at historic lows
Seasonality for the 10-year is modestly positive at the start of a New Year
What happens to Treasury prices when economic activity picks up
Basic material stocks had quite a day on Wednesday
There has been another historic surge in securities hitting 52-week highs
What happened when other notables reached the "world's richest" moniker
---
Stat Box

On Thursday, more than 14% of securities on the Nasdaq exchange ticked at a 52-week high. That's the highest percentage of new highs in more than 700 days, one of the longest streaks in 35 years.
---
Sentiment from other perspectives
We don't necessarily agree with everything posted here - some of our work might directly contradict it - but it's often worth knowing what others are watching.
1. About 54% of mom-and-pop investors expect stocks to keep rising in the months ahead, the 2nd-highest percentage in the past 3 years. [AAII]

2. When you're bullish, you gotta buy call options...right? [Bloomberg TV]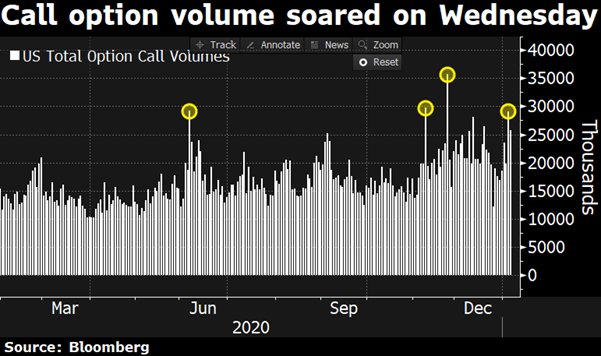 3. There are just no words. [Axios via Daily Shot]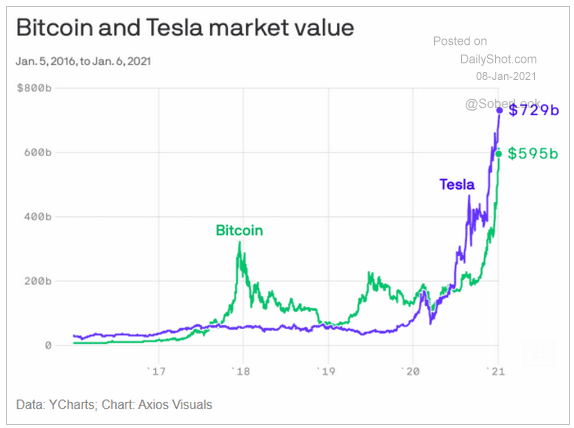 Related Posts:
---
Tagged As:
The post titled Treasuries tumble, and traders are betting on more was originally published as on SentimenTrader.com on 2021-01-08.
At SentimenTrader.com, our service is not focused on market timing per se, but rather risk management. That may be a distinction without a difference, but it's how we approach the markets. We study signs that suggest it is time to raise or lower market exposure as a function of risk relative to probable reward. It is all about risk-adjusted expectations given existing evidence. Learn more about our service , research, models and indicators.
Follow us on Twitter for up to the minute analysis of market action.
Follow @sentimentrader