Transports Shrug Off Oil As Smart Money Bets On VIX
---
---
This is an abridged version of our Daily Report.
Transports shrug off oil's rise
The Dow Transports have rallied strongly over the past 30 days even as oil jumped twice as much.

Transports have rallied enough to close at a multi-month high. When the sector has shrugged off surging oil prices before, it continued to rally shorter-term, less so longer-term.
Smart money betting on the VIX
Hedgers in VIX futures are net long for the first time since January.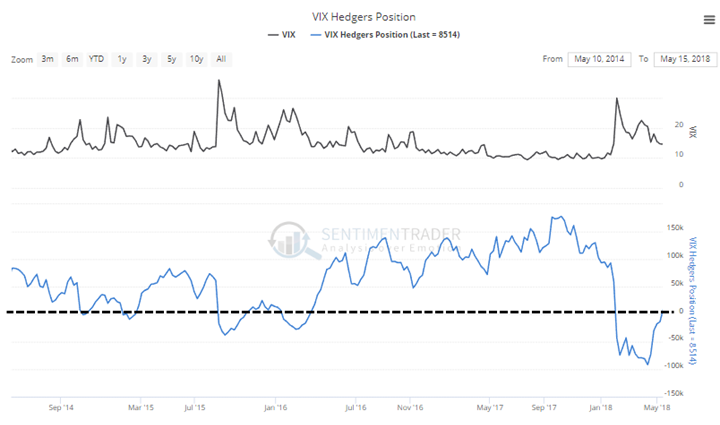 When they are long, the VIX tends to rise much more than when hedgers are short. While less effective, stocks also show a difference in forward returns when hedgers are long the VIX.
Memorial Day seasonality
Volatility tends to decline ahead of the holiday, with a tailwind for small-cap stocks, and there was usually some weakness in stocks the day after.
Running on fumes
Unleaded gas is now the most-loved commodity contract, taking the crown from lumber. Its Optimism Index climbed above 80 for one of the relatively few times in more than a decade.


F
or access to the full report, indicators, charts, screens, and Backtest Engine, log in or sign up for a free 30-day trial today.
Related Posts:
---
Tagged As:
The post titled Transports Shrug Off Oil As Smart Money Bets On VIX was originally published as on SentimenTrader.com on 2018-05-22.
At SentimenTrader.com, our service is not focused on market timing per se, but rather risk management. That may be a distinction without a difference, but it's how we approach the markets. We study signs that suggest it is time to raise or lower market exposure as a function of risk relative to probable reward. It is all about risk-adjusted expectations given existing evidence. Learn more about our service , research, models and indicators.
Follow us on Twitter for up to the minute analysis of market action.
Follow @sentimentrader