Traders are showing get-me-out behavior
---
---
No bid
The first two sessions of the week saw an almost 'no bid' situation. Fewer than 10% of securities on the NYSE managed to rise either day and there was (almost) less than 10% of volume flowing into the stocks that did manage to rise. Over the past 60 years, there haven't been many one-two punches like this.
Even on Friday, there were bouts of get-me-out selling. The average TICK reading at the lowest point over the past three sessions has been below -1500, more than 50% of issues on the NYSE.
The TICK shows the number of stocks that last traded on an uptick minus those that last traded on a downtick. Anything beyond +/- 1000 can be considered extreme.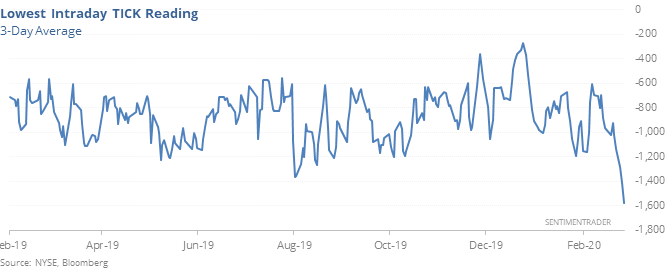 Going back to 1990, there have been a handful of days when the 3-day average of the lowest TICK reading of the day exceeded -1500. Because the number of issues changes over time, we also looked at dates when the average was at least -50% of total issues (over the past 3 days, it was -52% of issues). This kind of selling has led to consistent upside over the medium-term.
Fewer uptrends
With the heavy selling over the past few sessions, fewer than 50% of the S&P 500's members are above their 200 day averages for the first time in more than a year.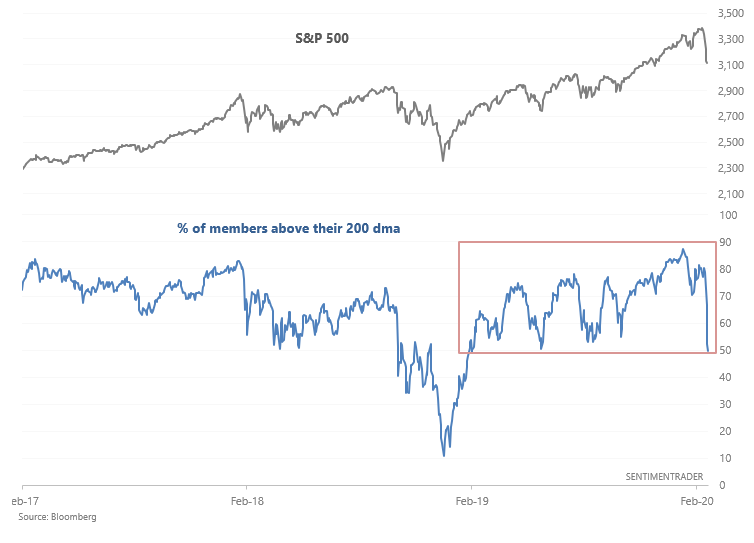 When other long uptrends were broken, the S&P often faced weakness over the next week but that's about as long as it tended to last. By a month later, most were higher.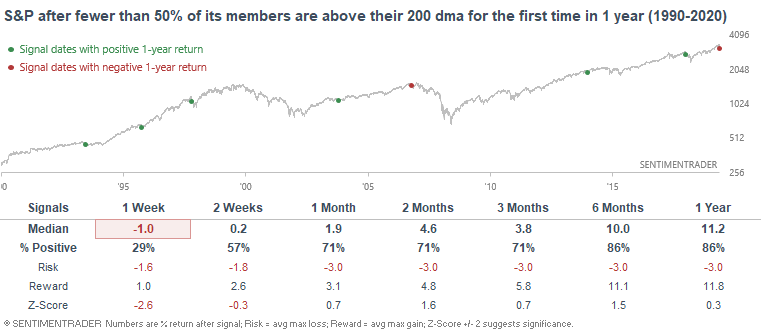 This is an abridged version of our recent reports and notes. For immediate access with no obligation, sign up for a 30-day free trial now.
We also looked at:
What happens after 2-day bouts of 90% down days (issues and volume)
Optimism on safe-haven assets like gold and bonds is very high
New home sales are surging
What happens after 5 straight down days after an all-time high
There has been a big surge in oversold stocks
Our CNN Fear & Greed proxy model is showing extreme pessimism already
Optimism on bonds is extreme

The post titled Traders are showing get-me-out behavior was originally published as on SentimenTrader.com on 2020-02-27.
At SentimenTrader.com, our service is not focused on market timing per se, but rather risk management. That may be a distinction without a difference, but it's how we approach the markets. We study signs that suggest it is time to raise or lower market exposure as a function of risk relative to probable reward. It is all about risk-adjusted expectations given existing evidence. Learn more about our service , research, models and indicators.
Follow us on Twitter for up to the minute analysis of market action.
Follow @sentimentrader