Tightest 100-Day Correlations Amid A 20-Year Best Earnings Season
---
---
Just like us
There have been nearly 20 different 100-day time windows that have a high correlation to the past 100 sessions in the S&P 500. Most of them ended up peaking right about this time and saw pullbacks over the medium-term.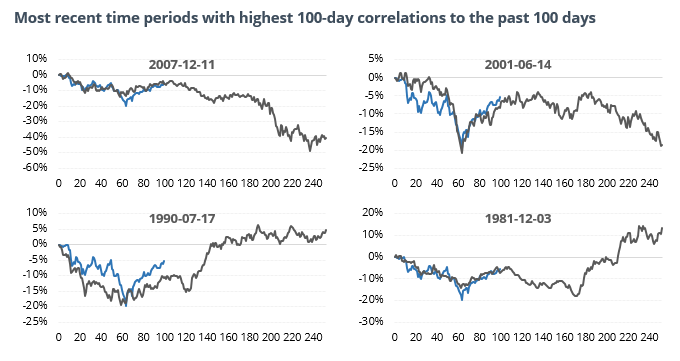 These analogs have been suggesting for a while that stocks typically peak somewhere between the (roughly) 70 – 100 day mark of a decline-then-rally cycle. We're at the upper end of that now, and it's relatively rare to see a continued sustained rally after this.
A good season
The S&P 500 rallied more than 8% during Q4 earnings reporting season, which just ended. This is the best performance in more than 20 years. Other times the S&P rallied more than 5% during this time stretch, it tended to suffer losses in the weeks ahead.
Oops
It appears the AAII asset allocations that rebounded to troubling extremes was an error. The AAII blog post detailing the positions disagreed with the actual survey results and has since been fixed. Hat tip to Callum Thomas for the correction.
SPY is losing assets
Despite its price hitting a 16-week high, cumulative ETF asset flow in SPY has hit a 16-week low. The study shows weaker-than-average returns for SPY over the next month or so.
The latest Commitments of Traders report was released, covering positions through January 29
Due to the government shutdown, the CFTC is still a few weeks behind. As of that report, "smart money" traders were net long more than $9 billion of Nasdaq futures, typically a positive sign for that index. The 3-Year Min/Max Screen didn't show any new extremes of note.
This post was an abridged version of our previous day's Daily Report. For full access, sign up for a 30-day free trial now.

The post titled Tightest 100-Day Correlations Amid A 20-Year Best Earnings Season was originally published as on SentimenTrader.com on 2019-02-20.
At SentimenTrader.com, our service is not focused on market timing per se, but rather risk management. That may be a distinction without a difference, but it's how we approach the markets. We study signs that suggest it is time to raise or lower market exposure as a function of risk relative to probable reward. It is all about risk-adjusted expectations given existing evidence. Learn more about our service , research, models and indicators.
Follow us on Twitter for up to the minute analysis of market action.
Follow @sentimentrader