This Small-Cap correction is one of the fastest in history
---
---
Small-Caps' failed breakout
Earlier this month, the small-cap Russell 2000 broke out of a long consolidation. When it's done that before, it had a strong tendency to keep going. While short-term returns were modestly positive, the index showed a positive return 2 months later 16 out of 18 times.
After its latest attempt, it promptly failed. And failed hard.
Within only a few weeks of trading at an all-time high, the Russell is already back into correction territory. This is its first drawdown of more than 10% (rounded) in more than a year. This is the Russell 2000's 4th-fastest correction in its history.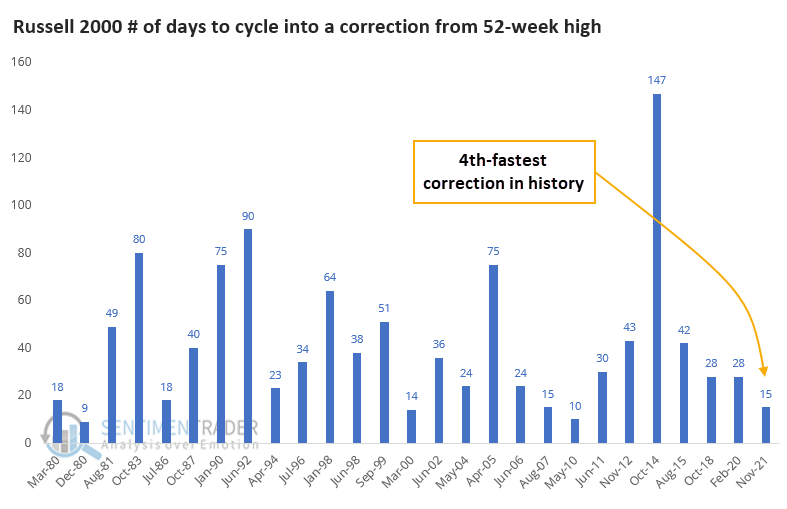 This quick correction is also the Russell's first substantial pullback in a long time. It ends a streak of nearly 300 trading days since it last traded more than 10% below a 52-week high.

Stat box



More than 16% of stocks in the Russell 3000 have dropped more than 20% over the past month. That's the 5th-largest amount in the past 5 years.
Too many new lows
A new signal from a voting member in Dean's TCTM Risk Warning Model registered an alert on Tuesday.
The model identifies when the percentage of S&P 500 members registering a 252-day low exceeds a certain threshold while the S&P 500 is relatively close to its most recent high.
New lows are one of the most critical breadth measures to monitor in a bull market, especially long-duration ones. When they expand to current levels with the market near a high, something is amiss with market participation.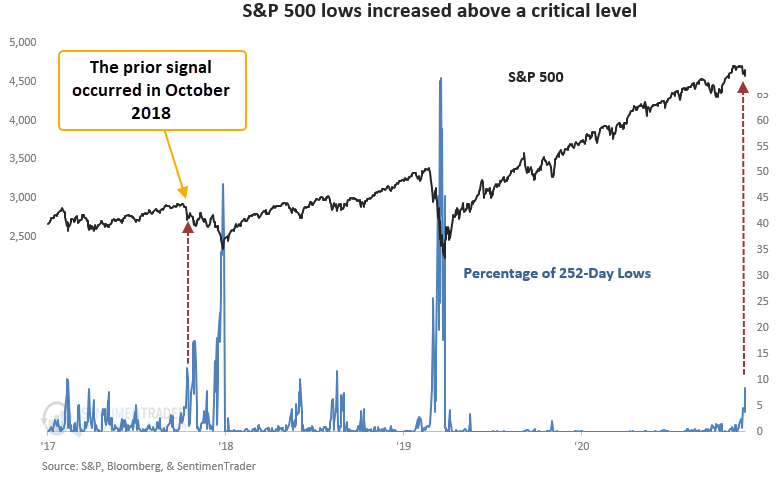 This signal triggered 21 other times over the past 93 years.

Watch the Aussie
The top clip in the chart below displays a monthly chart of the Australian Dollar with its 24-month moving average. The bottom clip shows the monthly chart of GSG, an ETF that tracks the Goldman Sachs Commodity Index.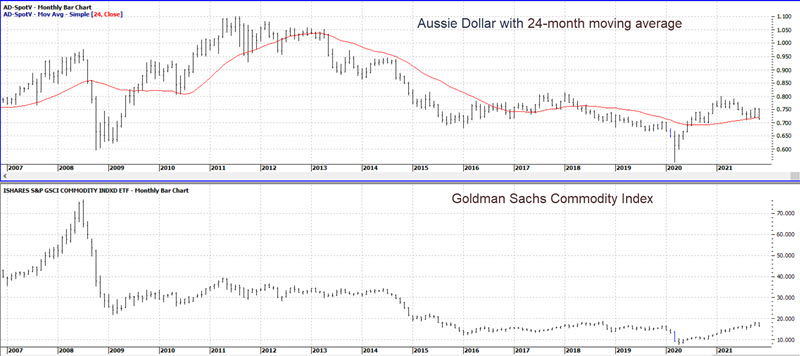 Jay noted that $1 invested in the GSCI only when the Aussie dollar closed the previous month above its 24-month moving average grew to $60.87, a return of +5,987%. That is vastly different than the return generated in commodities when the Aussie was below its average.


Related Posts:
---
Tagged As:
The post titled This Small-Cap correction is one of the fastest in history was originally published as on SentimenTrader.com on 2021-12-02.
At SentimenTrader.com, our service is not focused on market timing per se, but rather risk management. That may be a distinction without a difference, but it's how we approach the markets. We study signs that suggest it is time to raise or lower market exposure as a function of risk relative to probable reward. It is all about risk-adjusted expectations given existing evidence. Learn more about our service , research, models and indicators.
Follow us on Twitter for up to the minute analysis of market action.
Follow @sentimentrader