This Sector is Seeing Panic-Level Selling Pressure
---
---
Industrial stocks have had a tough month. Out of the S&P 500's major sectors, Industrials are lagging near the bottom since mid-August in total return. Only Materials stocks have suffered more, and both sectors have lost quite a bit more than even the other laggards.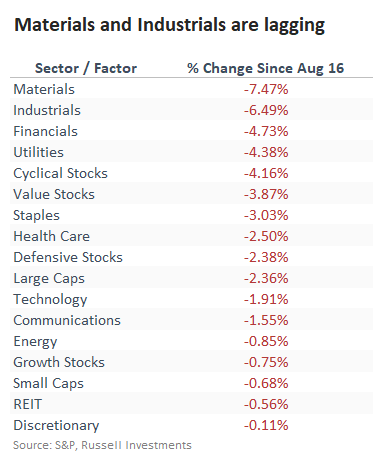 Longer-term selling pressure has pushed the McClellan Summation Index for Industrials close to zero. Over the past five years, this has been a good buying opportunity...except when it wasn't. When the Summation Index sliced through zero and kept moving, it highlighted harsh environments for buyers until the indicator fell to -1000 and started to curl higher.
Pressure on the Summation Index is due to the shorter-term McClellan Oscillator plunging to -120. According to our Backtest Engine, a reading this low is truly extreme when the XLI fund was still above a rising 200-day moving average. The others preceded a choppy couple of weeks, but each of them worked higher over the next six months (a roaring bull market as a background doesn't hurt).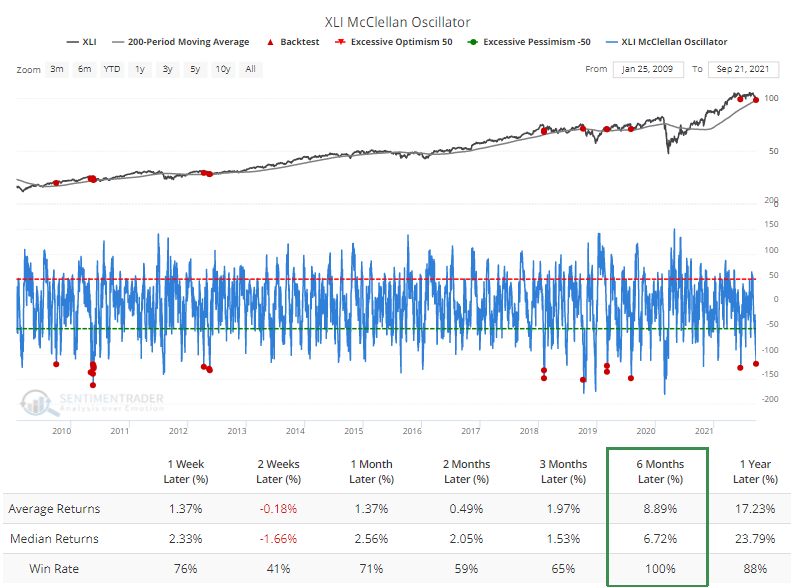 When we create a panic breadth composite, we can see that Industrials have just entered the extreme zone.
Panic became even more panicky during the pandemic, but otherwise, it presented a good risk/reward for investors, or at least for traders. Over the past 30 years, its record has been good - not great - when it reached this level. Like most oscillators, more extreme readings tend to lead to more consistent results.

---
What else we're looking at
A look at several breadth measures for Industrials and what they suggest about the market environment
What happens after the panic breadth composite reaches the current level when Industrials have barely corrected
Tech stocks have given a potential buy signal from washout breadth
---
Stat box



Depending on your data vendor, more than 80% of volume on the NYSE flowed into advancing stocks on back-to-back days. This kind of breadth thrust has a decent record at preceding further gains.
---
Etcetera
Common corrections. More than 40% of S&P 500 stocks are mired in corrections, though that is declining thanks to a late-week rebound. Unhealthy markets see this figure above 40% and rising.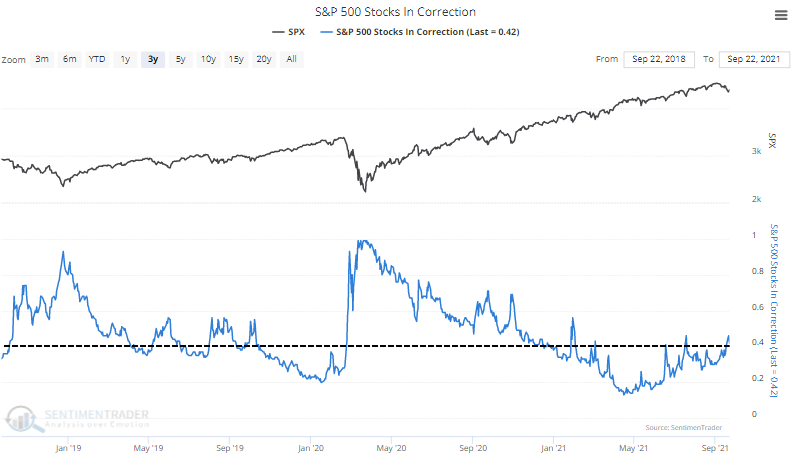 Few bear markets. While many stocks have corrected, few have yet fallen into bear markets. As long as this figure is below 20%, stocks are in a healthy longer-term environment.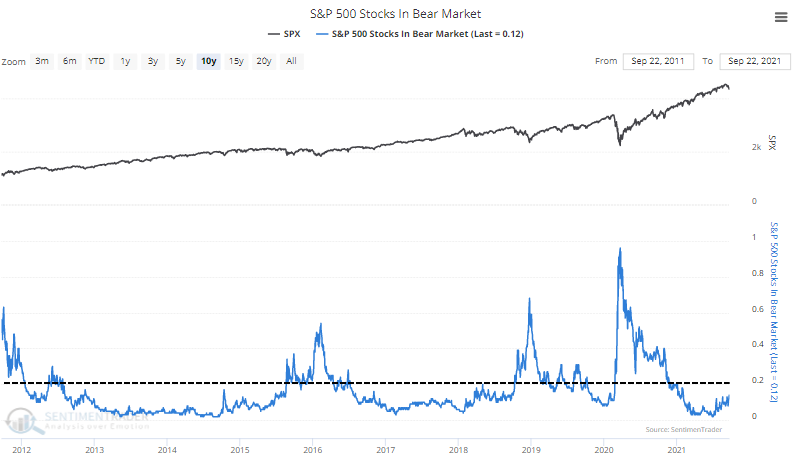 Mediocre correlations. When investors panic, they sell everything. When they're complacent, they trade stocks on their own merits, and correlations among them fall. Currently, correlations among S&P 500 stocks are in the middle of the range, a good place to be.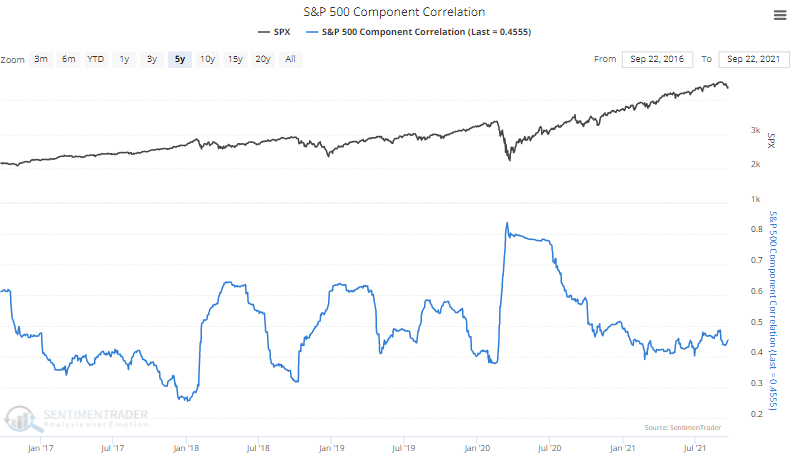 The post titled This Sector is Seeing Panic-Level Selling Pressure was originally published as on SentimenTrader.com on 2021-09-24.
At SentimenTrader.com, our service is not focused on market timing per se, but rather risk management. That may be a distinction without a difference, but it's how we approach the markets. We study signs that suggest it is time to raise or lower market exposure as a function of risk relative to probable reward. It is all about risk-adjusted expectations given existing evidence. Learn more about our service , research, models and indicators.
Follow us on Twitter for up to the minute analysis of market action.
Follow @sentimentrader