This Just Happened for Only the 4th Time in 20 Years
---
---
We've looked at a lot of momentum and breadth studies in recent months, with the conclusion that 2021 has been a year for the record books. The few precedents often witnessed some short-term soft spots but consistently good longer-term returns.
Broader market breadth has been weakening for months, but major indexes shrugged that off with ease. Among stocks traded on the NYSE, fewer and fewer have been holding above their 200-day moving averages. That happened in 2014 and 2017 as well, but it persisted for a very long time.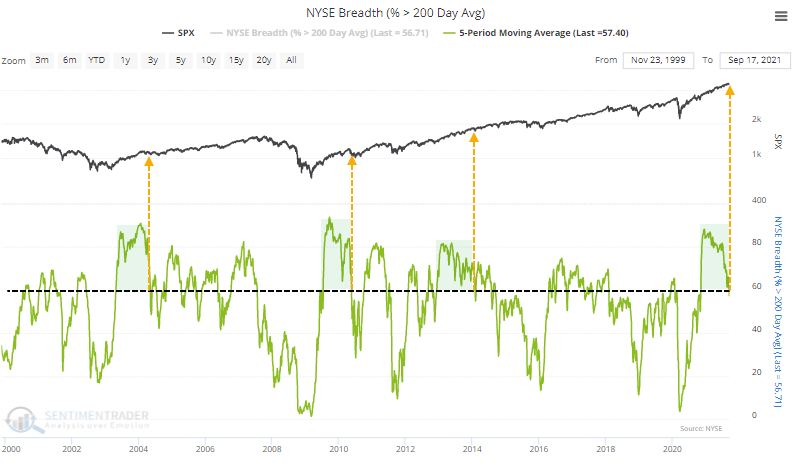 The 5-day average of this figure dropped below 60% for the first time in over 200 sessions, ending the 13th-longest streak since 1928.
Like we've seen with most of the other studies that looked at long-term momentum and positive breadth, the ends of streaks like this typically did not morph into something more serious. Out of the 12 precedents, only one preceded a double-digit decline over any time frame.
When the other long streaks ended, the S&P 500 was an average of 5.8% below a multi-year high at the time. When the streak ended last week, the S&P was only 2.1% from its peak, the shallowest pullback of all.

---
What else we're looking at
Full returns following the ends of long streaks with positive NYSE breadth since 1928
What happens after the S&P 500 finally has back-to-back closes below its 50-day moving average
How SPY has typically reacted after panic gaps down after weekend news headlines
Silver has made a round-trip from massive gains to a 52-week low
A look at this week's seasonal tendency
An update on absolute and relative trends in sector, industry, and country ETFs
---
Stat box



Traders pulled more than $1.2 billion out of the DIA Dow Industrials ETF on Monday. That's the most in a year and only the 5th time in 5 years when the fund's outflow exceeded $1 billion.
---
Etcetera
Waning optimism. Medium-term sentiment has declined to the lowest level of the past year. Over the past two years, only February - April 2020 saw investors less enthusiastic than they are now.
Socially unacceptable. Over the past month, the XLU utilities fund has seen an average of more than 4.5 negative mentions on Twitter for every positive mention. That's nearing the most in the past year.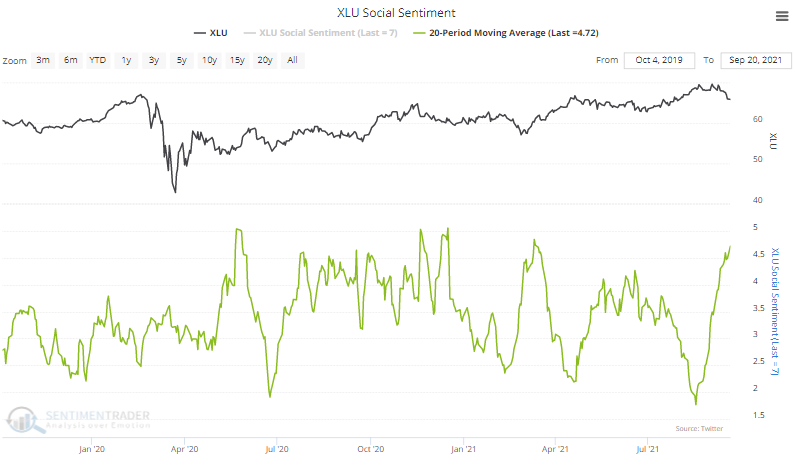 Big declines in small stocks. Within the Russell 2000, nearly 1,600 more stocks declined than advanced on Monday, only the 6th time in the past year when selling pressure was so overwhelming.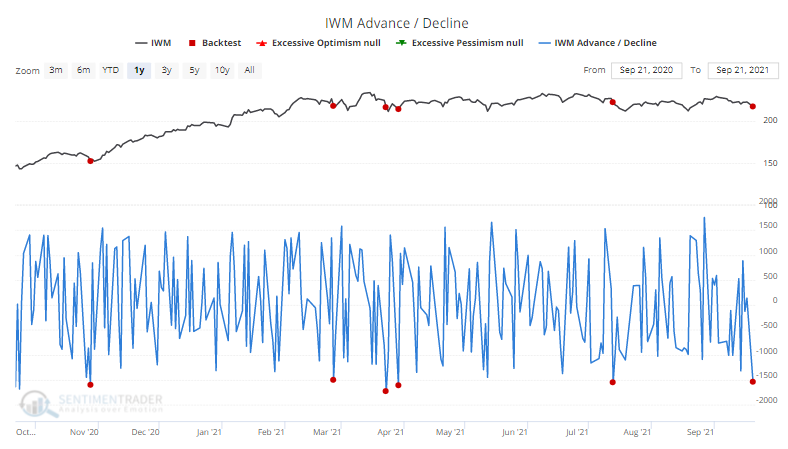 The post titled This Just Happened for Only the 4th Time in 20 Years was originally published as on SentimenTrader.com on 2021-09-21.
At SentimenTrader.com, our service is not focused on market timing per se, but rather risk management. That may be a distinction without a difference, but it's how we approach the markets. We study signs that suggest it is time to raise or lower market exposure as a function of risk relative to probable reward. It is all about risk-adjusted expectations given existing evidence. Learn more about our service , research, models and indicators.
Follow us on Twitter for up to the minute analysis of market action.
Follow @sentimentrader