This Is The Biggest Cluster of Nasdaq Warnings in 6 Years
---
---
Despite new highs in many of the major U.S. equity indexes, the old school NYSE Advance/Decline Line hadn't made a fresh high for over two months.
It's worse on the Nasdaq.
On Monday, the Nasdaq Composite closed within 1% of a 52-week high, and yet two long-term measures of breadth on that exchange fell to very low levels. The McClellan Summation Index closed below -350, and the New High / New Low Ratio was below 30%. Those are the worst figures in history, dating back to 1986, for a day when the Composite was so near a high.
This internal tumult has been triggering some technical warning signs, such as the Hindenburg Omen and Titanic Syndrome for the Nasdaq exchange.
Over the past 30 sessions, a combined 13 signals have been triggered, the most in six years.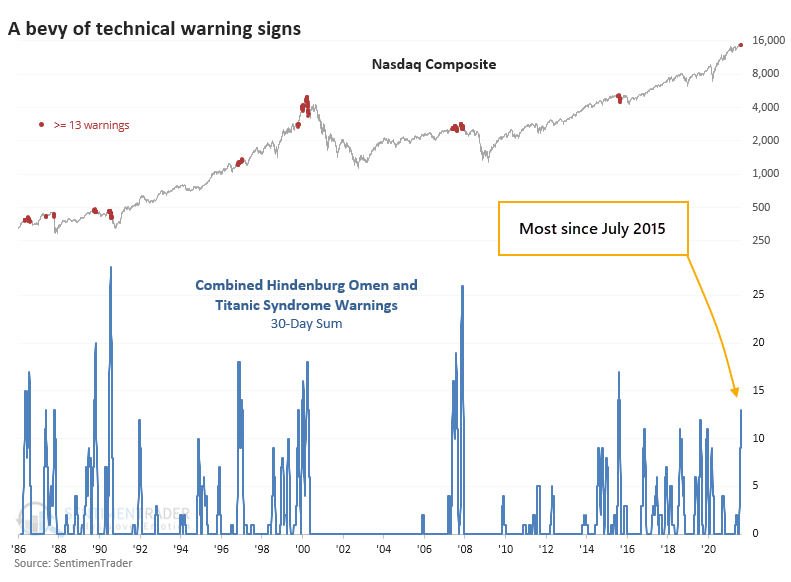 When there has been such a cluster of signals with the Composite within spitting distance of a new high, trouble was brewing most of the time. The Nasdaq escaped any damage in 1996, 1999 (for a while), and 2016 but otherwise witnessed high volatility and negative returns.
After the speculative blow-off in late January - early February of this year, we've been on the lookout for major deterioration under the surface of the indexes. There have been periodic bouts of that since then, and the indexes have almost immediately recovered. We'll have to see if this is yet another episode.

---
What else we're looking at
Returns after the Nasdaq Composite is near a high, with a low Summation Index and New High / New Low Ratio
What an extreme HiLo Logic Index means for the Composite
Taking a look at several index ratios an investor should be watching
Transportation stocks just triggered a reversal signal
---
Stat box



Traders shoveled even more money into the SPY fund, tracking the S&P 500 index, on Tuesday. The average over the past 3 days has now climbed to more than $2.5 billion. Our Backtest Engine shows that over the past decade, that high of an inflow during an uptrend has led to an average 2-week return of -0.5% for SPY.
---
Etcetera
Hi ho, HiLo. The HiLo Logic Index is high for both the NYSE and Nasdaq, showing that the exchanges are abnormally split between many stocks hitting 52-week highs and 52-week lows at the same time.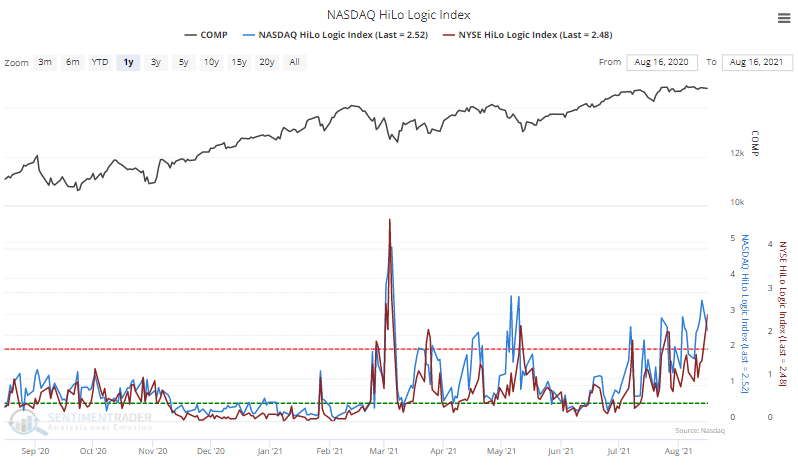 Get me in! There has been a sudden increase in shares outstanding in the S&P 500 fund, SPY. This could be the creation of units to satisfy short-sellers, but more likely it's demand from buyers.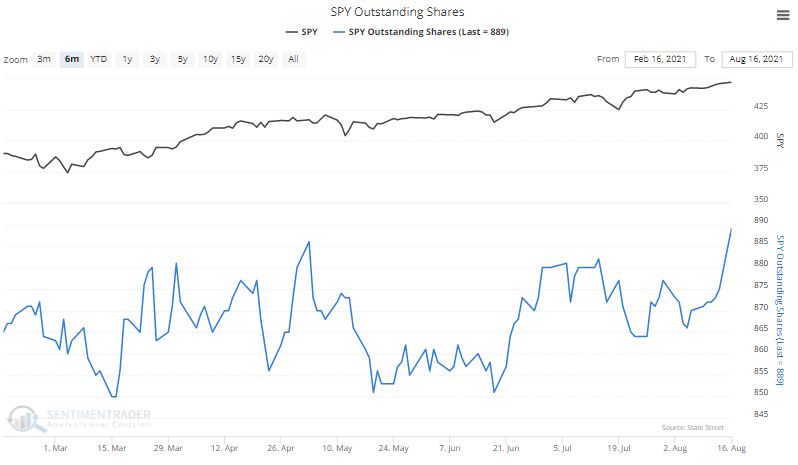 Tepid on tech. The number of corporate insiders buying shares in Nasdaq 100 companies over the past 6 months has slowed to one of the lowest levels of the past 3 years.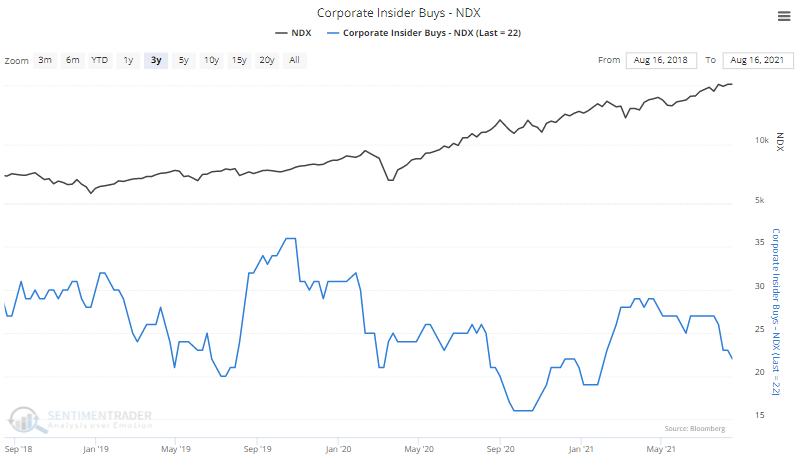 Related Posts:
---
Tagged As:
The post titled This Is The Biggest Cluster of Nasdaq Warnings in 6 Years was originally published as on SentimenTrader.com on 2021-08-18.
At SentimenTrader.com, our service is not focused on market timing per se, but rather risk management. That may be a distinction without a difference, but it's how we approach the markets. We study signs that suggest it is time to raise or lower market exposure as a function of risk relative to probable reward. It is all about risk-adjusted expectations given existing evidence. Learn more about our service , research, models and indicators.
Follow us on Twitter for up to the minute analysis of market action.
Follow @sentimentrader